Against the Current, No. 149, November/December 2010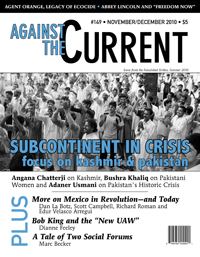 KASHMIR WAS DIVIDED between India and the newly created Pakistani state in the chaotic division of the Indian subcontinent in 1947-48, with little reference to the wishes of Kashmir's people. The larger part is occupied by India, with a volatile "Line of Control" separating it from the Pakistan-administered zone. The formal name of Indian-occupied Kashmir is Jammu and Kashmir; the Pakistan-controlled region is known as the Northern Areas (Gilgit-Baltistan) and Azad Kashmir. The territory's largest city is Srinagar.
While resistance to Indian control historically has sometimes taken the form of armed militancy with Pakistani backing, as in the 1990s, since 2008 a large-scale popular movement has erupted. In the era of the "war on terror," U.S. policy has been indifferent toward India's violent repression of Kashmir's majority Muslim population. Although the complexities of the long running Kashmir crisis have been daunting for outside observers and for the international left — which sympathizes with people's aspirations for self-determination — it is high time to take seriously the Kashmiri struggle for freedom from an oppressive occupation.
ATC 149, November-December 2010