Against the Current, No. 149, November/December 2010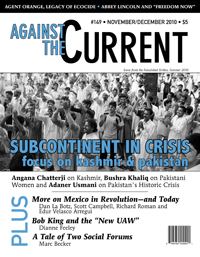 ABBEY LINCOLN — SINGER, composer, actor — left us on August 14 at age 80 A prolific and multidimensional artist (born Anna Marie Wooldridge), she took her performing name in the 1950s by combining "Westminister Abbey" and "Abraham Lincoln." Composer and percussionist Max Roach, her partner in life — they were married from 1962-1970 — and in music and in political action, died on August 16, 2007.
Art and political action came together for these collaborators with their great 1960 recording, "We Insist! Freedom Now Suite," a musical event of the first magnitude and an important political document that galvanized the African-American community.
In the center of this musical work is the classic, "Triptych: Prayer, Protest, Peace." Performing Roach's composition, a duet for the two most primal instruments — drums and voice — the two create a work of such searing intensity that to hear it is to be permanently changed by the experience.
The first movement expresses yearning and searching. The second is an explosion, the release of the accumulated fury of generations of brutal oppression.
Lincoln had described herself as a "respectful" child. Because of this, she found it hard to scream, which is what this piece demanded. Roach, knowing Lincoln's gift as an actor, described how he transmitted his concept to her, suggesting that she imagine herself walking on a path and suddenly seeing a man hanging by a rope from a tree. In the resulting masterpiece, Lincoln screams in a way that fully expresses the terror and rage caused by this evocation.
The third movement expresses peace as rest toward a gathering of strength, "…the feeling of relaxed exhaustion after you've done everything you can to assert yourself. You can rest now because you've worked to be free," Roach described.
The rest of "We Insist! Freedom Now Suite" features Coleman Hawkins on tenor saxophone and Olatunji on percussion. Oscar Brown, Jr. wrote the lyrics. Other musicians include the great Booker Little on trumpet, Julian Priester on trombone, Walter Benton on tenor saxophone, James Schenck on bass, Ray Mantilla and Thomas DuVall on percussion.
On "Driva Man," Lincoln delivers a stinging vocal, alternating with an especially beautiful solo by Hawkins. Roach remarked that he was impressed by the ability of Hawkins, from an older generation and used to a different style of music, to perform with ease such a complex and moving solo in an odd meter — 5/4.
"Freedom Day" is an expression of exuberance following the Emancipation Proclamation. The other two pieces, "All Africa" and "Tears for Johannesburg," show the internationalism of this musical-political statement, and the identification with the African struggle that was transformative for the early Civil Rights movement. This great work became an anthem for the African-American people during those harsh, turbulent years of hard-fought struggle.
Lincoln, along with Rosa Guy, Maya Angelou and other women who had formed a group called The Cultural Association of Women of African Heritage, organized a demonstration at the United Nations on February 15, 1961, protesting the assassination of Patrice Lumumba.
Lumumba, the first prime minister of the Republic of the Congo, was elected in 1960 following Congo's independence from Belgium. He was arrested, then brutally murdered in January 1961 with the complicity of Belgium and the U.S. CIA, a crime that has been felt throughout Congo's subsequent 50-year tragedy.
Roach and others joined the demonstration, at which about 60 men and women burst into the Security Council Chamber shouting, "Murderers! Assassins!" Many credit this action with being the opening salvo of the Black Power movement.
These two giants of American culture are gone, leaving us a profound legacy. Their art and their vision for a greater life for African-Americans and for all humanity will continue to be a great inspiration for us.
ATC 149, November-December 2010