Against the Current, No. 149, November/December 2010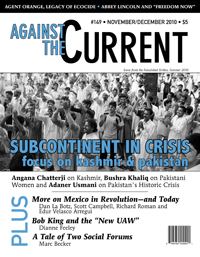 STUDENTS, WORKERS, TEACHERS, parents and faculty throughout the country participated in the October 7th National Day of Action to Defend Public Education. As part of a growing movement, activists from 25 different states were involved.
With a total of 72 actions, October 7th represented months of organizing following March 4th, the first national day of action to defend public education. Many see the 7th as a huge step forward for the movement to fight back against budget cuts — brought on by 30 years of failed economic policy and expedited by the recent crisis.
Actions in California were the largest, with 1500 marching in Berkeley, and hundreds participating in sit-ins, as well as one campus hosting a weeklong campout. In Milwaukee, students and workers marched around campus chanting "No cutbacks! No Fees! Education should be Free!" In Atlanta, activists marched on the Capitol, delivering a failing report card to the state assembly.
In New York City, hundreds marched through Harlem. In Illinois, students and workers organizing with the Undergraduate-Graduate Alliance, which formed during last year's successful Graduate Employee strike at the University of Illinois Urbana Champaign (UIUC), rallied and delivered a failing grade to the administration for its attacks on the graduate workers, tuition hikes, and diversity.
Students at the University of New Orleans (UNO) unfurled banners saying "Chop from the Top" and "Save UNO." In Baton Rouge, LA, students conducted a funeral march for public education.
The Public Higher Education Network of Massachusetts (PHENOM) organized a weeklong march over 114 miles from Pittsfield, MA to the State House in Boston, getting out the message that the state's public colleges and universities are in a "free fall" because of all the cuts.
These are just a sampling of all the various actions, from tabling, teach-ins and awareness events to walkouts, banner drops and sit-ins, that took place on the 7th.
The connections among students, workers and the community continue to play a big role in this struggle. Back on March 4th, students in New York City were supported by Transport Workers' Union Local 100. Students marched to support the rally TWU 100 held that day, and for many the experience of solidarity was powerful.
So too did the students at UIUC reach out to the graduate employees to support their strike last year — and the strong bond continues. At UC Berkley, where graduate employees and undergraduates joined together, an empowered voice resounded throughout the campus. As the budget cuts continue, the connection between students and workers is one that's growing on every campus.
A Step Forward
What made actions on October 7th a step forward from March 4th was the growing connection between students and workers in their schools and communities, along with the desire to continue to grow towards a national movement. People also were encouraged by solidarity actions that took place internationally as part of what's being called the "Global Wave of Actions for Education" to continue through November.
A movement that builds student and worker power is crucial to our progress. The energy that students bring to workplace struggles often inspires campus workers, who sometimes feel that students don't care about them. Both benefit by building these bridges; both are strengthened as they fight against the cuts.
To many it is becoming clear that workers and students face the same future — marred by a massive jobs crisis, a seemingly bipartisan consensus against public education, growing student debt, attacks on communities of color and working poor, and attacks on workers' rights. This is contrasted with a system that spends trillions on bailouts, wars, and prisons. These factors have given rise to a collective struggle that fuels the fight to Defend Public Education.
I would expect another national day of action for the spring, but no plans have been made yet. Many are looking to the October 30 and 31st conference at San Francisco State University for direction. What will build and strengthen the movement will be its commitment to rank-and-file organizing, its focus on student and worker power, its commitment to the democratic process, and its ties to worker struggles.
While March 4th was the culmination of months — and years — of organizing, October 7th is a stepping off point for another year of actions. We couldn't have asked for better results. We have continued to introduce an alternative narrative on public education, despite recent media promotion of so-called "education reform" and "Race to the Top," particularly supporting charter schools.
We have survived the summer, a time when student activism often collapses, and we have come back to show our power. We are energized to continue the struggle, to make 2010-2011 a year of movement building and victories to begin the process of rolling back 30 years of attacks. We are in a point of crisis, and if we unite in struggle, if we struggle to build student and worker power, we can win.
[For more information, visit www.defendeducation.org or www. defendcapubliceducation.wordpress.com. For a compiled set of videos, media coverage, and a listing of actions from October 7th, go to www.defendeducation.org.
Against the Current has covered the attack on public education and the public sector, particularly in recent issues #148,146,and 144. You can find the articles online at www.solidarity-us.org/atc.]
ATC 149, November-December 2010