Against the Current, No. 148, September/October 2010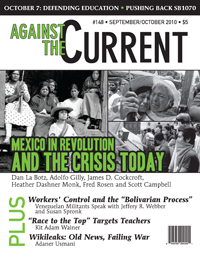 WE ARE WRITING this letter to invite you to support the effort to preserve and renovate the Leon Trotsky Museum (IDA-MCLTAC) in Mexico City as we mark the 70th anniversary of the assassination of Leon Trotsky, the 35th anniversary of the opening of the Trotsky Museum, and the 20th anniversary of the founding of the Institute on the Right of Asylum.
The Renovation Project consists in gradually transforming the museum into an institution that takes the figure of Leon Trotsky as its central axis, but also approaches the various ideological and political currents of socialist thought, actions and debates, the right of asylum and the history of revolutionary and post-revolutionary Mexico, where Trotsky was admitted as a political refugee.
The goal is an institution that will establish agreements with academics, museums and documentary, visual and bibliographical archives from all over the world, in order to offer the public:
1. A Modern Museum
A well-preserved house-museum that will give its visitors an idea of the real environment in which Trotsky, his friends, guards, secretaries and guests lived between May 1939 and August 1940: a tense and anguished environment, not always but sometimes joyful, not very prosperous, but of hard work and comradeship.
• Permanent as well as temporary exhibits built on visual, audiovisual, documentary and interactive materials.
2. A Research, Educational and Information Center, interested in the analysis of historical facts and in the exchange of ideas through
• Consultation of printed, graphic, audiovisual and interactive materials, on site or via the web.
• The development of educational and cultural programs, which will consist in conferences, symposia, book presentations, courses and workshops.
• A small bookstore in which our visitors will find books — in three languages, if possible — related to the institution's subjects.
3. A Cinema Club
In it, old and new short films, movies and documentaries, organized according to different subjects of historical, political, intellectual and cultural interest will be shown and discussed.
4. A Space for Art, Art Crafts, Culture, Environment, Cuisine and Social Gathering.
A space that will try to constitute an original, simple, elegant and international cultural option that will harbor:
• Diverse cultural expressions of our contemporary world: sculptors, painters, mimes, actors, storytellers, dancers, poets, musicians, etc.
• The house's garden, such as it was kept by Natalia Sedova and by Sieva Volkov's family between 1939 and the early 1970s.
• A cafeteria that will serve very good coffee, tea, pastries and appetizers, and that will offer in Coyoacán a touch of originality given by four combined elements: (a) a simple international menu made by a few Baltic, Jewish, Balkan, Turkish, French, Norwegian and Mexican dishes, typical of the countries where Trotsky lived or was exiled, (b) the access to reading, on site, some international newspapers and magazines, (c) a decoration that will portray the style of Mexican restaurants in the thirties, and (d) some music or poetry evenings.
We invite you to donate to our Museum preservation/renovation fund and to join our International Friends of the Leon Trotsky group and campaign. Please send your checks, payable to Global Exchange (write "Trotsky Museum" on Memo line of your check), to International Friends of the Leon Trotsky Museum, P.O. Box 40009, San Francisco, CA 94140.
Sincerely,
Esteban Volkov Bronstein, Grandson of Leon Trotsky, President of the IDA-MCLTAC Board and Olivia Gall, Full Professor, CEIICH-UNAM. Director of the IDA-MCLTAC, gall.museotrotsky@gmail.com.
ATC 148, September-October 2010