Against the Current, No. 148, September/October 2010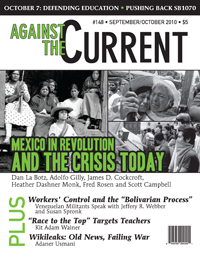 HOW DOES ONE encapsulate a life as long and as full of political activity as Barbara Zeluck's? How might we understand her unflagging dedication to revolutionary politics through all the sectarian battles, disappointments, and challenges of the past 60 years with her capacity to grow and change politically? Perhaps that capacity to grow and change helps to account for her unwavering revolutionary socialist engagement. How might we grasp how she was both a woman of her times and also a unique individual who charted a particular life course? These are some of the questions that motivated me as I researched Barbara's life.
Barbara's family, especially her mother, and her experiences growing up Jewish in Birmingham, Alabama, seem to have inspired a concern about injustice and an interest in reform. Her father was an engineer and her mother a civic activist. A staunch Democrat and "New Dealer," Barbara's mother was appointed by the Alabama governor to the Board of a girls' reform school (the State Training School for Girls). There she discovered systematic mistreatment and devoted much time and energy to reforming the system. Birth control access was another of her causes. A close friend of Barbara's parents — a prominent banker — advocated for integration and was fired from his job.
Barbara graduated high school first in her class and went on to Vassar College when she was 16. Vassar had some left liberal and, it appears, socialist faculty members (although it is difficult to tell from the official record). Barbara mentioned to her daughter, Merry, that Dr. Otto Nathan, an economist, was a radicalizing influence.
Her college friend, Dr. June Jackson Christmas, remembers that Barbara's crowd at Vassar considered themselves forward thinking and progressive. Among them was another friend, Vivian Halpern, whose father was on the left; possibly Vivian was an important influence in Barbara's evolution from "New Deal Democrat" to communist revolutionary.
For "Babs," as she was known then, segregation and racial injustice were a primary concern. According to Dr. Christmas, "Toni" to her college friends and the first African-American student admitted to Vassar, Babs was among the founders of the campus Interracial Club, dedicated to educating Vassar students about segregation and prejudice. (By recruiting her, the sole African-American student on campus, Dr. Christmas comments wryly, the Interracial Club actually became interracial.)
Dr. Christmas says, "Babs was forthright, definite and direct—maybe more aware on race than some of the Northern white girls, because she was more exposed to the stresses of racism and had more direct contact with Black people." For example, volunteering at a social service organization one summer during her college years, Barbara was addressed as "Miss Adler," while a Black woman colleague with an MSW degree was called by her first name.
At first, the Interracial Club focused on racism within the war effort such as segregation in the armed forces and in the USOs. But when a landlord refused to rent Toni a room in the town, the issue came closer to home and the club mobilized. After the landlord rented the room to a white woman, the students decided to use the incident to publicize housing racism. Although "Prexy" (the college President) counseled caution and encouraged the students to approach the landlord privately, the students organized a press conference and took the issue to the local newspaper.
Political Engagements
In 1943 Barbara moved to New York to attend social work school at Columbia University where she was active with the left-wing Social Workers Employees Union and joined the Communist Party. Her social work career was interrupted when she was fired from her first job — because, as she said, she " mixed up social work and socialism" — and then by the birth of her daughter, Merry. Barbara had married Sid Tucker, a comrade in the CP, in 1945 and became pregnant almost immediately, in the days well before abortion was legal.
Sid and Barbara moved with Merry to a veterans temporary housing project in Jackson Heights, Queens — part of a huge wave of young couples with children renting hurriedly-built, government subsidized, apartments designed to relieve the postwar housing shortage. There they formed a circle of friends, many also members of the Communist Party, who remained "the project crowd" throughout their lives in spite of their different political trajectories.
As a young wife and mother, Barbara was very politically active. Evoking her experience, Barbara related the following story. In 1948 Barbara was petitioning for the Henry Wallace presidential campaign — a movement that engaged many on the left. One day, as Barbara was housecleaning and picked up her clipboard to dust, two-year old Merry, playing nearby, piped up "Bye, Bye Mommy."
As with many young families, renting in the project was a step toward home purchase and around 1951 Barbara and Sid moved to Bayside with a couple from the project — Rose and Jack — where the family homes shared a backyard and the kids moved freely back and forth. Sid had been diagnosed with Multiple Sclerosis when Merry was two and by this time her brother, Paul, had been born.
Rose and Jack did a lot to help out. Still, being immersed from her early twenties in taking care of two young children and an ill husband was not easy — Barbara told Merry that she always felt her youth was taken from her. She and Sid divorced in 1956. Barbara moved just a block or so away so the kids could stay in touch with their father.
Around that time Barbara met Steve Zeluck and they married at the end of 1958. In many ways, Barbara and Steve had a traditional marriage. Yet Barbara's admiration and respect for Steve — as well as her consistent support for his endeavors — derived not so much from his masculine authority as from his capabilities as a thinker and activist. Steve was an intellectual of great breadth, a clear writer, a saavy trade unionist and knowledgeable political advisor/leader.
One of Barbara's favorite stories was that while she was still a member of the CP, a friend of hers had insisted that she attend a debate between Steve and a CP leader. As Barbara would tell it, "Steve wiped the floor with the guy, but I was too much of a believer to be convinced." However, the debate stuck with her and the two met shortly after Barbara left the CP following the suppression of the 1956 Hungarian revolution and Nikita Khrushchev's "secret speech" outlining Stalin's crimes. Ready to follow a new political path, Barbara joined the Socialist Workers Party where Steve had been a member since the mid-1940s.
In 1965 she and Steve, along with other members, were expelled from the SWP. They joined the International Socialists in 1971. Sectarian in-fighting in 1977 led to a split and in 1979 the formation of a new organization, Workers' Power. Steve, Barbara, and their close comrade Carl Feingold had seen too much of this sort of thing and were not in favor of the Workers' Power split; yet they felt more political sympathy with the younger comrades who wanted to leave the IS and left with them.
When the opportunity arose to create a different sort of revolutionary socialist organization, Solidarity, dedicated to the process of left regroupment, Barbara enthusiastically became a founding member. She was committed to political clarity and not afraid of debate; however, she was ready to put behind her the frustrations and destructiveness of fights that in hindsight seemed to have been blown way out of proportion.
Steve Downs, her comrade in the New York branch, points out that "Barbara had a long memory for political disagreements and would remind you of what you had said fifteen years earlier in some debate. But often this was because she was interested in what you thought now… Barbara never held a grudge against people she had disagreed with in the past."
Everyone who ever worked with Barbara in the many groups and campaigns that involved her across a broad range of political issues mentioned that she was an organization builder. She understood the importance of infrastructure and, like many women activists, she was willing to do the unheralded and unrecognized work that keeps organizations going.
For example, Barbara was treasurer of the New York branch for 20 years — a fairly thankless job, especially in a large branch. She found it hard to accept that members did not always fulfill their organizational responsibilities, including paying their dues. In spite of her frustration, she did not quit the Treasurer's job, but kept at it until her health began to fail.
Dedicated Activism
When Barbara committed to something, she saw it through, sometimes in the face of bitter disappointment. That was certainly the case with her participation in the New York chapter of Labor Party Advocates, a national organization established in 1996. LPA seemed perfectly in line with Solidarity's commitment to independent political action and to building rank-and-file union power. Because she believed so strongly in that mission, Barbara persevered through bruising battles with sectarian forces inside the chapter until it finally dissolved.
In other projects, Barbara's determination and dedication had a happier outcome and were significant contributions to success. From the mid-1970s through the 1980s, CARASA, the Committee for Abortion Rights and Against Sterilization Abuse, was her political focus. Barbara was no doubt drawn to this issue in part because of her life experience. She was a founding member of CARASA, which was organized in 1977 in response to the Hyde Amendment (which denied the use of federal funds for abortion and penalized low-income women dependent on Medicaid for their healthcare).
An opportunity to put socialist-feminist politics into action, CARASA offered an alternative to the liberal feminists' exclusive concentration on abortion rights. Developing the concept of reproductive rights, CARASA articulated a pro-working class and anti-racist program of reforms organized to provide women control over their reproductive lives, including the right to have (as well as not to have) children.
The reproductive rights agenda centered on issues essential to working-class women's lives, and, according to Sue Davis, another CARASA activist, Barbara was foremost in pushing the organization to make contact with the labor movement and working class women. Sue recounts that Barbara was probably the oldest member of the group but "her energy was wonderful and an inspiration; she took on all kinds of tasks for the group — whatever was needed, she just did it."
CARASA's influence on feminist politics in the US continued long after the group itself closed down. Their ideas have been taken up, especially by women of color organizations, who have expanded the activist program to encompass what they define as reproductive justice.
In 1979, CARASA published Women Under Attack: Abortion, Sterilization Abuse, and Reproductive Freedom. A second edition (with a different subtitle), published by South End Press in 1989, remains in print and continues to be used in classes and study groups.
Throughout her life Barbara made friends of comrades; she created a social world through her political activity. She had a gift for building relationships across generations; partly because she was non-judgmental and open, partly because she didn't need to be the "big one" or "in charge." Indeed, Barbara sometimes underestimated her own contributions and capacities, instead pushing others forward.
In 1984, tragedy again entered Barbara's life, when Steve was diagnosed with mesothelioma, a fatal lung disease caused by his exposure to asbestos when he worked (and did political organizing) in the Philadelphia shipyards during the early years of World War II. Steve was not interested in pursuing a lawsuit against the companies who were well aware of but suppressed knowledge of the dangers asbestos posed.
After his death in 1985, Barbara joined the New York Chapter of the White Lung Association, an organization developed by and for people who suffered from being exposed to asbestos and their relatives. Barbara again threw herself into the work which became a life-long cause for her.
The WLA helped victims and their families win hundreds of thousands of dollars in court awards, passed city and state legislation that required all workers handling asbestos to be trained and licensed, provided that training, provided advice and education around the health dangers of asbestos, and organized to stop legislation limiting the awards that the companies were constantly trying to get passed. When Barbara won her case, she kept the money in a separate bank account and always referred to it as "Steve's money," which she used to support causes they both believed in.
In the late 1980's, when the WLA chapter closed down due to financial difficulties, Barbara and others formed a new organization, the White Lung Asbestos Information Center, to carry on the work. Rhoda Lyman, a member of both organizations, describes Barbara as the intellectual leader of the Information Center — "She was very well informed about legal issues and she was very meticulous in her research."
Barbara initiated and did most of the research and writing for the newsletter, she spoke to city council members, organized events, and kept in touch with white lung activists in Canada, England, and France. In this work Barbara was, as Rhoda puts it, "always labor oriented" — for instance, she spurred the group to establish relations with the New York Committee on Occupational Safety and Health.
Wide Interests
In her later years of declining health, Barbara stayed as politically involved as possible. She kept up primarily by computer; her friends and comrades were quite accustomed to receiving articles, information, and calls to action from Barbara, usually emailed sometime around 2 am. At the end of her illness, when she could no longer attend meetings or sit at her computer, she commented to Merry, "What's the point of me?" Perhaps here we see at least one reason for her long-lasting commitment to revolutionary politics — to be politically engaged was central to her identity, life purpose, social ties, and sense of worth.
Political activity was the driving force of her life, but Barbara was not a one-dimensional person. She was interested in music, art and culture, held season tickets to the Metropolitan Opera, loved to travel, enjoyed good restaurants, and took pleasure in sharing these pursuits with friends and family. She was extremely generous. Her home was always available to comrades, including people she didn't necessarily agree with politically, and throughout her life she financially supported an amazing range of organizations — 112 in 2009.
They included, of course, the organizations that she felt most expressed her commitment to revolutionary democratic socialist politics, the self-organization of the working-class, and the struggle for rank-and-file unionism — Labor Notes, TDU, Solidarity. But she also gave to the Metropolitan Museum, the American Ballet Theatre, the Center for Constitutional Rights and many civil rights organizations, Iraqi Veterans Against the War, Physicians for a National Health Plan, the National Women's Health Network, Jewish Voice for Peace, and the ASPCA (in honor of a long-lost family dog).
Barbara inherited wealth and in her will allocated 20% of her estate to a foundation she established. Its primary, but not sole purpose is to further labor democracy, "to organize working people to assert greater control over their lives, including but not limited to the development of democratic principles and practices in labor unions or like organizations of working men and women."
A Memorial Meeting will be held on Saturday, September 18 at 4 p.m. to share remembrances of Barbara Zeluck and to celebrate her life at The Murphy Institute for Worker Education & Labor Studies, 25. W. 43rd Street, 18th floor, New York City, between 5th and 6th Avenues.
ATC 148, September-October 2010