Against the Current, No. 148, September/October 2010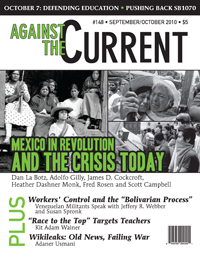 THE 165 WASHINGTON, DC public school teachers terminated for poor evaluations on July 23 may be the first victims of the Obama reform agenda. The teachers were fired because of low scores on the DC school system's new evaluation procedure — one which ties teacher evaluations to student scores on standardized tests.(1)
The Washington experience is not an aberration. Rather, it is an omen of developments to come as states compete with each other to gut union rules, replace unionized public schools with privately managed charter schools, and extend the Bush-era emphasis on standardized test scores as the primary measure of student achievement and a school's success.
President Obama disappointed many teachers around the country this past spring with the announcement of his Race to the Top (RTTT) program. Touted by Secretary of Education Arne Duncan as a national education reform project that will finally provide high-quality teachers and schools to every child, Race to the Top has won plaudits from business leaders, Republican politicians, and increasingly anti-union Democrats.
RTTT reserves $4.6 billion in federal money and awards it to states who submit grant proposals that show how they will use the money to promote the growth of (non-union) charter schools, close or restructure "failing" schools, tie teacher evaluations to standardized indicators of student growth, and offer merit pay to teachers whose students perform exceptionally well.
Duncan made clear that states were not to use the additional money to fill budgetary gaps during the recession. They could not use the money to lower class size, order badly needed supplies, or repair crumbling school buildings. To compel states to comply with the Obama reform agenda, Duncan awarded RTTT grants to only two states — Delaware and Tennessee — during the first round of the application process. The rest were told to reapply after having achieved concrete reforms and passed legislation and union agreements on concessions. As of August 2010 there are 16 finalists with winners to be announced in September.(2)
The offer of RTTT money provided political momentum to state legislators around the country to successfully wrest concessions from teacher unions in the form of union agreements to lobby for changes in the teacher evaluation systems, forms of merit pay (although often labeled differently), and increases in the number of privately managed charter schools the state will allow.
In New York the 2010-11 school year ended with staggering changes as the United Federation of Teachers, representing more than 100,000 active New York City school employees, agreed to reverse key historic positions in order to help the state compete for RTTT money. In May UFT President Michael Mulgrew and New York State Education Commissioner David Steiner reached an agreement to transform the teacher evaluation system in the state.
Instead of rating teachers based on supervisory evaluations alone, roughly half of a teacher's evaluation will be based on standardized measures of student achievement. Attempts will be made to quantify a teacher's "value added," a mathematical measurement of how much an individual teacher has improved the education of his or her students.(3) Peer evaluations — teachers criticizing other teachers — may be part of the final evaluation system as well.
Later that month the UFT and the New York State United Teachers agreed not to lobby against a legislative proposal to raise the cap on charter schools from nearly 250 to more than 450. Both the charter bill and the new teacher evaluation bill passed the New York legislature easily and New York became a finalist for an RTTT grant.
LA, Chicago Teachers Resist
California is also a finalist in the RTTT race even though its legislature has not gone as far as New York's. California's Senate Democrats are considering legislation to attack teachers' seniority rights. However, unlike in New York the teachers unions have resisted merit pay and standardized test-based systems of teacher evaluation.
The United Teachers of Los Angeles, led by a progressive reform leadership, mobilized members to resist the worst effects of the budget crisis in the spring of 2009. While in early 2010 UTLA did agree to accept 10 furlough days in order to stave off most of the threatened layoffs,(4) it did so after a campaign of mobilization that has sadly become exceptional among teacher unions in the United States.
The Los Angeles Unified School District has already made clear that it wants teacher evaluations partially tied to students' standardized test scores. Unlike New York City's UFT, however, UTLA is determined to fight this effort. It has created its own "teacher effectiveness" task force to craft a pro-union plan which rejects the use of student test scores to evaluate teachers. The union hopes to be able to rally members and the community around its alternative vision.
Illinois also became an RTTT finalist by creating a teacher evaluation system in which 50% of a teacher's rating will be based on student achievement. In June the Chicago Board of Education passed a resolution calling for the layoff of teachers rated "unsatisfactory" under the old system.(5)
Illinois already has more than enough charter schools to satisfy Duncan and Obama, and teachers have suffered more than a decade of attacks such as school closings and near elimination of the job protections of "excessed" teachers (teachers who have lost their jobs because their schools faced budget cuts or were closed). In July 2010 hundreds of coaches, teachers who trained colleagues in reading and math education, were laid off. These layoffs came on the heels of job cuts due to increases in average class sizes from 28 to 33.
For years the Chicago Teachers Union had done little to fight back. In spring 2010 Chicago Teachers elected an opposition slate led by Karen Lewis. Unlike the leadership of the American Federation of Teachers, parent union of the CTU and the UFT, Lewis has become an outspoken critic of RTTT. The new leadership has mobilized members for rallies against cuts and has so far refused to agree to concession bargaining.
A Doomed Strategy
At the national level the picture is somewhat bleaker. The AFT and the National Education Association have supported RTTT, although the NEA has raised more criticisms lately. AFT President Randi Weingarten invited Bill Gates to speak to the union's 2010 national convention. Gates, a strong proponent of charter schools, praised the AFT's commitment to school reform.
Gates' presence stirred controversy among union activists around the country.(6) Weingarten's decision to invite him, however, is consistent with her general approach to the national onslaught against teacher unionism. Rather than mobilize members to fight for teachers' rights, her priority is to gain a seat at the table by embracing the reforms in the hopes of ameliorating their impacts.(7)
The strategy is doomed to failure because it does not address the real motivating factor behind Obama's agenda. "School reform" today is not about improving education. It is about union busting.
Public sector unions, and teacher unions in particular, have not faced the kind of onslaught that private sector unions have since the 1970s. Although teacher unions have engaged in concession bargaining, they have not yet seen the wholesale transformation of unionized workplaces into non-union workplaces that has characterized the auto industry for the last 30 years. In fact, despite negotiating away key rights, teacher union membership has grown substantially over the past two decades.
Teacher unions are under attack because they are one of the last bastions of organized labor. That is why Bill Gates, Ely Broad, and the Walton Foundation (aka Walmart) are committed to "school reform," as are an increasing number of Democratic politicians around the country.
The Obama-Duncan reforms represent an existential threat to teacher unionism, and the national unions have thus far failed to sound the alarms or prepare the fightback. It is up to rank-and-file reformers, some in opposition to local leaderships, others who are working closely with reform local leaderships, to rebuild teacher unions into fighting organizations that can resist union-busting and promote a vision of education reform that actually creates better schools.
Notes
ATC 148, September-October 2010