Against the Current, No. 147, July/August 2010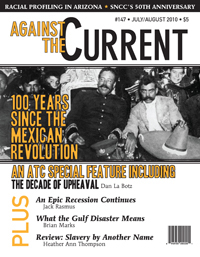 IF THERE WERE any doubt that the blues could be elegant, Lena Mary Calhoun Horne Hayton (as she signed her name) dispelled it. At age 26, she sang the title song to the film "Stormy Weather" and her sultry, silky voice branded the tune as hers forever.
Most of us would know her as simply Lena Horne. But she often signed all of her names and especially liked using Calhoun, as an ironic acknowledgement of her pro-slavery relative vice president John Calhoun. While her light skin and whiter facial features allowed her to be more "accepted" by white society and even parts of the Black community, her activism with the civil rights movement and friendships with the likes of Paul Robeson made clear where she stood.
Lena Horne died on May 9, 2010 in New York City, where she was born 92 years earlier. Her active career spanned the decades from 1933, when she joined the Cotton Club chorus line, to 2000 when she sang for an album of Simon Rattle, Classic Ellington. Her awards as a jazz vocalist, and her film appearances from 1938 through 1994, are too numerous to list.
She could claim to be a freedom fighter from birth — her family signed her up with the NAACP as an infant. Activism was standard operating procedure for the household, part of the reason they discouraged her from the entertainment field. But her talents were too many and too large to be corralled.
She was the first African-American woman to sign a long-term contract with a major Hollywood studio, MGM. The contract and the cinematic results reflected her family's steadfast anti-racism in face of the racism of the period. She insisted on a contractual clause that kept her from being relegated to playing domestics, virtually the only role open to Black women at the time.
She was relegated to cameos that could be cut from the films for Southern distribution. Still, it was a breakthrough that a Black person set such terms for a contract with a major studio — such was her talent and savvy. Being strikingly beautiful didn't hurt either.
Even given all that she had going for her, it is amazing her career did not crash on the treacherous shoals of racism, sexism and McCarthyism. Horne took risks for her beliefs and friends. She had known Robeson from childhood and their association led to her becoming part of the leftist, anti-racist Progressive Citizens of America. When the going got tough, she stood by Robeson and was blacklisted.
She performed for segregated groups of soldiers during World War II — but she insisted the German POWs be removed from the front row of the venue where Black soldiers were seated behind what was supposed to be a performance for African-American troops. Her protests and complaints to the local NAACP got her pulled from the tour; she used her own money to travel to bases and perform for the troops.
In the 1940s she took the amazingly bold step of suing racist hotels and restaurants that refused her service. Black folks were being killed for less than that, to say nothing of having their careers ended.
Irony of ironies, Horne even ran afoul of other African-American actors. It seems her refusal to play stereotyped or demeaning roles made things difficult for those who were taking the roles — or at least some perceived it so. She was accused of being "a tool of the NAACP." Not surprisingly, she was an ardent supporter of Martin Luther King and the 1963 March on Washington.
What seems like a fabled career of Hollywood stardom, performing in the most storied venues on the planet and being at one time the highest paid Black performer in the United States was actually much more of a mixed bag. Horne endured the trials and tribulations of a powerful African-American woman who refused to compromise her dignity or the struggle for all African Americans to be recognized as fully human.
ATC 147, July-August 2010