Against the Current, No. 147, July/August 2010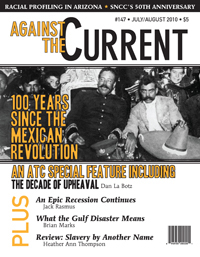 HARRY PRESS, A veteran of the U.S. Trotskyist movement and the American Socialist current, died this year at age 94. In recent years he was a loyal reader and made several very generous donations to this magazine. These recollections of Harry Press were told to Carl Finamore for Against the Current. — David Finkel for the ATC editors
Arthur Brodzky is a former seaman, veteran socialist and close friend of Harry Press.
I WAS BORN in 1921 in New York City but grew up in London, England. I always liked the sea so when I had to go out and get a job at the tender age of 14, I started sailing.
Later, after the war started, I repatriated to the States. I had already joined a small Trotskyist Fourth International group in England so I quite naturally joined the Socialist Workers Party (SWP) upon my return to America. Politics was my whole life at the time. It was how I first met Harry and another good friend, Marshall Uran.
With war declared, I probably would have been drafted into the army. I decided to stick with the sea and signed up as a Merchant Marine. In fact, all three of us sailed, though not on the same ships.
Harry was a cook and member of the Marine Cooks and Stewards (MC&S, CIO), Marshall was an engineer and member of the independent Marine Firemen and Oil Workers (MFOW) and I was a deckhand member of the Sailors Union of the Pacific (SUP, AFL).
I last saw Harry in December when visiting him where he lived near Sacramento, California. We had a nice chat about old times and laughed about how so many years had passed since we first met. As a matter of fact, during my last visit, Harry gave me a copy of Marshall's out-of-print book, Sea Say, to replace the one I had lost.
The book is a very unique and unusual collection of stories. It is more like a dictionary of sailors' language, on the more colorful side I would say. When you are out to sea for five months or more and confined in those days to all male companions, the language can get pretty salty. This book lists many of the common, everyday phrases veteran seaman would never dare utter on land or in mixed company.
Marshall himself was quite an intellectual guy, he even went through Marx's Capital and sent the grateful publisher a list of typographical errors. You had time on your hands while on ships and for us, it meant a lot of time for reading and talking.
The last SUP struggle in which Harry and I participated involved the expulsion of a militant charismatic Seattle member named John Maloney. Canadian seamen were on strike around 1951 when the Korean War broke out, and Maloney asked why the SUP sent members to scab. A big fight broke out over this thing. SWP members in the SUP, including Frank Lovell and myself, put out a newspaper and distributed it on all the ships. It made a big impact, especially within the Seattle SUP.
However, the Lundberg SUP leadership machine was able to crush the whole thing and anybody who signed a petition or showed any support to Maloney and wanted to stay in the good graces of the bureaucracy had to go down to San Francisco headquarters and in effect apologize to Lundberg. It was a real reactionary time in the country.
Harry was involved in all of this and more. He was an avowed socialist and militant. He even ran for City Council on the SWP ticket in the early 1950s. Harry, Marshall and I were all expelled from the SWP at the same meeting in San Francisco in 1953 but we continued to be active and put out a very good magazine, American Socialist, which lasted for several years.
Harry was a very quiet and unassuming guy who read a lot. He moved to Oakland after the war when my family and I were living nearby and we used to visit. Then I moved to the Sacramento area and he again moved nearby to me when he wanted to leave Oakland. I will miss my friend.
Carl Anderson is a former member of the Socialist Workers Party (SWP), later a supporter of American Socialist and long-time close friend of Harry Press.
I FIRST MET Harry in the SWP branch after WWII. We shared an apartment. He was very kind, very gentle and real soft-hearted. I don't think there was anybody who did not like him. Harry took up sign painting on land and he was good at it because he was somewhat of an artist which he did as a hobby. He had some talent, I do not want to exaggerate, but did not seem to have the passion to devote to it.
Harry stayed a socialist his whole life, becoming a little cynical in his old age and maybe even a little frustrated with the way the world was going. History has passed us by. It will be quite a while before things turns in our direction and Harry felt this maybe even more than the rest of us.
I, like Harry, have not changed any fundamental ideas of my youth. I just think it will be awhile before the tide changes in our direction. Of my good friend, I will miss his intellect, I will miss his kindness, I will miss his gentleness and I will miss speaking with him every Sunday on the phone. Goodbye to my dear friend.
Dave Bers is a former chief steward in the Merchant Marines out of San Francisco from 1936-1946.
I AM 94 years old. I remember my good friend as the same age. Harry and I sailed together to lots of places, all along South America to Argentina, along the Inside Passage in Alaska and throughout Asia. I have a photo of Harry and myself walking together while we were on one of our five-month tours but 60 years later I can't even remember in what city it was.
I was at sea on freighters for some 10 years. I was chief steward and Harry was second cook and baker. We were both members of Marine, Cooks & Stewards (MC&S, CIO). I lived in San Francisco where we usually shipped out.
We were in the SWP and looked for ships together. We were an anti-Stalinist group within the MC&S that was also an anti-Harry Bridges group, so to speak. It was an unofficial caucus against the leadership of the MC&S, which was both dominated by the Communist Party and under strong influence of the International Longshore union (ILWU).
There was a constant ferment at the time and we had a large number of Stalinists to compete with, but being on a ship for so many months you develop somewhat better relations than on land even with your otherwise most bitter opponents.
During long trips, you have time to read and talk and get to know each other better.
My personal policy was that this was a time to talk about socialist fundamentals because you are away from immediate factional struggles. You can spend time talking about capitalism, about fascism and how it came to be, about the role of the U.S. imperialism and about the role of Stalinism. You are away from union headquarters where the hot, immediate factional struggles occur and where the Stalinists were recruiting from their close relations with the powerful Longshore union.
Harry was quiet and reflective. He always read. He was also very loyal to the SWP but wasn't pushy. I would say he was well-schooled in Marxist fundamentals and this came in handy on long tours. His relationship with other workers was good because he was also a good worker himself. He performed responsibly. People respected him for that, even the Stalinists.
Harry was effective in discussions because he was solid on fundamentals and because he was never demanding and was pleasant to be around.
After I had my second child, I left the sea and became a furniture salesman, later going into business for myself. I wanted to get a more stable family life. Even when I was no longer in the socialist movement, I kept contact with Harry. I am sorry to see him go.
ATC 147, July-August 2010