Against the Current, No. 147, July/August 2010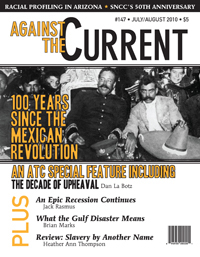 THE OVERSPENDING, CRONY capitalism and increased poverty the majority of South Africans now suffer are taking the fun out of the beautiful game, soccer. According to leading researcher Udesh Pillay of the SA Human Sciences Research Council, in 2005 one in three South Africans hoped to personally benefit from the World Cup, but this fell to one in five in 2009, and 1 in 100 today.
On the field, the national soccer team, appropriately named Bafana Bafana ("boys, boys"), has fallen in the global rankings from 81st in early 2010 to 90th today. Global soccer apartheid means that the best African players are sucked up into European clubs, with little opportunity to prepare for international events.
[This article was written prior to the World Cup. As most readers will know, the South African team, following a 1-1 initial draw with Mexico, was effectively knocked out by a 3-0 loss to Uruguay before salvaging a final 2-1 victory over France — ed.]
World Cup visitors to South Africa between June 11 and July 12 could not fail to comment upon degenerate conditions in the Cape Flats and Soweto shacklands, while in contrast, the new £380 million Green Point stadium in Cape Town and £300 million refurbished Soccer City in Johannesburg get vast subsidies thanks to rulers from both the white-liberal-dominated Democratic Alliance and the black-nationalist African National Congress, respectively.
Trevor Phillips, former director of the South African Premier Soccer League, asks, "What the hell are we going to do with a 70,000-seater football stadium in Durban once the World Cup is over? Durban has two football teams which attract crowds of only a few thousand. It would have been more sensible to have built smaller stadiums nearer the football-loving heartlands and used the surplus funds to have constructed training facilities in the townships."
Cape Town's stadium is especially obnoxious given that an upgrade of the Newlands cricket field (in a white suburb) or of Athlone's stadium (in a black neighborhood) would have been far cheaper. The latter was rejected, according to a representative of the Fédération Internationale de Football Association (FIFA), because "A billion television viewers don't want to see shacks and poverty on this scale."
The second-largest city, Durban, boasts the most memorable new sports facility (£275 million worth, more than $600 million, overrun from an original £160 million budget), as well as the country's highest-profile municipal sleaze and chutzpah exuding from a city manager, Mike Sutcliffe, who tried — but failed — to gentrify a century-old Indian/African market for FIFA's sake.
Executives of Zurich-based FIFA, especially its president Sepp Blatter, blithely ignored the havoc this extravaganza created. To illustrate, expensive imported marquee tents apparently required erection by a German construction company. And FIFA got sole occupation — including retail space and a controversial, oft-broken Sky Car up an iconic 300-foot high arch — of Durban's Moses Mabhida stadium for nearly a month, even on 75% of days soccer wasn't played, keeping the facility off-limits to visitors.
Recent national laws provided Blatter guarantees in terms of ambush marketing, logistical support, access control, and protection for FIFA's corporate partners (Adidas, Sony, Visa, Emirates, Coca Cola, Hyundai-Kia, McDonalds, local phone giants Telkom and MTN, First National Bank, Continental Tyres, Castrol, McDonalds, and Indian IT company Satyam). Only FIFA-endorsed items could be advertised within a one-kilometer radius of the stadium and along major roads.
All profits go to FIFA, whose 2010 take is estimated at £2.2 billion. Little will trickle down. Aside from ear-splitting vuvuzela plastic trumpets, the much-vaunted "African" feel to the World Cup was muted, as women who typically sell "pap" (corn meal) and "vleis" (inexpensive meat) just outside soccer stadiums were shunted off at least a mile away.
Shrinking Benefits, Soaring Costs
Danny Jordan, CEO of the World Cup Local Organizing Committee, predicted in 2005 that the games would be worth as much as $9 billion profit to South Africa, even after 2010-related infrastructure expenses. An estimated 400,000 people would visit the country and 160,000 jobs would be created. But current estimates have been approximately halved (or more). The hospitality industry's market was glutted after a third of rooms booked by FIFA's Match agency were cancelled.
Benefits have shrunk but costs have soared. South Africa's 2003 Bid Book estimate of between £100 million and £750 million rose in October 2006 to a final projected £900 million (over $2 billion). Since then, escalations have been prolific, and now £3.6 billion (over $8 billion) is typically cited as the 2010 cost (above and beyond standard infrastructure maintenance and upgrading) — against £1.2 billion in tourist income (an overestimate since many non-soccer tourists are staying away due to fears of overcrowding).
Some expenses, such as a new fast train from Johannesburg's refurbished airport to the Sandton financial district, will receive partial payback from future customers, but many such projects were break-even at best without the momentary 2010 inflow. The Congress of South African Trade Unions (COSATU) argued in early 2009 that "the billions being spent on this prestige project for a rich minority of commuters should rather be spent on upgrading the existing public transport system, which is used by the poor majority."
The mood of poor and working people remains feisty, with several dozen protests each day according to police statistics, most over "service delivery" shortcomings. A University of Cape Town research team reported in early 2010 that underlying causes would continue long after the final goal: worsening urban poverty and rising income differentials (along both class and race lines) in what is already the most unequal major society in the world.
At least two political assassinations allegedly associated with 2010 profiteering occurred in Mpumalanga Province's host city, Mbombela (formerly Nelspruit). More than a thousand pupils demonstrated against Mbombela stadium when schools displaced in the construction process were not rebuilt.
Mpumalanga also witnessed a recent return of apparent xenophobia, which after the World Cup may well worsen: desperately poor South Africans turning from attacks against municipal facilities, to loot retail traders from Pakistan, Somalia and Ethiopia.
Other World Cup-related protests were held by informal traders in Durban and Cape Town, against Johannesburg officials by Soccer City neighbors in impoverished Riverlea township, against construction companies by workers, and against national officials by activists attempting to relocate the provincial borders to shift their municipalities to a wealthier province. A month before the first kick, strikes were threatened, raging or had just been settled over national electricity price increases, transport sector wages and municipal worker grievances.
Post-Apartheid Accumulation
The local winners in the process are not footballers nor even rugby teams that municipal officials fruitlessly hope will one day fill the white-elephant stadia. They are the large corporations and politically-connected black "tenderpreneurs" (who win state tenders thanks to affirmative action, although linked to established white firms) especially in the construction sector.
This process reflects post-apartheid accumulation, according to Moeletsi Mbeki, brother of former president Thabo: "Black Economic Empowerment was created by the ultra wealthy white business community in this country, who were involved in mining and financing and other big business, as a method of countering a program of nationalization. It was a matter of co-option, to co-opt the African nationalist leaders by enriching them privately."
But with all the problems thus created, as hype fades and protests become more insistent, the local elites' mistake in hosting these games will be glaring: global business and genuine joy associated with the world's most loved sport are mutually incompatible. Co-option of this society is not in the cards.
ATC 147, July-August 2010