Against the Current, No. 147, July/August 2010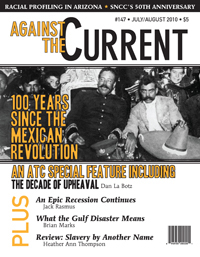 PROGRESSIVE FOLLOWERS OF politics in Honduras have had little to celebrate recently. The June 28, 2009 coup that toppled president Mel Zelaya — a democratically elected reformer, though never the radical populist depicted by the mainstream media — was a terrible blow to democracy, echoing the worst chapters of Central America's dark history.
For Honduran workers and their labor movement, the last several years have been particularly dark, as violence against labor activists had spiked even before the coup hastened a campaign of violence against popular leaders and sympathetic journalists. This is why a massive victory for workers' rights at Honduras' largest private employer — Russell Corporation and its parent Fruit of the Loom — is so startling.
This January, a maquiladora, Jerzees Nuevo Dia (New Day Factory), opened its doors, the capstone of a two-year struggle by the company's workers to unionize. The workers had endured the full range of scorched earth union-busting tactics, including threats, intimidation, the targeted firing of union supporters and ultimately the retaliatory closure of their factory.
In the end, they were able to negotiate the most sweeping labor agreement that manufacturing in Central America has ever seen — including, among other things, the opening of a new, unionized plant to replace the one that closed, re-employment for more than 1,200 workers, and neutrality and access for organizing at all of the companies' factories in Honduras.
What they achieved and how they did it hold important lessons for the future of the global labor and labor rights movement.
The Context and the Struggle
Northern Honduras is a major regional hub of apparel production. The industry here is dominated by the traditional manufacturers — companies like Hanes, Delta, Anvil and Fruit of the Loom, which once ran factories in the Southern United States but moved to Central American in the late 1970s and early 1980s as pioneers of globalization in search of cheaper labor.
Unlike newer branded companies like Nike which are essentially just design houses, contracting out the actual production of their garments to suppliers around the world, the U.S. and Canadian companies doing business in Honduras tend to still own and operate their own plants.
Contrary to the popular image of garment "sweatshops" filled with intimidated, young women workers, efforts by workers to organize are nearly constant. Labor organizers can describe more than a dozen factories — what U.S. organizers would call "hot shops" — where over the last several years workers have spontaneously sought to form unions.
The harsh response of company managers is just as constant. Indeed, the corporate management culture of U.S. firms formed in the anti-union Deep South, combined with a 1970s and '80s-bred Cold Warrior attitude of the local management class, creates as potent an anti-union paranoia as you will find anywhere in the world. With companies freed from anything approaching even the lax enforcement of labor laws in the United States, factory managers destroy workers' efforts to organize unions with brazen impunity.
Whereas U.S. employers seeking to fire union supporters often bother to concoct individualized cover stories, in Honduras it is standard practice for companies to fire each union members the day after the committee is formed and to tell the workers and their colleagues exactly why they are doing this.
This is what happened when workers, with the help of the Central General de Trabajadores, sought to organize at two of Russell's factories in Choloma, Honduras. In 2008, when workers created a founding committee at a factory called Jerzees Choloma, the company responded by terminating all of the union's members, most of them fired in the days after official notice was given.
The same scenario occurred shortly afterward when workers tried to organize at a sister factory called Jerzees de Honduras. In total, roughly 150 workers were fired. The Honduran Ministry of Labor did nothing. The workers' effort to organize might have ended then, like so many others. But the workers had allies.
Enter the Students
The campus anti-sweatshop movement has been among the most resilient student movements in modern history. While many other movements — notably the antiwar effort — has ebbed and flowed over time, student campaigning in solidarity with workers has remained remarkably steady.
Launched in the late 1990s with the support of the U.S. labor movement and allied NGOs, United Students Against Sweatshops has had a number of significant victories under its belt. USAS succeeded in persuading virtually all major universities around the country to adopt codes of conduct governing the working conditions in factories that make t-shirts and other garments with university logos, a business estimated to be worth $5 billion a year.
Russell was one of the companies whose factories were subject to these standards. More importantly, USAS won a series of major victories to see that these policies were actually enforced. Against fierce lobbying by Nike and other industry players, it succeeded in getting universities to force their licensees (the companies that buy the rights to make logoed apparel) to disclose the names and locations of factories making the garments. And the students got their universities to create their own, independent organization, the Worker Rights Consortium (WRC), to investigate conditions at these factories.
In the case of Russell in Honduras, an investigation by the WRC finding that the firings had been illegal resulted in Russell agreeing to reinstate 150 illegally fired workers and providing them back pay — a stunning event in and of itself. But with the union supporters back at work and organizing (now in one consolidated plant), the anti-union campaign continued, culminating in the dismissal of all 12,000 of the plant's workers.
This is when the student campaign really took off. USAS organized campaigns at dozens of campuses, demanding that their schools cut ties with Russell. Workers themselves participated, crisscrossing the country with students to meet with university administrators and lead protest rallies on university campuses. They also crashed the annual shareholders meeting of Warren Buffet's Birkshire Hathaway, which owns Russell and Fruit of the Loom, and picketed retail stores that sold Russell goods.
"Reopen Our Factory"
The students' and workers' most formidable opponent, it turned out, was not Russell itself, but a non-profit organization — the Fair Labor Association (FLA) — purportedly responsible for monitoring working conditions in Russell's and other companies' supply chains.
One of a number of organizations in the growing field of so-called "corporate social responsibility" or CSR, the FLA was founded by Nike and other major companies, with the support of the Clinton White House, in the wake of the Kathy Lee Gifford sweatshop scandal in the mid-1990s (which also concerned labor abuses in Honduras).
The FLA's board is comprised largely of apparel industry executives and it is funded by its member companies. Russell is a member. Like the WRC, it also has university affiliates. The FLA waged a campaign of its own, designed to deflect pressure from its member company Russell. It sent a firm to investigate the closure — a company called ALGI, which had previously worked as a consultant for Russell — finding, not surprisingly, that Russell had in fact done nothing wrong.
The investigation's flawed methodology was challenged by a coalition of labor and NGOs groups — among other things, ALGI had brought the manager of the factory to the site of a sensitive, confidential meeting with workers. In response, the FLA was forced to do another investigation.
Then when the second investigation — carried out by a respected former ILO expert — confirmed the violations, the FLA ignored its findings, telling universities and the world that the allegations were unfounded. When students demanded action by administrators, those prone to do nothing could conveniently point to the FLA's report.
Buoyed by a simple demand — "Reopen our factory" — the worker-student campaign gained more and more strength. In the space of just five months following Jerzees de Honduras' closure in January 2009, the student movement persuaded more than 100 universities in the United States, Canada, and Britain to stop doing business with Russell — costing Russell millions of dollars in revenue.
While brand contracts had been cut in a small number of previous cases, nothing of this magnitude had ever occurred before. Meanwhile, the FLA's ability to protect Russell lasted only so long. Facing a crisis of legitimacy after a wave of public criticism by unions, allied NGOs, and students, the FLA was forced to admit Russell had violated its code (though it never acknowledged the closure itself was illegal).
Russell ultimately came to the table. After three months of negotiations, the company and union reached a pathbreaking agreement. The factory that replaced the shuttered one would be a union shop. All 1,200 out-of-work workers were to be offered employment at this or one of Russell's other factories in the region.
The company paid nine months back pay. It agreed to a position of neutrality regarding organizing at its other factories in Honduras. And it agreed to cooperate with the union in a program of worker rights' education and to give the union access to organize at all of these factories, which together employ more than 10,000 workers.
Of particular interest, the agreement does not rely on the Honduran government for enforcement; instead, it is enforceable through binding arbitration in the United States, the preferred contract dispute resolution of U.S. unions. Nothing approaching this significant a breakthrough has ever been achieved in Central America's maquiladora industry.
Organizations that have historically criticized Russell for its labor practices are publicly praising the company for breaking rank with the rest of the industry by accepting workers' right to organize and thus far making good on their commitments.
Lessons Learned
Several lessons from this struggle bear mentioning.
First, and most obviously, a critical element of the workers' and students' campaign was enlisting the support of mainstream institutions — namely the universities. When you can get Harvard and Stanford to stand with your cause, you know you are in good shape. This was only possible because of a decade of difficult leg work by students on campuses — often through other factory-specific struggles — to push universities to this point.
Second, these developments reflect the increasingly important and pernicious role played by "Corporate Social Responsibility" in labor and environmental issues. The FLA is of course just one of a range of corporate-backed initiatives that purpose to protect the public interest while in fact protecting industry — Richard Berman's Center for Union Facts (which fights unions) and Center for Consumer Freedom (which fights food safety regulation) being among the most extreme and notorious.
Of serious concern for labor activists, these groups can be very effective in fooling the media and sometimes even unions and their allies into believing they are the real thing. According to the student activists, fighting the FLA's propaganda with universities was the most difficult challenge in reaching this victory.
It is crucial that the labor movement and its allies develop a sophisticated understanding of organizations like the FLA and ensure that those who are in a position of influence or power share this understanding.
Finally and above all, this case simply shows that victory is possible. Organizing in the global apparel industry, where companies bust unions with brazen impunity, is already a very tough proposition. Add to that the context of a military-backed coup and its violent aftermath, in which labor leaders and journalists are murdered in alarming numbers, and you have a situation even the most seasoned organizer might think is a lost cause.
But through fierce determination and smart campaigning, workers and their allies have done the impossible. If these workers can win justice under these circumstances, there's plenty to be optimistic about.
ATC 147, July-August 2010