Against the Current, No. 147, July/August 2010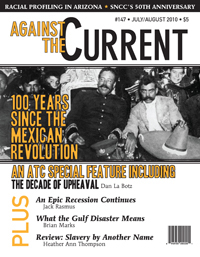 UNDER THE THREEFOLD heading "Another World is Possible/ Another U.S. is Necessary/ Another Detroit is Happening," the 2010 U.S. Social Forum (USSF) convened in Detroit June 22-26 for a celebration of resistance and strategic thinking to advance our struggles for justice globally and at home.
From a spirited opening march through more than 1000 workshops, evening plenaries, cultural events and Peoples Movement Assemblies, more than 15,000 participated. Organizers also hosted tours of the city — including walking tours of abolitionist and labor sites.
Several demonstrations took place over the course of the social forum:
• Supporting AFSCME workers against the privatization of Detroit's services
• Demanding that Chase Bank a) sever its financial ties with RJ Reynolds if it fails to improve the pay and working conditions of its contract workers and b) end foreclosures on Michigan homes
• Calling on the city to shut the incinerator and institute citywide recycling
This was the second USSF, the first having taken place in Atlanta, Georgia in 2007. The inspiration comes from the World Social Forum, inaugurated in 2001 in Porte Alegre as a response to the World Economic Forum of the global financial managers. As with the previous USSF, attendees were from people of color-led organizations. The "feel" of the forum was youthful, creative and energetic.
Banners at the opening march contested Arizona's anti-immigrant law and several workshops discussed strategizing and mobilizing in support of immigrant rights.
Among numerous highlights was the very strong support manifested for the Palestinian struggle. Indeed, the burgeoning campaign for BDS (boycott/divestment sanctions) against Israel's Occupation and racist practices has emerged as the most dynamic force in the antiwar movement.
Against the Current hosted two well-attended workshops:
• "Detroit Radical Dreams" with participants in the city's struggles from the 1960s to the present, chaired by University of Michigan historian Angela Dillard and including former Black Panthers Ahmed Rahman and Ron Scott, labor activists Mark Solomon from the 1950s and John Williams from DRUM, and activist attorney Ron Reosti.
• "Women and Global Justice" with feminist scholars Val Moghadam and Nadine Naber.
ATC also co-sponsored, with the International Socialist Review, a workshop on women workers' struggle in Pakistan with Bushra Khaliq of the Women Worker Help Line and Labour Party Pakistan.
The closing assembly adopted a series of resolutions, the texts of which are online at www.pma2010.org/resolutions.
ATC 147, July-August 2010