Against the Current, No. 146, May/June 2010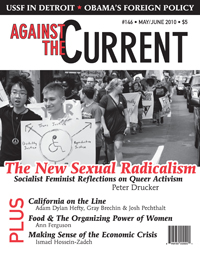 The Jazz Afro Latin Connection:
Dizzy Gillespie – "Manteca Suite" (the full 17-min. suite, not the 3.5 min. reduced version)
Lee Morgan – "Mr. Kenyatta" (from Search for the New Land)
Horace Silver – "Que Pasa" (from Song for My Father)
Jelly Roll Morton – "St. Louis Blues"
Chano Pozo – virtually any recording
R&B with an Afro Latin Twist (single tracks):
Ray Charles – "Unchain My Heart"
Barrett Strong – "Money"
The Miracles – "Way Over There"
Bo Diddley – "Bo Diddley"
Quintessential Salsa:
Fania Allstars – Live (several volumes)
Eddie Palmieri – Palmas
Celia Cruz and Willie Colon – The Winners – only they could have made this album!
Son:
Arsenio Rodriguez – (tracks) "El Reloj de Pastora," "No Me llores"
Various Artists – Cuban Counterpoint: A History of the Son Montuno
Various Artists – Sabroso: Havana Hits
Afro Latin Root:
Los Muñequitos de Matanzas – Vacunao
Afro Cuba de Matanzas – Cuba in Washington
Jayne Cortez – "I See Chano Pozo" (track)
Rai (Algerian party music):
Khaled – King of Rai
Video Online:
Los Muñequitos de Matanzas @ Tumbaito https://www.youtube.com/watch?v=jT__SOqy4ME&feature=related
ATC 146, May-June 2010