Against the Current, No. 145, March/April 2010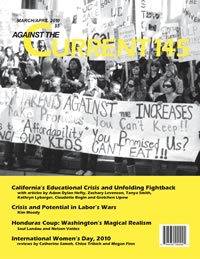 I AM WRITING this piece after reading the New York Times obituary of Lester Rodney, where both the role of the Daily Worker and Lester's role as its sports writer were given their due credit in the fight to integrate major league baseball. Irwin Silber's book Press Box Red has previously told Lester's story in depth, and Dave Zirin's recent articles round out his significance to sports in a more contemporary fashion [see www.huffingtonpost.com/dave-zirin/more-than-a-sportswriter_b_401408.html for Zirin's tribute — ed.]
My contribution focuses on the personal relationship Lester Rodney and I had over the last 30 years of his life.
I first met Lester when I moved to California in 1979, though I remember hearing all about him long before from mutual friends who begrudgingly acknowledged that in spite of other problems they had with the Daily Worker, it had a great sports page. So even though Lester has been recognized for his individual accomplishments, he and the Daily Worker are forever linked.
Lester and I became good friends through a series of interlocking personal relationships — with Stan and Mary Weir, for example, longtime socialists with a history in the Trotskyist movement, and with Jimmy Weinstein, the publisher of In These Times in its early beginnings when it sought to be a catalyst for a newly emerging socialist democratic movement.
Lester described himself (and I agreed) as a democratic socialist, with a commitment to socialism. For me, the struggle I was involved with inside the Socialist Workers Party and the subsequent formation of the American Socialist in 1954 revealed that the party-building forms and dogmas that were part of my own tradition were actually more of a hindrance to the formation of a democratic left.
Lester's approach to this notion was non-sectarian and included being open to the ideas of the far left. The conflicting origins of our socialist beliefs eventually narrowed. And our mutual re-assessments based on life experiences, from these sharply divergent political tendencies, provided us an even closer bond of friendship that endured until his death.
Lester was unapologetic about being radical and proud of the work he did providing the Daily Worker a first-class sports page with a reputation far beyond the political influence of the newspaper itself. However, he was inclined to be cautious about revealing his political associations as well as his accomplishments.
In fact, I felt that he was reticent to speak of his role and that of the Daily Worker in the integration of baseball because he had come to regret his blind, misplaced faith in the Soviet Union and the coverup of the crimes of Stalin. And in several of our many discussions on the subject, Lester told me how embarrassed he was by the fact that he failed to recognize the crimes of Stalinism until the 20th Congress revelations by Khrushchev in 1956.
Of course, history has rendered its verdict on Stalinism in the Soviet Union. I believe that a truthful rendering must also recognize the significant role of Lester and the Daily Worker in the struggle to desegregate baseball. It would be a travesty if history forgot to mention the man who did so much to integrate baseball, and the paper that he wrote for.
Belated Recognition
Lester's comfortable anonymity became impossible to maintain once his past associations were "outed" during the 1997 50th anniversary of Jackie Robinson's appearance as the first Black player in major league baseball. Lester was sought out by the press including ESPN, CNN and other major news outlets, which treated him favorably.
Surprised by the newfound notoriety that highlighted his role in integrating baseball, Lester was quietly gratified that he got some recognition. The last major interview I knew about was in 2008 on the 70th anniversary of the Schmeling-Louis fight. Lester was the last surviving sportswriter in attendance. Never one to seek publicity, neither was he shy about sharing his experiences honestly if he was approached.
Lester was a keen observer of the contemporary sports scene, especially as it relates to politics. We had numerous discussions about it. There was one conversation in particular that stunned me. I asked Lester which ballplayers were sympathetic in the 1930s and '40s to the radical movement. His answer was none. I broadened the inquiry to include all sports figures and he answered again, none.
He mentioned that Red Rolfe, a Yankee third baseman, was an avid New Dealer, and that that was about as left as anyone he could name in sports. That answer shocks me to this day and confirmed my belief that the radical movement may have romanticized a bit the response of American society to the crisis of the 1930s. I felt that if society, especially the working class, had been looking for radical options, this would have expressed itself in the popular world of professional sports.
Lester neither agreed nor disagreed, but commented that most athletes came from small towns and were not inclined to be familiar with, let alone engaged in politics. I never thought that was an adequate response. Unfortunately, for as many times as we had that discussion, we never fully completed our conversation on the meaning of the disconnect between the world of politics and the world of sports.
Lester was 16 years my senior and we enjoyed a warm, personal as well as a fiery, yet congenial, political relationship. Lester enjoyed playing bridge, which in the early years of our friendship, we played often. He was also an avid tennis player. We played a lot of tennis matches, and even though the rivalry began when he was 68 and I was 52, I never won more than four games in a set, and that only once.
Lester paid attention to his physical condition, which led to his longevity on the tennis courts. He gave up his racket at the age 94, whereas I had given up mine long before.
The last time I saw Lester was several months before his death. He was at my home for an event benefitting the South African socialist magazine Amandla. I have lost a good friend, and those who struggle for social justice anywhere have lost a soldier who was a general in his field when it counted. Lester was a long-ball hitter.
ATC 145, March-April 2010