Against the Current, No. 145, March/April 2010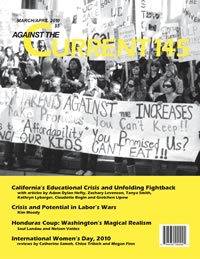 Sisters in the Brotherhoods
Working Women Organizing for Equality in New York City
By Jane Latour
Palgrave Macmillan, 2008, 308 pages, $24.95 paperback.
HAVING A YOUNG daughter and working in the building trades, I am always scanning cultural representations of construction and skilled trades work to see if there are women. Whether Sesame Street or Wendy on "Bob The Builder," women — in cartoon form at least — are partially visible in the presence of tools and heavy machinery.
That a woman carpenter or firewoman is not unheard of is largely through the enormous struggles fought by the women like those profiled in Jane Latour's book, Sisters in the Brotherhoods.
"Why is the whole generation of blue-collar women who were emboldened by the post 1960s civil rights movement to enter male- dominated blue-collar occupations so little recognized, so little mentioned and — when they are — so often maligned?" (4)
Who were these women? What were their stories? We don't know the names of the brave young woman to first step onto a NYC construction site or onto a NYFD fire truck.
Jane Latour looks at the experiences of pioneering women in NYC's building, civil servant and transit trades. They came from varying class, race, ethnic, educational and political backgrounds. Gender and sexual stereotypes also impacted the women differently. Individual circumstances and needs, and desire for better pay and conditions, often coupled with a feminist spirit of equality, led these women to make the very emotionally and physically costly decision to enter this new and hostile terrain.
Some of Latour's case studies entered non-traditional work after years of working in other fields. Family and friends in the trades gave a few of the women a relative degree of familiarity with the conditions and culture of these uncharted occupations. Others had never held a tool yet wanted the opportunity to try and learn.
The sisters, just like their brothers, range in motivation and experience. While assumptions and prejudices abound about these women, there is no one "type" who chose to work in these blue-collar fields.
"Standing up and confronting conditions was interpreted as antithetical to proper 'female,' that is passive behavior. The 'L' word was always an issue. As soon as the women showed up on construction sites, the word 'lesbian' was leveled as an epithet and accusation. The argument went, they must be lesbians because no 'real,' that is heterosexual, woman would want to do this work. The presumption was used against all women from the feminine to the very butch, since every woman working in the trades presented a threat to the common deeply held belief about gender specific jobs and woman's proper 'place.'" (68)
Entering the "Fraternal" Crafts
The International Brotherhood of Electrical Workers Local Union # 3 has a great deal of prestige and history in New York's labor movement. Much of that reputation derives from the electricians' good benefits and dedication to the craft.
Local 3 has always — and continues to value — father-son lineages within the union. In 1978 women first entered the Local 3 fraternity. Their entry came 16 years after Black men had entered the union in a highly orchestrated and contentious move by union leaders.
The presence of women further confounded and rankled many union brothers. It shook their sense of entitlement and understanding of their role as manly breadwinners. To many men, the sisters were taking men's jobs, their son's jobs, their jobs. The hostility experienced by the first women in Local 3's construction division was typical among the other traditionally male trades. Men who mentored and were allies to the sisters, i.e. who behaved as union brothers, had a profound impact. Respectful relationships, common cause, and nurturing of skills kept many women from total burnout.
Sisters in the Brotherhoods is a book about survival strategies and organizing. The women felt the need to "belong" to their respective brotherhoods but also wanted a space where they could seek advice and strategize around conditions on the job and in their union. In Latour's history organizations like United Tradeswomen, Hard Hat News, and Women Electricians are an important space for women's collective efforts:
"United Tradeswomen explored many different avenues in advocating for its members. In addition to the workshop and public forums, UT organized 'rap groups,' 'support groups' and 'speakouts.' They discussed racism and other hot button topics. They worked in coalition with like-minded groups. But UT had another side and even the group's serious side was typically coupled with fun." (31)
The activists struggled with the contradictions of gender and race. They saw their organizations wither from external pressures, official co-option, and fatigue. But these did provide spaces for women to develop tactics for the next day at work as well as for the long haul.
Yesterday, Today and Tomorrow
"The further out from the norm, the more resistance it generated." (119)
The book covers several generations of women and the changes that followed. Latour analyzes the changes that came from above, for example from legislation or union officials, and those that came from below, as with the women's self organizing and day-to-day presence on the job.
Many of the sisters pushed to improve their union and working conditions for everyone. Connie Reyes, the first woman to join the carpenters' union in NYC, had been working with Harlem Fight Back and other community groups that pushed for construction jobs for minority males.
Reyes like others brought that activist experience to rank-and-file fights against corrupt leadership. They put out newspapers with clever names like Hard Hat News, Rusty Nail, and On the Level. Having developed organizing skills and the ability to adapt, many of the pioneer sisters became stewards in their unions.
After all, they were used to sticking their necks out. As stewards they fought sexual harassment, safety conditions, corruption. They encouraged their fellow members to advocate for themselves. But for many the efforts taken to improve conditions deepened the hostility and isolation from their union brothers. Their struggles came at huge emotional cost and disciplinary scrutiny.
"They are part of the honorable tradition of the fight for fairness and inclusion in the American workplace." (4)
The memories the sisters tell of their first day on the job are so vivid I felt the burning stares and nausea of uncertainty. I wanted to hold their hands but knew at that moment they stood alone. They would have many first days and hopefully with time, experience, and confidence in their craft made it a little easier.
Sisters in the Brotherhoods is full of stories of courage and heartbreak and lessons on coming together while being pushed out. There has not been a huge proportional increase in women coming into many blue-collar trades in NYC. After all, these fields are still called "nontraditional" for women.
Gender assumptions about what is and isn't "women's work" have been shaken but not destroyed. Nonetheless, a generation afterwards women continue to go into these blue collar trades. Thankfully, Latour includes a few chapters about newer sisters.
I was a little nervous about reading the epilogue "where are they now." After reading about all they put up with and how hard they worked to make work better for everyone, I felt invested in not letting the assholes win. The epilogues, some tragic and others surprising, give more dimension to women who for so much of their careers were a symbol.
ATC 145, March-April 2010