Against the Current, No. 145, March/April 2010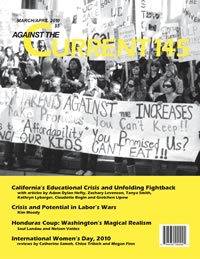 THE COALITION OF University Employees (CUE) represents workers on ten University of California campuses and one national laboratory. We have been involved in bargaining statewide for the last two years, with no end in sight. For several years our members had not received raises. Additionally there had been hundreds of layoffs on campuses and at the Office of the President.
The task of fighting back seemed herculean. But despite the lack of a CUE statewide mobilization, we in the Berkeley local supported the local UPTE's May strike. We also attended, demonstrated and spoke at the Regents meeting where the University of California president Mark Yudof — whose first-year compensation package totalled $828,000 — received emergency powers.
Previously many staff and faculty, whether union members or not, had expressed a preference for a furlough system where everyone could avoid layoffs. Under the emergency powers UC management made it clear to AFT, CUE and UPTE in negotiations that accepting furloughs would not prevent layoffs. All bets were off.
As a public institution, UC is supposed to make its budget available; instead it is a master of obfuscation. Financial transparency has long been a demand of UC unions and CUE, in a report issued by Peter Donohue in 2002, analyzed UC's duplicity (http://www.cueunion.org/issues/2002donohue-report.php). The outcry over UC's top brass over-compensation eventually toppled one UC president, but the priorities of UC management have continually been monitored and criticized by UC unions.
We have noted that profitable departments were closed, state-paid staff raises are withheld for months, pensions are mismanaged behind closed doors, and the cost of employee health care dramatically increases while UC refuses to support a single payer care that would significantly lower costs. By stretching bargaining out over several years UC management has also revealed its unwillingness to bargain in good faith.
Over the years, UC employees have watched executives committing themselves to increasing the corporatization of the UC system, destroying the mission of the university. It is within that context that the statewide coalition of unions (AFSCME, AFT, CUE, UAW and UPTE) last summer issued a call for a vote of no confidence in president Yudof. At Berkeley classes start in late August, just in time for us to invite students to participate in the vote. CUE activists organized a campaign to explain to students and student organizations what had transpired over the summer, and even staffed the voting booths. The results were revealing — 97% agreed President Yudof should resign.
The Solidarity Alliance
As a result of forging these new links, CUE members felt energized. In addition, faculty opposed to the draconian cuts (SAVE) invited all the campus unions to meet with them and with students. Just in time for that meeting, a call for a system-wide strike on September 24, issued by some UC Davis faculty, became public.
Members from the Berkeley unions, faculty and student organizations enthusiastically agreed that their immediate project would be to unite in founding a Solidarity Alliance and to organize for a September 24 shutdown. UPTE was asked to consider holding their proposed unfair labor strike on that date.
For the Berkeley CUE local this meant we could organize freely against the cutbacks with our closest allies. Members who had been demoralized became active and meetings proliferated. Weekly meetings of the Solidarity Alliance helped us coordinate with students and other unionists. We were able to organize within departments as well as across the campus, sharing expenses and tasks, discussing our different approaches.
UC unions have opposed student fee increases in our public statements and at Regents' meetings for years so it was a no-brainer for us to make common cause with students, whose fees were being jacked up by one third. But much to our surprise, we found students supported our demands as workers. As a result of each sector supporting each other, the determination to strike September 24 grew.
Our CUE local voted to give strike pay for our members to walk on the UPTE's picket line. Students, faculty and community supporters (including a few FSM veterans) joined the picket lines. Well before noon it was clear the rally was going to be big — but the massive presence filling Sproul Plaza was overwhelming.
New Activists Emerge
Sustaining the level of mobilization after September 24 has been challenging — but a layer of committed activists has been developing. In our CUE local we see a new leadership coming forward, and our Action Committee has formed its own steering committee. For the November strike and action days our statewide executive board voted strike pay for our local's participation. And support for the Berkeley student occupation at Wheeler was strong among rank and file members.
Nonetheless our union's bargaining situation is uncertain. The Public Employee Relations Board agreed with UC management that we were at a bargaining impasse (a ruling that enables management to unilaterally impose terms). However, with the March 4 action we can continue to be active in our joint campaign to save public education and the university's future. This movement has allowed the activism of our Berkeley CUE local to re-emerge, thereby giving us renewed hope in our future.
Although many of our demands have focused on UC mismanagement and lack of transparency, to solve the economic and educational crises we need a statewide realignment of resources.
Taxes on corporations and higher-income Californians have been cut so severely that the burden is borne primarily by the working class. Business interests are already preparing to draft constitutions which will further attempt to strangle resources for social needs.
The reality is that unions and progressive groups in California are still very much on the defensive. The hope is that our movement to save public education is in the process of creating new opportunities to reprioritize social needs. If we could reverse the widespread attacks on public education, perhaps we could become a model for the rest of the country!
ATC 145, March-April 2010