Against the Current, No. 144, January/February 2010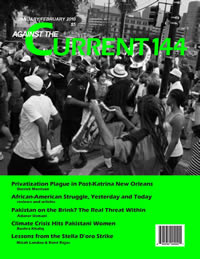 Thelonious Monk
The Life and Times of an American Original
By Robin D.G. Kelley
New York: Free Press, 2009, 462 pages + notes and index,
$30 cloth.
Monk's Music
Thelonious Monk and Jazz History in the Making
By Gabriel Solis
University of California Press, 2008, 218 pages + bibliography
and index, $23.95 paperback.
THE IMAGE TRANSFORMATION of Thelonious Monk and his music, from leading symbol of avant-garde weirdness to provider of background for Public Radio stock market reports, can surely be counted among our contemporary consumer capitalism's triumphs of cultural incorporation. Yes, Monk's rendition of "It Don't Mean a Thing (If It Ain't Got That Swing)" from his classic 1955 album Thelonious Monk Plays Duke Ellington plays behind "Marketplace" — on those mornings after the market has performed just so-so.
This strikes me as not quite so incongruous as walking into the post office a few years ago and seeing a newly issued Malcolm X postage stamp, but somewhere in that neighborhood. That album in fact was an early effort by Riverside Records to "mainsteam" Monk, but who would have figured?
In truth, Monk's art was never weird nor was it background music. It was and is a wonder of our age. Robin D.G. Kelley's extraordinary biography and Gabriel Solis's study of Monk's impact, especially on succeeding generations of jazz musicians both mainstream and "avant-garde," bring home his lasting meaning for our culture.
In his own lifetime Monk achieved celebrity, but regrettably could reap barely a fraction of the material benefits of the world's catching up to his music after years of struggle and neglect. He died February 17, 1982, following almost a decade of near-silence brought on by his longlasting and poorly diagnosed inherited bipolar disorder.
How lucky we are that Monk — along with a loving family and those friends and musical associates close to him — understood his own worth and didn't give up in the face of hardship and early critical ridicule.
Pianist and composer Thelonious Sphere Monk was one of the leading early-to-mid-1940s pioneers of the revolutionary music called "bebop," the fountainhead of mainstream modern jazz. Radiating outward from a few clubs like Minton's, the scene of historic jam sessions where the initial creative experimentation took place, this was a collective creation, not the brainchild of one genius alone, be it Charlie Parker or anyone else — and I'll come back to why Monk in particular couldn't have been "the" creator as some of his inflated claims had it. But no doubt, as in every cultural "big bang," the role of enormous individual talent like Parker, Dizzy Gillespie, Monk and some lesser-known giants is critical.
Historians have long worked over the basic facts that the modern jazz/bebop revolution was closely associated with the social and economic realities of the age — the Second World War, the rising assertiveness of Black urban America (in New York City and especially Harlem, but also less-documented equally vital centers like Detroit) in the face of racial injustice, the declining creativity and viability of the "swing" big bands, and ultimately the shock of the atomic bomb and the postwar world colonial upheaval.
Until recently, however, Thelonious Monk in particular had been the subject of some critical studies, and of rather uneven journalism to put it mildly, but not a full-length life study based on primary sources. Pursuing his subject with fanatical dedication, Kelley was able to attain unprecedented access to Monk's family and archives and learn who he really was.
Monk's Originality Rediscovered
Listeners who have been familiar with Monk's music for decades risk losing some sense of its amazing originality. Those readers who have heard Monk before will be inspired to hear the music again with fresh ears, and those who haven't can discover for themselves its special powers.
Ultimately of course the interest in Thelonious Monk the man lies in the fascination and power of the music. But much of what's been widely "known" about Monk's life has been highly inexact, plain wrong or complete rubbish — that he cared only about music to the exclusion of other interests or relationships or even food or sleep, that he was a musical primitive without pianistic technique, even that this supposed lack of training and education was the source of Monk's "unspoiled" talent.
Some of this misunderstanding stemmed from simple racism and anti-jazz prejudice — no one would have written that a great western classical composer "benefitted" from lack of education and training — and some of it from the overheated rhetoric put out by well-meaning publicists like Lorraine Lion of Blue Note records. Some of it may have reflected a general social inability to recognize bipolar (so-called manic-depressive) behavior. And some was because Monk's family privacy was so intensely guarded, particularly by his life companion and guardian angel Nellie.
Above all, Monk was neither untrained nor lacking in technique. Previous writers have noted that he was trained in the western classics as well as Black church music, and I can recall a long-ago down beat column by Amiri Baraka (Leroi Jones) on a club date where (I'm quoting from memory) Monk performed "arpeggios that should make those hundred-finger pianists take a long hard look." Kelley adds details about Monk's knowledge of classical and modern western composers, not to mention politics and literature, as well as his (no doubt infuriating) habit of refusing to show his sidemen written scores, so that they had to learn his compositions by meticulous listening measure by measure — possibly a source of the silly myth that he couldn't read or write music.
Monk's truly astonishing originality was actually one reason why he could not have been "the" creator of bebop even if he occasionally claimed it. Amidst the bebop modernists, Monk was both a postmodernist and pre-modernist. Even while participating in the bop revolution, Monk avoided most of its newfound conventions, clichés and anthems. Rather, he was simultaneously reaching back before it to the 1920s "stride piano" era, and beyond it to find new harmonic structures and voicings and rhythmic conceptions.
Kelley's technical note (459-50) explains some of how Monk did it, playing "open" (i.e. partial) instead of full chords and developing substitute chords that made familiar songs sound brand new. Even his first sessions as leader, from 1947, sound utterly unlike even the most adventurous modernist records of the period.
Most of the critics of the period, quoted by Kelley, hadn't a clue. And the music was hard — Kelley cites more than one occasion of a sideman complaining that his part is impossible to play, leading Monk to retort: "You a musician? You got a union card? Play it!" And somehow they finally would play it, and love it.
Life and Struggle
Kelley's great contribution is to integrate the story of Monk's music and its evolution with a richly detailed account of his life and struggle — not only economic struggle, but a profound creative struggle too. What may sound like purely spontaneous improvisational genius is, in reality, the end product of extraordinary effort.
Not only difficult struggles but also sometimes lucky accidents went into the music's creation. On the Brilliant Corners recording session, Monk finds a celeste and Max Roach a set of tympani drums in a corner of the studio, and they incorporate these unconventional instruments into what becomes a classic album. Monk's seven-year-old son Thelonious Monk, Jr. ("Toots"), witnessing the session, was so inspired by those gleaming drums that he knew what he wanted to be. As T.S. Monk, he would go on to become the keeper of his family's legacy.
On the album's title cut — something I didn't know before — what sounds like a slight glitch, between the end of the drum solo and the return of the theme, really is, because the producer Orrin Keepnews had to stitch together two dozen incomplete "takes" of a composition so tricky that more than four decades later, hardly anyone tries to perform it.
The problems of playing Monk's music properly are the main reason why only a handful of his pieces are universally known, like "'Round Midnight" and "Straight No Chaser," while dozens of others such as "Brilliant Corners" are so rarely heard. However, as detailed by Gabriel Solis in his study Monk's Music, the best of modern jazz musicians and particularly pianists have profoundly studied various aspects of Monk's technique and spirit.
Solis as well as Kelley both remind us of Monk's profound rootedness in both African-American and the broader American popular musical tradition: "What is striking is that none of the pop songs he played regularly come from after 1945, and by far the majority of them were first published between 1925 and 1935 — that is, during Monk's teens." (Solis, 21)
Thelonious Monk was not only a highly original artist but, from his teenage years on, a working musician. He needed jobs, he needed recording dates, and before long he needed to support a growing family. Often work was scarce, while at other times Monk had to tour beyond the point of exhaustion. During lean times they had to depend on Nellie's very modest income, yet her own health was often fragile.
Their love affair had to confront the years when Monk was forbidden to work in Manhattan clubs that served alcohol — he lost his "cabaret card" (a police-issued musician's permit that many years later would be ruled to be an illegal blatant abuse of authority) when he took the fall for another musician's drugs — and episodes of his erratic behavior, sometimes brought on by traumas including his mother's passing, fires caused by faulty wiring that twice destroyed their apartment, tragic deaths of fellow musicians and a beloved nephew, and the everyday pressures of a racist system that sporadically erupted in nasty police incidents.
From roughly the late 1960s into the early 1970s, ironically as Monk's fame had become secure and his stature as a creative fountainhead rather than outsider was emerging — although now he was sometimes dismissed as a musical "conservative" — the story becomes more tragic with his life energy increasingly drained by the depression.
Several years prior his ultimate lapse into near-silence, he suffered a nearly fatal collapse from combining the anti-depressant drug Thorazine with "vitamin shots" that a quack doctor secretly laced with amphetamines. He was saved only because Nellie's sister Skippy, a physician, happened to be in the house.
Even in good times, there was precious little real economic security. Both Nellie and Thelonious come across as very strong people, as they had to be in order to survive. It is remarkable in retrospect that they were able to hold back the ravages of his illness as long as they did, enabling his career as a leader in performance and recording to extend through a quarter century.
Kelley was able to reconstruct records of several generations of both Nellie's and Thelonious' families, not only from archives but also because he was uniquely able to gain Nellie's trust before her own death in 2002. Indeed, during Kelley's research for this book, Nellie became a kind of caretaker for Kelley himself during his two-year convalescence from being struck by a taxicab on a Newark street corner.
One striking vignette that opens the biography illustrates the story of the world that produced Thelonious Monk: On the night in 1957 that Thelonious opens his breakthrough job at the Five Spot club (his precious cabaret card finally restored), a white show business figure named Julius Monk coincidentally opens a revue on West 56th Street. Julius, so Kelley informs us, is a family tree buff but apparently never cops to the fact that his great-grandfather Archibald Monk was the owner of Thelonious Monk's great-grandfather John Jack Monk.
The story of the lives and migrations, ultimately to the West 60s of Manhattan, of the ancestors of Thelonious and Nellie is full of what we can call "extended family values" as well as the tribulations and tragedies of their times, such as the scourges of tuberculosis in overcrowded unsanitary housing — and the untreated mental illness of Thelonious Monk's father, Thelonious Sr., that claimed the last 15 years of his life and left the young Monk's mother Barbara to raise her children with the aid of close relatives who had gathered in the same or nearby neighborhoods.
Monk's music comes through as a combined product of his own genius, the phenomenally rich musical atmosphere of the culture where he grew up, his interactions with numerous famous as well as lesser-known figures in jazz history that fill Kelley's pages, and the world-shaking events and struggles of the age.
Kelley's achievement combines the skills of historical research, detailed biography and musical study. His powers as a social historian are more in the background here than in his previous works, but at key points he discusses what the impact on Monk must have been of the Emmett Till murder, the Sharpeville massacre, the firebombing of the Black church in Birmingham, Alabama and the long Civil Rights drama.
The power of jazz music as a liberating force, both as a cooperative improvised art and in promoting the social and anti-racist freedom struggle, is implicit throughout the text. Kelley doesn't belabor the point or preach about it, perhaps following his subject's example: Monk was not overtly "political" and even disavowed any such interests when asked by journalists he didn't trust, but he frequently participated in freedom fundraising efforts of the period, and it's clear he knew what time it was.
The music takes center stage, as of course it must. Among the joys of the book is what appears to be an almost complete account of Monk's performing and recording odyssey, with Kelley providing concise critical notes on club dates, concerts and recording sessions.
Kelley himself absorbed this music from childhood. An aspiring pianist in his youth, "I became completely obsessed with Monk's sound (which) seemed beyond my comprehension. I played more notes; I played fewer notes; I changed the chord voicings; I played in front of the beat, I danced around the beat…"
Finally, he called on Monk's spirit "…and he came to me, in a dream. Decked out in divine alligator shoes, a dark green silver suit, yellow tie, bamboo sunglasses, and a cold straw hat, he snuck up behind me as I sat hunched over my stepfather's Steinway upright, looked over my shoulder, and simply mumbled, 'You're making the wrong mistakes.'" (xvii-xviii)
This vision must have really happened. You can't just make that up.
Enduring Legacy
Gabriel Solis's Monk's Music was published, as the author notes, as Kelley's Monk biography was nearing completion. An intriguing text in its own right, it can now be read as a kind of companion volume, extending the analysis of Monk's influence and lasting legacy.
For Solis this study sheds light not only on Monk but more broadly on "the process through which jazz musicians learn from prior generations, explores the traces this process leaves on their own music, and investigates the ways this learning gets translated into the language of influence." (3) Indeed, "I would argue that the particular creative engagement with a past becoming history distinguishes jazz as an improvisational practice, and that jazz musicians have participated as actors, agents, subjects, and narrators in their own history in both musical practice and metamusical discourse." (16)
Whether this "engagement with a past becoming history" is exclusive to jazz music may be debatable; but certainly the fact that this art form remains so vibrantly alive, rapidly evolving and in a century-long interaction with the recording industry gives the role of jazz musicians as "narrators in their own history" a particularly dynamic quality.
At times Solis's inquiry becomes rather technical both musically and sociologically, so that this is not quite an entry-level book. But the basic point is that while Monk can never be duplicated and rarely even successfully imitated, there are various ways of "hearing Monk" that inspire musicians ranging from the mainstream to the "avant-garde." For the latter, Solis draws upon an earlier study by Robin Kelley on Monk's impact on Cecil Taylor (Solis, 163) as well as his own studies of unabashed Monk-lovers like Roswell Rudd, Steve Lacy and Randy Weston.
Pianists as stylistically diverse as Fred Hersch, Danilo Perez and Jessica Williams are sketched in a particularly engaging chapter. All of these are highly individual figures, which in a way validates Monk's own values: He insisted on individuality in his own groups, not allowing the musicians to imitate him or even themselves. "Play yourself" and "Don't lose the melody" were his most frequent injunctions.
Very few pianists attempt to perform Monk's compositions in his own style, but two examples come to mind in particular. One is cited by Solis in his concise discography (Solis, 231): Jessica Williams (1999), In the Key of Monk: Jessica Williams Plays Tribute to Thelonious Monk on the Jazz Focus label. My own favorite is In Walked Thelonious by the late Walter Davis, Jr., recorded in 1987 but released posthumously in 1994 on the Mapleshade label. Following Monk's instructions, Davis sticks to the melodies and beautifully so.
As recounted in that album's liner notes, shortly before the recording session Davis told the producer a vision reminiscent of Kelley's: "Man, you won't believe what happened to me last night. I sat down to my electric piano and Thelonious came into the room. I played for three hours and never even turned on the piano."
Again, you can't make that up. Even if you never have Monk look over your own shoulder at the piano, you can find most of his historic recordings still in print — from the late 1940s Blue Notes to the Prestige and Riverside 1950s trios, dates with Sonny Rollins and Coleman Hawkins and Art Blakey's Jazz Messengers, the big band concerts of 1959 (Riverside) and 1963 (Columbia), the '60s quartets and of course, the rediscovered Carnegie Hall concert set with John Coltrane, and more — landmarks in the journey of "An American Original." (The only real failure of the lot was Columbia producer Teo Macero's unfortunate attempt to pair Monk with Oliver Nelson's arrangements in Monk's Blues.)
As Kelley reminds us in conclusion: "Monk was essentially a rebel. To know the man and his music requires digging Monk — out of the golden dustbins of history, out of the protected cells of museums – and restoring him to a tradition of sonic disturbance that forced the entire world to take notice…
"Original did not mean being different for the hell of it. For Monk, to be original meant reaching higher than one's limits, striving for something startling and memorable, and never being afraid to make mistakes. Originality is not always mastery, nor does it always yield success. But it is very hard work." (Kelley, 451)
ATC 144, January-February 2010