Against the Current, No. 143, November/December 2009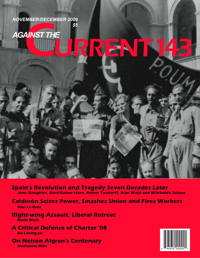 "INDIANAPOLIS WATCHES THE [Indianapolis] 500 one day and sleeps 364." This quip is attributed to Kurt Vonnegut (he later denied it, although not convincingly).
Two corrections and an update are in order to my article "The Indianapolis Colts' Extortion Dome: Taxpayers Blitzed, Thrown for Loss, which appeared in Against the Current 135 (July/August 2008). It will be readily apparent that this is much more than an Indianapolis or Indiana story. Although I develop the particularities of the Indianapolis Colts' new toy and its cultural setting, and its social and economic impact specifically on Hoosierdom, this is really an Every City story. [In September, the Chicago City Council has voted to accept the International Olympic Committee's demand that the city assume responsibility for the probable huge losses to be incurred if it hosts the 2016 Olympics – ed.]
Colts' Extortion Domes are unfortunately everywhere. The story of Indianapolis and the Colts is readily applicable to all those myriad Every Cities saddled with expensive prima donna professional sports teams brought in as supposed growth enhancers, revenue generators and proof of big-city status. These franchises actually end up costing their host cities more than what they bring in, and are always demanding more and more lest they pack up and leave — as the Colts did to Baltimore on March 28, 1984, when the franchise sneaked out after midnight to move to more hospitable Indianapolis.
The NBA Supersonics franchise did the same when Seattle refused to build the team a new stadium — it too packed up, and moved to more hospitable Oklahoma City. But as my story below indicates, Seattle, not Oklahoma City, will surely become the real winner.
Left sports writer Dave Zirin documents the reality in The Nation, June 26, 2009, where he mentions three stadium boondoggles that were financed by neglecting vital infrastructure repairs that proved fatal. Such was all the money that New Orleans poured into the Superdome before Katrina, while the levees went unattended. The bridge that collapsed in Minneapolis-St. Paul in 2007, during the same month that ground was broken for a $500 million stadium. And most recently, the collision of two Metro public commuter trains in June 2009 in Washington, D.C. that took nine lives and sent 75 people to the hospital.
Metro is a woefully underfunded, overstretched public transit network, and the front two cars of the striking train were two months overdue for maintenance on their braking systems. Yet D.C. owes massively for a new $700 million ballpark for its National League Eastern Division last-place baseball team, with the city also considering funding new stadiums for soccer and basketball, and even a mega-stadium to bring back the Washington Redskins football team from its present home in suburban Maryland.
All this while the federal government, D.C, and the neighboring states of Maryland and Virginia continue to neglect the Metro public transit system that serves merely their workers, not their fat cats!
Back Home Again in Indiana
As to the corrections, first, it's not the Lucas Oil Dome, as I originally stated. It's the Lucas Oil Stadium, because it doesn't have a dome roof over the whole thing, but a retractable roof instead (which doesn't always function well). The picture with the original article shows it clearly enough: the Lucas Oil Stadium's faux antique early 20th Century brick façade that the architect who designed the Stadium said captures "the spirit of Indianapolis," invidiously comparing it to the RCA (formerly Hoosier) Dome by calling the modernistic oval-shaped Dome a "featureless bubble." The RCA Dome was demolished on December 20, 2008, having been in existence only 24 years, but to the Colts so hopelessly inadequate it threatened to leave if it wasn't given a new stadium toy.
Second, Lucas Oil didn't shell out a mere $2 million in naming rights, as originally mentioned. It's actually paying $120 million over 20 yrs. for the naming rights, or an average of $6 million per year for all that free advertising. The total cost of building the Lucas Oil Stadium initially came to $720 million, but another $30 million had to be spent for repairs to make it serviceable for the opening of the 2008 football season and August pre-season, so the total cost was $750 million, or ¾ of a billion dollars.
All but $100 million of this was financed by raising restaurant food, beverage and income taxes in the Indianapolis area (Marion and the contiguous counties) in 2008. The Marion County income tax was, of course, raised once again to help finance the Stadium, from the 2007 tax year rate of .011125 per dollar of earned income to .0165 per dollar for 2008. The State of Indiana's venture capital fund for 41 new employers in this state that suffers from massive job loss is only $700 million!
But when the Colts began use of the new Stadium and held the first preseason game there on August 24, 2008, it became clear that there were still significant bugs to be worked out. There was confusion in the myriad hallways for patrons getting to their seats because of nonexistent or confusing signs, and inexperienced ushers. There were also 30-minute waits for patrons standing in line to get onto the escalators.
Needless to say, the local media went ape over the "wonderful" new stadium and touted it widely, with local TV giving special presentations on it. Two hundred thousand visitors came into Indianapolis for the Lucas Oil Stadium's opening preseason game and tours of the facility. One out of town visitor said on TV that the new Stadium now makes Indianapolis "a big city," showing how little he knows about actual life here.
A very revealing article in the December 11, 2008 New York Times, "Stadium Sponsorship Grows to New Levels," documents how the Indiana Colts have raised marketing the new Lucas Oil Stadium to advertisers to previously unheard-of heights by allowing retailer H.H. Gregg to have a 26,000 square-foot appliance-packed showroom in the Stadium through which patrons have the "privilege" of walking on their way to their seats.
There are also gasoline pumps in the Lucas Oil-sponsored north gate area, airplane seats in the AirTrans Airways-sponsored food court, and automobiles in the Chevrolet-sponsored northeast corner of the Stadium. The Indiana law firm of Baker & Daniels sponsors the club lounges on the western end, and Advantage Health Solutions sponsors the club lounges on the eastern end. Sprint sponsors the Stadium's east gate, Huntington Bank the west gate, and H.H. Gregg the south gate.
Super Hype
As is now fairly well known, Indianapolis will be the site of the 2012 Super Bowl, something readily touted by the politicians and business community here as a godsend for the local economy. My educated guess on what will be the actual economic impact is that it will be a one-week-only big splash for the downtown area (where the Stadium is located, on the west end of the downtown business district), then everything "back to normal," i.e. back to the overbuilt downtown business-as-usual stagnation with no lasting economic impact that would lead to new permanent jobs or increased consumer spending.
Further, while building the new Lucas Oil Stadium and thus keeping the Colts in Indianapolis was vigorously sold to the public and to businesses as a local economy-boosting, jobs-creating measure, it has to be remembered that that the Colts play in the Stadium only two games of the preseason, eight games of the regular season, and should the team make the playoffs, maybe only one or two more, so that all the economic activity generated by the Colts is for only 10 to at most 12 days a year. All the Super Bowl flash will be for only one week's worth of activity that, just like the Colts' regular season and preseason games, caters solely to luxury, entertainment and extravagance, like some tourism-driven Third World economy.
Our Gannett-owned sole daily newspaper, the Indianapolis Star, had an article on concession prices at the new Stadium: a large (22 oz.) soft drink with a 22 oz. beer and one pretzel will cost $20. Beer and soft drinks are $7 apiece, a pretzel $6. The cost to a family of four for these, two beers, four soft drinks, and four pretzels, will come to $66 for just one round of refreshments (drop the two soft drinks for the beer-drinking adults and the cost is still $52).
Yet the Star article gloated on how "reasonable" Stadium prices were compared to other NFL stadiums in the Midwest, and that the Lucas Oil Stadium would have fancier food offerings than the old RCA Dome because it has more elaborate kitchen setups. For those patrons in the fancy private suites, they can also pick from tempura-batter bacon hamburgers and other exotic food items not available to the general public.
Downtown Indianapolis street patterns are still such that they are more suitable for the traffic flow that occurred in the 1930s, and are thus not able to handle efficiently the crush of traffic that enters and exits downtown for Colts games, or for games by our NBA Indiana Pacers (whose Conseco Fieldhouse is also downtown), or for major concerts in either the Fieldhouse or the Stadium.
So major traffic jams are the norm, and the smart avoid downtown during these events if they are not attending them. Not that Indianapolis attracts much in the way of major concerts, for the cavernous Fieldhouse and Stadium have acoustics that, while suitable for sports events, are terrible for music. In fact, when the first major concert was held at the Lucas Oil Stadium, a country star Kenny Chesney concert on September 13, 2008, the acoustics were so bad that many disgruntled patrons were demanding their money back!
Ever a Lucas Oil Stadium booster, however, the July 13, 2009 Indianapolis Star touted in a banner front-page article how much the new Stadium had attracted other major events for its use other than Colt games. Still, it had to concede that the Stadium had lost $12.7 million in the first five months of 2009, and that it may not be until 2012 that Lucas Oil shows a profit. Operating costs for the new Stadium are 26% higher than they were for the old RCA Dome.
Parking for the 2½ hours or so of a major event in the lots adjacent to the Stadium is $30, within five blocks of the Stadium, $20, over five but within ten blocks of the Stadium, $10, and farther than that, $5. Compare this with $1.50 for meter parking for two hours, but, needless to say, convenient meter parking is not readily available close to the Stadium (meter parking is free in Indianapolis after 5 or 6 P.M., depending on location, and on Saturdays and Sundays), and it's not uncommon for the police to close off meters during special downtown events.
I was unfortunately traveling through downtown Indianapolis during one of the two Colts home preseason games in August 2008, and there were special media and downtown hotel tailgate parties all over the place. At one such event, the local radio DJ advertised that the party he was broadcasting from "had the sexiest bartenders in town." The two women who were bartending threw their hands up in the air and enthusiastically cheered his words as a major compliment.
Indianapolis social mores, politics, and culture generally, seem forever mired in the Eisenhower era. Indiana was one of the states crucial to defeating passage of the Equal Rights Amendment (and in 1860, as I mentioned in my original article, the Indiana General Assembly defeated joining the Confederacy by only five votes).
Trouble in Circle City — CIB
Indianapolis pays heavily for the "privilege" of hosting the Indianapolis Colts and the Indiana Pacers in another way as well, which became apparent in early 2009: the City's Capital Improvement Board (CIB), which actually owns Lucas Oil Stadium, Conseco Fieldhouse, Victory Field (playing ground for the minor-league Indianapolis Indiana baseball team), and the Indianapolis Convention Center, and leases Lucas Oil, Conseco and Victory Field to the teams, faces a massive operating deficit.
This deficit, originally estimated at $43 million, but now is established as $47 million. At least $15 million results from Conseco Fieldhouse, while at least $20 million of it results from the Lucas Oil Stadium. This is principally for two reasons: operating costs for Conseco and above all, for Lucas Oil, are far greater than expected; and the money-losing Pacers team defaulted on its $15 million scheduled payment for Conseco maintenance, while the Colts also got out of paying their fair share of the operating costs for Lucas Oil because of the sweetheart contract the team foisted on the City.
Colts' owner Jim Irsay refused to even consider renegotiating this contract, flippantly dismissing the request from the CIB it do so with "A deal's a deal." Needless to day, this substantial deficit caused much consternation in a city and state already reeling from major revenue losses due to the recession. A CIB bailout was finally incorporated into the state budget passed by the Indiana General Assembly (Indianapolis, like other Indiana cities, lacks home rule) and signed into law by Governor Mitch Daniels on June 30, 2009.
This budget includes a raise in the hotel room tax that will make it one of the highest in the nation at 10%, onto which will also be added Indiana's 7% sales tax, and also calls for a $22 million cut in the CIB's budget — which will include cuts in both CIB payrolls and funding for Indianapolis arts programs. Although this new tax has to be approved by the Indianapolis/Marion Co. City-County Council, such approval will undoubtedly be pro forma.
The budget also leaves the Colts and Pacers completely free of any financial requirements to help alleviate the CIB deficit they themselves caused (an earlier bailout proposal, long abandoned, required the Colts and the Pacers to pay $5 million apiece toward the deficit), and this final plan still leaves the CIB $12 million short.
Indiana's Republican Governor Mitch Daniels and Indianapolis's Republican Mayor Greg Ballard publicly bickered on how much the CIB budget would be cut, with Ballard favoring a $12 million cut, and Daniels demanding a $22 million cut; and Daniels, with the support of the Democrats, prevailed. It's a classic example of penny wise and pound foolish, because while Indianapolis is trying very hard to make itself a tourist and convention hub, raising hotel room taxes to the level of Houston and cutting back on spending for arts and culture will only make Indianapolis less attractive for conventions and tourism.
Indianapolis is already widely known for its lack of urban amenities and cultural attractions, and now threatens to become even more so. Consider public transportation system, for example. While Indianapolis is the 10th largest MSA (Metropolitan Statistical Area, the U.S. Census Bureau's designation for metropolitan areas and contiguous suburbs) in the country, its IndyGo public bus system only ranks 99th in size nationally, so that massive areas of the city and surrounding areas are simply unreachable by public transportation.
Despite this, Indianapolis's movers and shakers, distressed with this woefully unattractive public transportation system's inability to generate enough revenue to support itself (surprise!), still talk of eliminating some more routes — as happened before, and which, of course, makes Indianapolis even more auto-dependent. So even though there had been somewhat of a job boom in Indianapolis compared to the rest of the state (wiped out, of course, by the continuing recession), most of the jobs that were created were on the far ends of Indianapolis or in the outlying small towns or suburbs, and thus simply not accessible to the inner-city unemployed poor who must rely on buses.
Another disincentive to ride the IndyGo buses also emerged near this time of final writing, during Indianapolis's hot, sultry days of late June 2009. IndyGo has many older buses that lack air conditioning, and even on those that do, the air conditioning systems keep breaking down.
But while the Indiana General Assembly had to address the CIB deficit, and also acrimoniously bickered within itself and with the Governor over increasing funding for Indiana's wretchedly inadequate primary and secondary school system, it also attempted to place new restrictions on a woman's access to abortion (fortunately defeated), and to de facto punish the unemployed by cutting their unemployment compensation as an "incentive" to force them to find work (also defeated). However, at no time did the General Assembly find itself willing to address the jobs crisis in this recession-devastated state.
Indiana's Devastated Economy
Indiana's unemployment rate for June 2009 was 10.7%, up from 10.6% in May, and up from 9.9% in April, while the national rate for June was 9.5%, 9.4% for May, and 8.9% for April. This marks the eighth consecutive month in which Indiana's unemployment rate has been 7% or higher, as well as the seventh consecutive month in which Indiana's unemployment rate has been substantially above the national average. (These data, and those below on city unemployment and job loss, come from the Bureau of Labor Statistics.)
Economists predict that Indiana's unemployment rate could reach 11.5% by early 2010 due to the predominant role of auto manufacturing in Indiana's economy. Layoffs at GM and Chrysler that have already occurred have taken a toll on Indiana's employment, a toll that threatens to get even worse with the restructuring of these troubled giants, with Ford and auto parts manufacturers also laying off significantly. Auto parts manufacturer Navistar has already announced plans to close its Indianapolis factory permanently, and the once-bourgeoning RV (recreational vehicle) industry is in a severe downturn due to the recession having almost completely destroyed the market for these expensive, gas-guzzling toys.
Four major urban manufacturing areas in Indiana had over 10% unemployment in May 2009, and Kokomo, home to four Chrysler plants and one GM plant, had nearly 20%. Indiana's work force has been hard hit all of 2009 due to massive layoffs in manufacturing, particularly in auto and auto parts. Indiana ranked 40th in the nation in employment in both June and May, and May was a month in which Indiana lost over 15,000 jobs. Indiana lost a total of 156,000 jobs between May 2008 and May 2009.
While Indiana had created 30,000 jobs from February 2005 until the recession hit, it also lost 43,000 jobs during that same time, and Indiana has not only suffered major job hemorrhaging during the current recession, but also for the past two and more decades, making it quintessentially Rust Belt. Further, the jobs created have usually paid much less than the jobs lost. Indiana has been heavily hit by the loss of industrial jobs, and the average wage of Indiana workers has been below the national average for some time. Also from 2005 to 2007, according to the Commerce Department's Bureau of Economic Analysis, Indiana ranked only 39th in the country in terms of jobs created, and 47th in job growth as a percentage of the total workforce.
This made Indiana 44th in the nation in economic growth in 2007, before the current recession. Unionized jobs have been replaced by non-unionized jobs, often with drastic pay cuts; high-paying industrial jobs have been replaced by low-paying service and retail jobs; and Indiana's economy has been devastated not only by declines in auto, but by other manufacturing declines and plant closings as well, even before the current recession.
The new non-union Honda plant that opened in Indiana in 2008 pays its workers less than $15 an hour (only half of what a unionized autoworker used to make, before the GM-Chrysler "bailout" forced bankruptcy and buyout).
It's frequently even worse for "overqualified and under-experienced" college graduates in the state, which is one of the most uneducated states in the Union (44th in the percentage of its population holding a college degree in 2006, with only a third of its workforce holding a high school diploma or G.E.D.; and where 46.6% of Indiana's recent college graduates leave the state annually). For example, I work regularly less than six months a year at a job that, while it requires a college degree, has reduced my pay from $11.50 an hour in 2005 to $10 an hour today, less than when I took the job in 2001!
Colts' Culture: Babbitry Redux
But despite Indiana's toll on its own working people, Hoosiers are extraordinarily proud of having the Indianapolis Colts and the brand-spanking-new Lucas Oil Stadium in the state, as if that made up for the daily misery and apprehension all around them. When making the 2008 NFLplayoffs was in doubt Indianapolis was agog with concern, this preoccupation overshadowing by far Indiana's wretched economy, the nationwide recession, the continuing war in Iraq, and myriad other "unimportant" matters including the Presidential race.
Much to the relief of Hoosierdom, the Colts did manage to make the playoffs, only to lose to San Diego in the first round. Still, boosterism and smugness never die either in Indiana or Indianapolis, which drove Indianapolis-born Kurt Vonnegut out in such disgust he refused to step foot back into his home town for over 40 years, until he gave a lecture here in the spring of 1986. (Vonnegut did, however, dedicate the University of Evansville's library in 1986 and received the Eugene V. Debs Award in Terre Haute, Debs' home town, in 1980.)
Vonnegut heartily satirized Indianapolis in his 1973 novel Breakfast of Champions, where Midland City, Ohio was his surrogate location for the Hoosier capital. Another satirical writer whose keen eye captured not only the supposedly big-city commercialized boosterism of Indianapolis, but also the small-town cliquishness and provincialism that dominate here as well, is Sinclair Lewis. In today's Indianapolis with its corporate Colts culture, we see that not only the heavily commercialized superficiality that dominates the big-city Zenith of Babbitt, but also the small-town smugness found in Main Street and Arrowsmith as well as the religiosity, pietism and hypocrisy of Elmer Gantry , truly live on.
November-December 2009, web only