Against the Current, No. 143, November/December 2009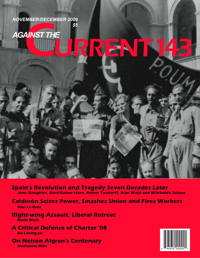 THE YEAR 2009 marks a tragic 70th anniversary, not only globally – the beginning of the Second World War, which would claim the lives of tens of millions and give rise to a whole new lexicon that includes "genocide" and "nuclear weapons" — but also the final defeat of the Spanish Revolution and the onset of 26 years of fascist rule under Francisco Franco.
We present here a small collection of reflections and reviews on what the Spanish Revolution meant — its enormous inspiration and heroism, the cynical policy of the "democracies" who proclaimed an arms embargo on the Spanish Republic, the murderous betrayal perpetrated by the Stalinist-ruled Soviet Union and its agents in Spain. We hope that these articles will stimulate readers who are new to the subject, as well as those who have previously studied these events, to examine the texts reviewed here and the lessons they offer for today's freedom struggles.
ATC 143, November-December 2009