Against the Current, No. 142, September/October 2009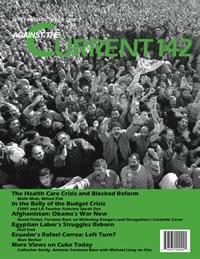 1996-97—Rwandan troops invade and attack Hutu militia-dominated camps on the Rwanda-Zaire border.
1997—Tutsi and other anti-Mobutu rebels, aided by Rwanda, capture Kinshasa. Mobutu is removed as the president of Zaire, which is renamed the Democratic Republic of Congo (DRC). Laurent Kabila becomes president.
1998—Kabila fails to expel Hutu Militia from the Congo, resulting in a switch of alliance by Rwanda. Rwandese-backed rebels attempt to depose Kabila. Zimbabwe, Namibia and Angola side with Kabila. Rwanda-backed rebels take control of much of eastern Congo.
1999—Tensions grow between Congolese Liberation Movement (MLC) rebels, supported by Uganda, and Rally for Congolese Democracy (RCD) rebels, backed by Rwanda.
1999—All African countries involved in the conflict sign a cease-fire accord in Lusaka. The next month, MLC and RCD rebels sign on. In December, fighting breaks out in north.
2000—Fighting continues between rebels and government forces, and between Rwandan and Ugandan forces.
2001—President Laurent Kabila is murdered; his son, Joseph, becomes president.
2001—Joseph Kabila meets Rwandan President Paul Kagame in Washington. Rwanda, Uganda, and the rebels agree to a UN-backed pullout plan.
2002—Presidents of Congo and Rwanda sign a peace deal. Deal also signed with Uganda. Rwanda and Uganda agree to withdraw troops. UN-backed talks begin in South Africa, resulting in a peace deal.
2003—Kabila approves two-year transitional constitution, pending elections. Today—Conflict continues in North and South Kivu, Ituri and Northern Katanga.
ATC 142, September-October 2009