Against the Current, No. 142, September/October 2009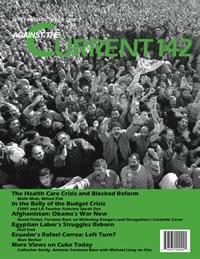 J. DAVID EDELSTEIN, an ardent socialist all his life, died July 20, 2009 in Syracuse, NY at age 90. Dave was an at-large member of Solidarity and supporter of the Socialist Party USA; his life in the socialist movement dated back to the Workers Party and Independent Socialist League of the 1940s and 1950s.
Dave was a professor of sociology at Syracuse University and Northern Illinois University. He was keenly interested in union democracy and its potential lessons for the structure and institutions of a future democratic socialist society. His study of voting in unions resulted in a book co-authored with Malcolm Warner, Comparative Union Democracy: Organization and Opposition in British and American Unions (Transaction Publishers, 1979).
Dave is survived by his wife Ruth R. Greenberg-Edelstein and children Daniel and June, grandchildren Susan and Jacob, a niece Beth and two nephews Steven and Jeff.
ATC 142, September-October 2009