Against the Current, No. 142, September/October 2009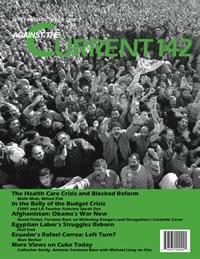 CONNIE CROTHERS IS a jazz pianist, recording artist and founder of New Artists Records in New York City. A student of the jazz giant Lennie Tristano, her discography includes sessions with the late Max Roach as well as numerous solo, duet and quartet performances. Against the Current editor David Finkel interviewed her about the impact of the economic crisis on jazz and the broader creative music scene.
Against the Current: How has the economic meltdown and especially the situation in New York City affected the life of a working jazz musician?
Connie Crothers: Many musicians derive their survival money from tours. There is a surprising, sometimes shocking, downturn in this area of musical professionalism. Here are a couple of examples, both concerning well-established musicians, friends of mine.
One musician has an agent who booked a three-week European tour for his band. This kind of tour not only pays enough to sustain a musician for a while, it enhances the musician's reputation and expands the music itself through interacting with audiences. Not one of the dates was confirmed, and the tour had to be canceled. The money for the engagements was just not there.
Another friend has been able to make a living for decades from tours. Most of these are jazz tours, paying adequately, but barely enough for support without extra income from another source. That source for him has been a Latin music orchestra, which has successfully toured for many years, playing in stadiums. This year the tour was cancelled. You know you are in trouble when the commercial gigs get cancelled.
The effect of this downturn in NYC is a bit more difficult to describe, because it is contradictory. Perhaps the best way to describe it is that the money has just about dropped out of the picture altogether for many musicians, but the musical level of some performances has taken a leap.
Some very exciting music is happening here. So, although some of the greatest improvising musicians in New York City are playing for tips, or for nothing, the music that they are creating is breaking new ground. Speaking personally, I am performing more and my teaching has expanded considerably.
Artists in any case are forced to have a different working premise, because so much of their labor is unpaid. Art takes a lot of time and a lot of work to develop. While most people try to find ways to add to their income, artists try to find ways to cut back on their income-earning time and, in so doing, free up that time to improve their art.
As a result, artists' lives are insecure and often impoverished. There is no real alternative to this in our society. Most artists are not "successful," in that "success" has little relation to the quality of the art. So in this respect musicians and other artists have been living in an "economic downturn" all along.
There is a contradictory relationship between money and art. When the return on investment cuts back, there is less of an incentive for the investor to aggressively market the product. Over the past few decades, the music business has really gone this way, away from music as an intrinsic value, toward producing a profitable marketable commodity. This just destroys art, especially improvisation which, at its best, is always surprising.
The business has reacted to the downturn poorly, becoming ever more repressive in an attempt to dumb-down the product to try to appeal to a buying public which is considered too ignorant to "understand" musical art. People might argue that great art can't be popular, but a cursory glance at pop music history can show that the biggest breakthroughs in public acceptance of music have come from musical innovators who were not only different, but audaciously so, beginning with Louis Armstrong, the first international pop star and one of the greatest musicians of all time. During the swing era, the most popular jazz artists were among the greatest artists, like Roy Eldridge, Lester Young, Billie Holiday.
Musicians in New York City are philosophical and even sometimes joke about the downturn. There is no money, but the music — the art of music — is thriving. Perhaps it takes separating the art from the money premise. If money can't be in it for you, the music must happen for its own sake.
You no longer consider what compromises you must make to get onto the bandstand. This frees you to consider only the art of music itself, and what you might be able to get to if you give it your full attention. Meanwhile, circumstantially, you improvise your life as well as you can.
ATC: How has the economic reality of the past year affected your record label?
CC: A few years back, New Artists Records almost went under. The company has been a cooperative comprised of mostly musicians who don't have much money. As a label, we don't take money off of the top from sales. Each individual gets 100% of sales. We collectively contribute to the expenses of the company. Sometimes it has been hard for many of us to make that contribution.
However, the company is now thriving, with several new releases every year. Our records get surprising critical notice, many of them being selected for top ten lists, in competition with the major labels. I do feel that the musical level of our releases is unusually, consistently high, and I attribute our survival to that.
There is poor distribution, a problem we have never solved. Our CDs get pirated and sold on the internet, sometimes for almost nothing, sometimes for exorbitant prices (one recently was priced well over $100, with the false claim that it was out of print). This kind of bootlegging not only means that we don't get the money from sales, but also creates a kind of shadowy competitor, an illegal business which takes our releases away from us.
This hits us, and it hits the big record companies. This is a sea change in the recording business. I think that it doesn't matter what steps might be taken to protect the recording industry. This is a change in the technology of distribution — the internet — and like other similar changes in technological history, it will not be stopped. One conclusion is, inevitably, that recording is no longer a feasible way to make money.
In an alternative society, one valuing human expression rather than accumulation of money, this would be a great breakthrough, making so much music easily available to all people. One result of this breakthrough right now is that, in a time when people bemoan the failure of jazz, you can get the music of just about every jazz artist who ever lived and recorded.
Having gone through a time, in the 1960s, when it was impossible to get records of even some giants like Charlie Parker, this seems like a renaissance to me!
ATC: What's been the cultural impact of the Bush Dark Ages and do you see things changing in the Obama era?
CC: The "Dark Ages," culturally speaking, if related to presidencies, began with Reagan. As an example, the breaking of the air traffic controllers' strike by a president (in 1981 — ed.) introduced a weakening of the wellspring source of art, people's self-empowerment. This sense of the self-worth of a cultural community, which produces individuals who transcend the society's limitations and open up the vision of what society can become, is one of the most important functions of artistic expression.
This loss of empowerment was hammered in deeper by increasingly damaging blows all through the Bush years. People became numb, unable to organize to resist some of the most horrific assaults on humanity ever known.
I do not think that the Obama presidency is our answer to this cultural downturn. As an individual Obama may have attributes that are admirable. We are all greatly enriched by having an African-American president. However, the fact that he is in the Democratic Party will circumscribe any actions that he may take to enhance our cultural environment. He is not a free agent. He is answerable to the Democratic Party, which represents corporate interests.
Art can't be created, in any case, from presidential initiatives, organizations, government grants. While all this may support artistic expression, great art comes only out of the motion within the people of a society. Jazz is an outstanding example of this phenomenon. This country's most original, unique contribution to the world's music came from our most inexorably oppressed people, in spite of the lack of monetary or other resources, against a barrage of governmental repression.
This music has had a transforming effect on our culture since its inception, and will inspire people to find the power within themselves to change the world to be the human-sustaining place it is meant to be.
ATC: Taking all this into account, do you find yourself more or less optimistic about the future than, say, five years ago?
CC: I feel that optimism is irrelevant; pessimism is a waste of mental energy; what is important is to see clearly.
[Connie Crothers' most recent recording, "Conversations" in duet with clarinetist Bill Payne, was rated among the top ten CDs released in 2008 both by Bill Shoemaker in down beat and by Art Lange in the Village Voice critics' poll. For information or to order from New Artists Records, check out www.newartistsrecords.com — ed.]
ATC 142, September-October 2009