Against the Current, No. 141, July/August 2009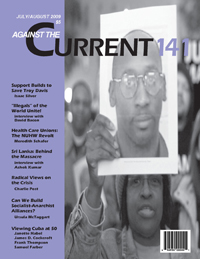 UPDATE: NEARLY FIVE months after opening an investigation of University of California sociology professor William I. Robinson for alleged faculty misconduct, university officials abruptly announced June 24 that they have dismissed all charges and terminated the case.
An Ad Hoc Committee set up by the Academic Senate to investigate the allegations had already reached the conclusion on May 15 that the charges against Robinson were without merit. The Committee is "unanimous in finding that his sending the email is in accord with the principles of academic freedom, especially when teaching a class whose content is the sociology of globalization," stated the report.
"Why did the administration wait six more weeks before ending this case," asked Yousef Baker, of the Committee to Defend Academic Freedom. "The professor faced six more weeks of harassment and disruption of his teaching, and research, while the sense of intimidation among faculty and students only deepened. They owe us an explanation."
For full details, see http://sb4af.wordpress.com/2009/06/25/breaking-news-ucsb-terminates-case-against-professor/
"WE ARE SEEING witch hunts on campuses across the United States and Canada. Israel is responding to the world perception of its policies as losing legitimacy. It is using charges to close off debate and organize and garner support from the international Jewish community," University of California at Santa Barbara sociology professor William I. Robinson, who is Jewish, told me in early May 2009.*
Robinson is facing the threat of discipline from the university administration and Academic Senate Charges Committee over the professor's routine background emailing of two items for his course on global affairs, which ballooned into a nightmare for him and for everyone who cares about academic freedom.
Professor Geoffrey Raymond, at a packed May 21 auditorium presentation, detailed the mishandling of the case by the Academic Senate. Subsequently, the Academic Senate approved motions to investigate evident mismanagement of student complaints against professor Robinson and recommend changes in Senate procedures to avoid improprieties in the future.
The Senate approved the motions in an open meeting on June 4, after more than 100 faculty members across campus, plus 20 department heads, signed a petition protesting the university's handling of accusations against Robinson.
However, no formal discussion of the Robinson case occurred, because Senate Chair Joel Michaelson said the case is ongoing and legal considerations prevented its public airing. No final action has occurred as we go to press.
The two emailed items in question had been circulating on the internet. Professor Robinson told me that his course relates current events to theoretical and historical issues and that he sends relevant optional reading to students "for your interest."
In this case two students dropped the course and contacted the Anti-Defamation League (ADL). One also contacted the Simon Wiesenthal Center and Stand with Us, an aggressive and well-funded Zionist group which advises students on steps to take against professors. (In a notorious 1993 San Francisco case alleging that ADL spied on thousands of people through illegal use of police databases, the ADL finally paid out thousands of dollars in 2002.)
Stand With Us put out a YouTube video (4620 views as of May 9 –E.L.) on the emailed items before the students filed their complaints with UCSB February 19, mirroring language used by the ADL previously in letters to the university Chancellor and to Robinson. Stand With Us has a website to sign a petition against Robinson, urging a letter writing campaign.
Robinson has been inundated with hate mail, of which he says "It is remarkable that this mail reflects no attempt at serious rational dialogue. These are the kind of fascistic measures that thrive in times of fear, insecurity and instability."
Blackmail Threats
In a February 9 letter to Robinson the ADL said in part, "We urge you to unequivocally repudiate" the "views" they objected to. Professor Robinson says that ADL, Stand with Us and others have been trying to play the trump card (my phrase) with the Chancellor, relaying blackmail style threats to withdraw planned funding for the newly established Chair of Jewish Studies if Robinson prevails.
A typical letter to the Vice-Chancellor reads in part: "Stand With Us contacted its board member Howard Waldow who is also a UCSB donor. He presented a letter expressing his concerns to Chancellor Yang at a recent reception. Chancellor Yang directed us to you, and raised the issue of possible violations of the Faculty Code of Conduct."
In reality, any proper procedural steps at the faculty disciplinary level would surely have dismissed the whole case and admonished the students about critical thinking. Hours could be spent in untangling what are in my opinion the tortuous and biased meanderings of faculty Charges Officer Martin Scharlemann, whose replacement has been called for as of this writing.
ADL national director Abraham Foxman actually set up a meeting with faculty and administration at UCSB in March in which he launched into what history professor Harold Marcuse called a long rant about the allegedly "anti-Semitic" e-mails.
Later Foxman shifted ground from this obviously weak position, since the rest of the world knows that merely being sharply critical of Israel's actions is not anti-Semitic, saying they wanted to protect the students from intimidation." Intimidation being: having their beliefs questioned by reading an email? Is this college or grade school?
As a part time writer whose point of view keeps me out of the Polluted Stream Media, I am frequently reminded that self-censorship is the most tempting, pernicious, widespread and unseen form of censorship. (A well-known international reporter once told me, with examples, that self-censorship in journalism is the most common censorship, and most dangerous for public understanding.)
Apart from the international politics of this case, I leave to social psychologists the plumbing of the historical and personal depths — and sad, traumatized origins — of the everyday conflation of asserting Israel's misconduct on one hand with anti-Semitism — prejudice against a group of people — on the other. That conflation, now too common, irrationally breaks friendships — and sometimes does far worse.
*On the attempts to choke off debate, in the Huffington Post of May 8 Medea Benjamin says: "…What makes my heart ache is thinking about the traumatized children I met on my recent trip to Gaza, and how their suffering is denied by the 6,000 AIPAC conventioneers who are living in a bubble — a bubble where Israel is the victim and all critics are anti-Semitic, terrorist lovers or, as in my case, self-hating Jews.
"I found it fascinating that AIPAC's executive director Howard Kohr opened the conference admitting that there was now a huge, international campaign against the policies of Israel. He painted a picture of 30,000 people marching in Spain, Italian trade unionists calling for a boycott of Israeli products, the UN Human Rights Council passing 26 resolutions condemning Israel, an Israeli Apartheid Week that is building a global boycott, divestment and sanctions campaign…."
*On the attempts to choke off debate, in the Huffington Post of May 8 Medea Benjamin says: "…What makes my heart ache is thinking about the traumatized children I met on my recent trip to Gaza, and how their suffering is denied by the 6,000 AIPAC conventioneers who are living in a bubble — a bubble where Israel is the victim and all critics are anti-Semitic, terrorist lovers or, as in my case, self-hating Jews.
---
Edwin Laing is an activist and retired lawyer. His primer on democratic socialism "You Don't Have to be a Saint to be a Socialist" is on several socialist websites and can be downloaded free, for example, at http://spboston.org/files/0/0b/Primer.pdf. An expanded auto version (in segments suitable for broadcast) can be downloaded free at http://www.radio4all.net/proginfo.php?id=14518.
---
ATC 141, July/August 2009