Against the Current, No. 141, July/August 2009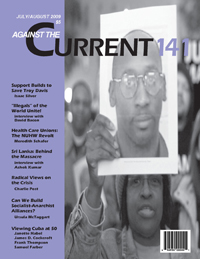 Jailhouse Journal of an OB/GYN
By Dr. Bruce S. Steir
AuthorHouse, 2008. 344 pages. $18.
WITH DR. TILLER'S death, we are painfully reminded of how "abortion doctors" are subject to ongoing harassment and even death. The question of what motivates such doctors to continue to provide abortions is once again front and center.
Dr. Bruce Steir's memoir, written while he was serving a sentence for murder, brings home both the level of harassment doctors performing abortions go through but also explains how he came to dedicate the latter part of his medical life to providing abortions where they were least available. He was driven from medical practice and charged with murder for the death of one of his patients, singled out by politically powerful anti-abortionists in California, a state considered progressive. Every year, an average of 100,000 people in the U.S. die from medical errors in hospitals and not one of the doctors involved has been prosecuted for murder, certainly not in cases of unforeseen complications as in Dr. Steir's case, or even in cases of negligence.
The book opens with the dramatic events surrounding the death of the 27-year-old single mother and Dr. Steir's prosecution, the revoking of his medical license on fabricated evidence and his arrest one year later on a charge of murder.
At 66, he decided to retire from medicine and to accept a plea bargain that would prevent him from serving jail time. However the anti-abortionist influence prevailed and the judge sentenced Dr. Steir to jail. The California attorney general at the time, Dan Lungren, later bragged of his prosecution of abortion doctors as proof of his support for women's rights.
His patient had had to travel three times, three hours each way, to obtain her abortion because of the unavailability of abortion services in wide sections of rural California and the United States. She was on her three-hour way home from the clinic when she became weak. Her mother, who was anti-abortion, did not notice her condition while she was driving.
One can only imagine the difficulties that this young woman was dealing with, unmarried, already the mother of a five-year-old, and her own mother anti-abortion. She was 21 weeks pregnant at the time of her abortion. Recently, AP noted that with the bad economy, they were seeing a rise in abortions and vasectomies as patients reported they could not afford another child. One patient said "Doctor G., I just walked here for an hour, I'm sure of my decision."
Abortion Wars Escalate
While escorting at a Planned Parenthood clinic, I personally witnessed a woman arriving with her boyfriend who was vocalizing his objections to her getting the abortion. In some cases, as Dr. Steir attests in his behind-the-scene accounts, clinic staff have asked the family member or friend to leave when they were actively unsupportive.
The abortion wars were particularly virulent in the 1980s and 1990s, but abortion services remain an under-served and under-valued sector of medical services. Anti-abortionists have systematically attacked the clinics and providers. Clinics were subject to siege with the goal of closing them down. Operation Rescue and Lambs of God posed as defenders of women as they attacked them. Dozens of clinics across the country were targeted and suffered significant damage.
The Women's Feminist Clinic in Redding, California where Dr. Steir performed abortions for years was firebombed five times. Local and federal authorities were essentially complicit as they generally dismissed the seriousness of the attacks, investigated the clinic defenders rather than the attackers, or encouraged clinics to shut down.
Women's organizations and Planned Parenthood pulled together volunteer clinic defense teams to safely escort patients into the clinics. Concerted massive national demonstrations, local mobilizations and public pressure by supporters of women's rights legislation had an impact.
Legislation limiting the aggressive practices of anti-abortionists was passed and enforced. Given the attacks against clinics and their medical personnel, local and federal authorities were forced into protecting them. After the final firebombing and rebuilding of the Redding Clinic, federal marshals were assigned to escort Dr. Steir through the gauntlet in front of that clinic.
Clinic defense is a practice still in effect today, despite the passage of local "bubble ordinances" that require anti-abortion picketers to stay a certain distance away from patients. Such ordinances have helped to reduce the numbers of protestors, but hardcore anti-abortion activists continue to focus on some clinics across the country. (A Baptist minister was recently convicted after repeatedly harassing women at an Oakland, California clinic. Since leaving jail he has been joined by a dozen other protesters.)
Dr. Steir's Journey
In an engaging way, Dr. Steir explains how he became interested in the issue of a woman's right to decide when to bear a child. His first exposure to the issue was his sister's unhappy resolution of an unwanted pregnancy in the 1940s. She wanted an abortion but was dissuaded by her father who was informed about how dangerous and deadly abortions were, whether performed illegally in the United States or in Cuba. So she was sent, in secret, to a special home out-of-state where she was not allowed to see her baby prior to it being given up for adoption.
Later, when abortion was still illegal, Dr. Steir performed an abortion for his own girlfriend who was facing a choice of a dangerous procedure or expulsion from her nursing training. As a practicing OB/GYN, he had many other occasions that led to his increasing his determination to support women's reproductive rights. He would often go out of his way to educate his patients in the U.S. military (which still does not pay for abortions.)
The increasing specialization of medical practice has further narrowed the availability of abortion services. Abortions are not a lucrative practice. Major medical groups, such as Kaiser, subcontract their abortion surgeries to local clinics. The majority of the girls and women who came to the clinics are on Medical, patients whom many doctors shun because of the low payments provided. Medical fees are the lowest and reimbursements to clinics are often significantly delayed. (One clinic in Oakland recently closed due to this recurrent problem.)
It is in rural areas where abortion is the most restricted, with patients required to travel many hours for each and every visit.
Late in his career, Dr. Steir decided to concentrate on serving that need, travelling up and down the long state of California.
Shaun Heckert, Executive Director of the Feminist Women's Health Centers in Northern California, explains that Dr. Steir was the clinic's Medical Director and abortion doctor for twelve years, during the 1980s and early 1990s when violence against clinics was at its height:
"Very few physicians were willing to be so courageous and drive for hours to our clinics in Chico and Redding where protesters were ever present. Dr. Steir never missed a clinic day, despite getting threats and having to walk the gauntlet of protesters. When we needed expert testimony for a court injunction against the protesters, Dr. Steir was ready to take the stand. The medical information he provided convinced the Judge to intervene to save a woman's privacy. Bruce is an unsung hero."
Dr. Steir's dedication won the respect of others as well. Federal marshals assigned to defend him at the Redding Clinic volunteered to testify on his behalf after having personally seen the patients coming to the clinics and Dr. Steir's respectful treatment of them.
This book brings you beyond the statistics of the war against women's rights and into the life of an ordinary man who was made to pay because he helped women. Instead of being hailed as a hero, he is an ex-con. What we can do is help get his self-published book out and publicize the injustice of his experience. It is available through Amazon, where you can leave your own review.
ATC 141, July/August 2009