Against the Current, No. 141, July/August 2009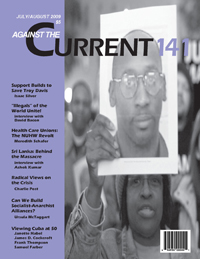 ON MAY 31, 2009, while handing out church bulletins, Dr. George Tiller was shot to death by an anti-abortion activist. The Women's Health Care Services clinic Dr. Tiller operated in Wichita, Kansas was one of three in the United States that performed late-term abortions. His clinic, his home and the homes of his staff have been picketed for years.
In 1986, a bomb exploded on the roof of his clinic; in 1991 some 2,000 anti-abortionists were arrested in the course of summer-long protests in front of the clinic, in 1993 he was shot in both arms by an anti-abortion activist; in 2009 he was tried for performing 19 "illegal" late-term abortions. After years of investigation and four days of testimony, jurors took only 45 minutes to acquit him. (Kansas law permits late-term abortions when two independent doctors agree that the pregnant woman would be irreparably harmed by giving birth.)
Neal Horsley, who is running for governor of Georgia, publishes a "hit list" of doctors who perform abortions. So far five have been killed along with four clinic workers or supporters. The doctor widely regarded as the next target is Dr. Warren Hern, whose clinic in Boulder, Colorado has bulletproof windows and a reinforced door. Like Dr. Tiller, Hern performs late-term abortions. Operation Rescue's founder, Randall Terry, held a mass protest outside his clinic and prayed for his death several years ago.
Dr. Hern recently remarked in an interview (Guardian, 6/5/09) that "the main difference between the American anti-abortion movement and the Taliban is 8,000 miles and the Taliban is too civilized to kill people in a mosque."
Tens of thousands have attested to the following on the NARAL Pro-Choice America memorial site: "For almost two decades Dr. Tiller provided care to his patients even when facing harassment and threats of violence. But he never wavered in his commitment to providing abortion services and other reproductive health care to women and their families, often in the most difficult and heart-breaking circumstances." http://www.remembertiller.com/share/.
ATC 141, July/August 2009