Against the Current, No. 141, July/August 2009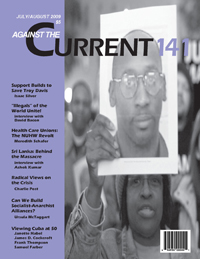 FOLLOWING A MAY 19 Global Day of Action, the forces aligned against Troy Davis, who has spent nearly two decades on Georgia's death row, have become increasingly isolated. The hard work of a grassroots movement has lifted the case into the national spotlight: sympathetic editorials in the New York Times, Los Angeles Times and Atlanta Journal-Constitution, a petition by 27 former judges (including pro-death penalty conservatives like Bob Barr and William Sessions, a federal judge, and a deputy U.S. attorney general) have raised the pressure to re-open the case.
Meanwhile, teams of grassroots activists are on track to collect 10,000 signatures from Chatham County to deliver to newly elected African-American DA Larry Chisolm. A positive outcome for Troy Davis, would not only be a victory for justice, but a significant blow against capital punishment.
Davis, an African-America man from Savannah, was found guilty of murdering a white police officer in 1989 based solely on the testimony of nine witnesses. Seven have since recanted, citing police intimidation.
Since his first execution date in summer 2007, these strong claims of innocence — as well as organizing led by Amnesty International, Georgians for Alternatives to the Death Penalty, and Troy's sister Martina Correia — have made his appeal for justice one of the highest-profile death penalty cases in the country. Three times he has faced date set for his death and three times the executioner's needle has been pushed back — sometimes with just hours to spare — by a powerful movement that reaches further with each new stay of execution.
Education and media work by this movement has made many facts of the case well-known to a number of people especially in Savannah and Atlanta's African-American communities. On the night of August 18, 1989, one man committed a series of violent acts: a pool-party shooting that left a bullet lodged in Michael Cooper's jaw, the beating whipping of a homeless man named Larry Young, and finally, the fatal shooting of Mark MacPhail, an off-duty officer.
Both Troy Davis and Sylvester Coles were present at the scene of each crime. Coles told investigators that Davis was the guilty party, setting into motion the machinery of a police department eager for a quick arrest and prosecution. Within days, "wanted" posters with Davis' face appeared and within a week he had turned himself in, maintaining his innocence. No murder weapon or physical evidence linking Davis to the murder was ever found.
A 10-day trial in November 1989 indicted Davis for the murder solely based on witness testimony. Two years later, he was found guilty and assigned a death sentence, the case having transformed from a search for the truth into a search for evidence implicating Davis. In the years following most of this flimsy evidence fell apart. Gradually, witnesses came forward to repudiate their testimony. Of the two who have not recanted, one had been unable to identify Troy in 1989 but testified in 1991. The other was Coles.
Death Penalty in the United States
The United States is one of only 25 countries that still use the death penalty; in this country, just five states had higher 2008 execution rates, based on population, than did Georgia. Georgia holds the dubious honor as the home of the Supreme Court cases that suspended capital punishment in 1972 — with Furman v. Georgia — and resumed it four years later, with the conclusion of Gregg v. Georgia.
Eighty percent of all U.S. executions take place in 11 southern states. It's no coincidence that Georgia is a bulwark of state murder, given the regional history of lynching as an ultimate weapon of enforcing white supremacy. The racial disparities — for both victim and defendant — in assigning death penalty sentences are well documented; for cases of interracial murder, Black defendants are over 16 times more likely to be executed than white defendants of Black victims.
While capital punishment is expensive and has no deterrent effect on crime, it has gained traction in the "modern era" of post-1976 executions as a symbolic gesture of "tough on crime" politics. While on the campaign trail in 1992, Bill Clinton took the time to sign a death warrant for Ricky Rector; George W. Bush ascended to the presidency having signed more death warrants as Texas governor than any other living elected official. Clinton also signed the Anti-Terrorism and Effective Death Penalty Act of 1996, which restricts the ability of defendants (such as Davis) to reopen cases, even when there is compelling new evidence.
A New Abolition Movement
By the 1990s, the prominence of DNA evidence as an indicator of innocence led to a moratorium in Illinois and the abolition movement picked up steam. Georgia banned the electric chair, resulting in de facto moratorium — until the legislature allowed lethal injection. Organizing against the death penalty coalesced into Georgians for Alternatives to the Death Penalty.
GFAPD activists expanded their activity to 11 towns across Georgia after state killings resumed in October 2001. Troy's sister, Martina Correia, took a position as statewide organizer. Strategically, GFADP was one of many committees that targeted legislatures, hoping to "chip away at the block" nationally and force the Supreme Court to acknowledge evolving standards of decency.
This network of experienced activists was one key component in building a movement to free Troy Davis. Secondly, a well-documented Amnesty International report and slogans like "Innocence Matters, Justice Matters" packaged the case as a miscarriage of justice emblematic of the death penalty, bridging the issue to full abolition. The final piece — access to national media, a relationship with local Black talk radio, and savvy use of media like text messaging and social networking — helped turn the tide.
While large mobilizations triggered by the urgency of a signed death warrant have forced authorities to issue three stays of execution, each appeal for a new evidentiary trial has been denied. As this article is written, a petition has been sent to the U.S. Supreme Court. Keeping up pressure in the streets is the best way to win justice for Troy Davis and move towards abolishing the death penalty. To keep up with the campaign, visit www.amnestyus.org/troydavis. More information on the death penalty can be found at DeathPenaltyInfo.org.
ATC 141, July/August 2009