Against the Current, No. 140, May/June 2009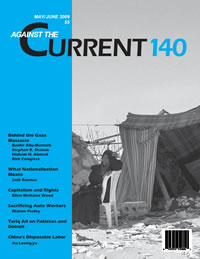 THE FOLLOWING IS an excerpt from a statement from the family of Rachel Corrie. You can contact the Rachel Corrie Foundation for Peace and Justice at www.rachelcorriefoundation.org or info@rachelcorriefoundation.org.
WE THANK ALL who continue to remember Rachel and who, on this sixth anniversary of her stand in Gaza, renew their own commitments to human rights, justice and peace in the Middle East.
Friday, March 13th, we learned of the tragic injury to American activist Tristan Anderson. Tristan was shot in the head with a tear-gas canister in Ni'lin Village in the West Bank when Israeli forces attacked a demonstration opposing the construction of the annexation wall through the village's land. On the same day, a Ni'lin resident was also shot in the leg with live ammunition. Four residents of Ni'lin have been killed in the past eight months as villagers and their supporters have courageously demonstrated against the Apartheid Wall deemed illegal by the International Court of Justice — a wall that will ultimately absorb one-quarter of the village's remaining land.
We are writing this message from Cairo where we returned after a visit to Gaza with the Code Pink Delegation from the United States. Rachel would be very happy that our spirited delegation made this journey. Repeatedly, we were told by Palestinians, and by the internationals on the ground supporting them, that there is no ceasefire. Indeed, bomb blasts from the border area punctuated our conversations as we arrived and departed Gaza. Everywhere, the psychological costs of the recent and ongoing attacks for all Gazans, but especially for the children, were sadly apparent. It is the children who each day must walk past the unexplainable and inhumane destruction that has occurred.
In Rachel's case, though a thorough, credible and transparent investigation was promised by the Israeli Government, after six years, the position of the U.S. Government remains that such an investigation has not taken place.
Now, the attacks on all the people of Gaza and the recent one on Tristan Anderson in Ni'lin cry out for investigation and accountability. Despite the pain, we have once again felt privileged to enter briefly into the lives of Rachel's Palestinian friends in Gaza. We are moved by their resilience and heartened by their song, dance, and laughter amidst the tears.
ATC 140, May/June 2009