Against the Current, No. 140, May/June 2009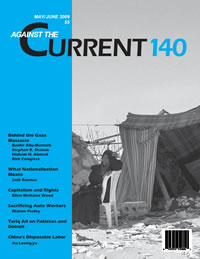 REVEREND EDWARD PINKNEY was ordered released from prison last Christmas Eve while his conviction and 3-10 year prison term — for quoting Deuteronomy in regard to divine punishment of a racist judge — is on appeal. He remains under house arrest and is prohibited from speaking out on racism and corporate abuses in Berrien County, Michigan.
Rev. Pinkney's wife Dorothy wrote in an April 1 message: "Apartheid conditions of a very serious nature are occurring in Benton Harbor. Those responsible are at the top of the power structure in Berrien County: Rep. Fred Upton and Whirlpool Corporation. They, along with developers, are stealing property along Lake Michigan and in Benton Harbor for the construction of a major resort, including a Jake Nicklaus Signature golf course…all being built for very wealthy white people.
"The courts and law enforcement agencies have gone outside of the law for many years, keeping Benton Harbor citizens living in a constant of fear, convicting and imprisoning countless African Americans (most of whom are innocent, we believe), and driving people out of the area by any means necessary. We must stop Whirlpool, Rep. Upton and Harbor Shores developers.
Ms. Pinkney calls for an international boycott of all Whirlpool products and outlets to begin May 1. For updates on Reverend Pinkney and the ongoing struggles in Berrien County, you can contact him at 269-925-0001 or banco342@sbcglobal.net. The Black Autonomy Network Community Organization (BANCO) can be visited at http://bhblanco.blogspot.com.
ATC 140, May/June 2009