Against the Current, No. 140, May/June 2009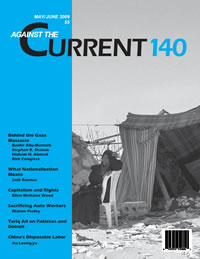 THREE YEARS AGO the acclaimed historian, John Hope Franklin, who died in March at the age of 94, discussed his lifelong battle for equality and against racism. Franklin personally knew most of the major African American figures of the 20th Century — W.E.B. Du Bois, Thurgood Marshall, Martin Luther King, Jr., Malcolm X — and lived long enough to see Barack Obama be elected president.
Franklin was born in Oklahoma and grew up in Tulsa where a white race riot in 1921 burned down the Black neighborhoods. He had been barred from admission to the University of Oklahoma and like many Black intellectuals of the time had to attend a historically Black college, Fisk University in Nashville. (His most famous book From Slavery to Freedom: A History of African Americans, first published in 1947, was one of the first books I read on Black history.)
In 2006 when he received the John W. Kluge Prize for the Study of Humanities in a ceremony at the Library of Congress, Franklin said in prepared remarks how he had long struggled "to understand how it is that we could seek a land of freedom for the people of Europe and, at the very same time, establish a social and economic system that enslaved people who happen not to be from Europe."
"I struggled to understand," he stated, "how it is that we could fight for independence and at the very same time, use that newly won independence to enslave many who had joined in the fight for independence.
"As a student of history, I have attempted to explain it historically, but that explanation has not been all that satisfactory. That has left me no alternative but to use my knowledge of history, and whatever other knowledge and skills I have, to present the case for change in keeping with the express purpose of attaining the promised goals of equality for all peoples."
That is the essence of what every civil rights leader from the birth of the United States fought for and believed. The goal of the NAACP and more militant Black rights groups in the age of Martin Luther King, Jr. and Malcolm X was to achieve what Franklin stated as the "promised goals of equality for all peoples."
ATC 140, May/June 2009