Against the Current, No. 139, March/April 2009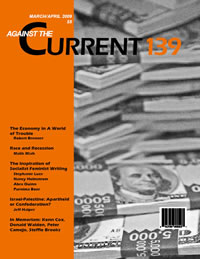 THE SERVICE EMPLOYEES International Union (SEIU) and its former section United Health Care Workers-West (UHW) are at war after SEIU's leadership ordered the seizure of UHW's headquarters. UHW's elected officers, deposed in the SEIU takeover, are forming a new union, the National Union of Healthcare Workers (NUHW).
The longstanding dispute between SEIU and UHW leadership began with differences over how contracts would be negotiated. In particular, UHW President Sal Rosselli disagreed with SEIU President Andy Stern over whether UHW should give up the right to strike or to publicly criticize employers in order to obtain an employer's acceptance of union organizing.
The health care union fight escalated over the past year. At the April, 2008 Labor Notes conference. Instead of taking the opportunity to debate their differences with the California Nurses Association, SEIU agents attempted to smash their way into the banquet hall to "protest" the presence of CNA leaders.
Last summer, the SEIU convened trusteeship hearings against UHW, presided over by one-time U.S. Labor Secretary Ray Marshall. In a bizarre ruling, Marshall rejected the SEIU's stated reason for the trusteeship — that UHW had set up a nonprofit organization to finance its conflicts with the International — but nonetheless recommended trusteeship for the UHW's refusal to accept the splitting off of 65,000 long-term health care workers from UHW jurisdiction.
Ultimately the SEIU engineered a mail referendum among the union's 300,000 California health care workers — in which fewer than 24,000 actually voted – following which, on January 9, the SEIU International Executive Board voted to create the statewide "long-term care" local. UHW was placed under formal trusteeship after it refused to accept this carveup without a membership vote.
Meanwhile the Change to Win coalition, launched with great fanfare by the SEIU leadership as a breakaway from the AFL-CIO, is getting ready to fold its tent.