Against the Current, No. 139, March/April 2009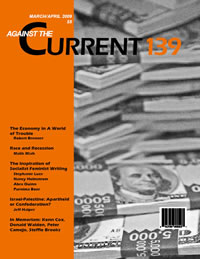 when Dexter Gordon
glanced back,
he saw Donald Walden
taking Giant Steps
in clear, blue space.
So, he held the gate,
makin' the jazz greats wait—
Monk, Byrd, Coltrane,
the contentious Miles,
and the sultry Billie—
made them hold
a wake for the saxman
from Detroit
by way of St. Louie,
transcending
like bebop
breaking fixed notes,
traversing linear scales,
and all repressive
constrictions printed
on music sheets,
like the inconvenience
of mortal skin
when music enchants
our spirits and
the politics of
Earth bound
dominions
diminish.
In the "D"
he was called
"the bebop police,"
who styled in
GQ slacks with
creases as smooth
as his tenor flow,
echoes articulating
transformative
renditions
marking
planets
at jazz sets
Yeah,
there is a
Mingus
among us,
but there is
a Donald Walden
within us.
ATC 139, March-April 2009