Against the Current, No. 139, March/April 2009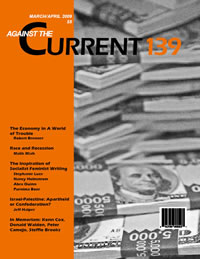 WHEN I FIRST got the news that Donald Walden had died from cancer on April 6, 2008, the first persons I called were Marsha Walden, Donald's wife, and Kenn Cox, Donald's best friend. Kenn helped Marsha with the arrangements and conducted funeral proceedings centered on Donald's music in a service embellished with remarks by relatives and friends in a crowded chapel invigorated by jazz. I read a piece about Donald, and a poem, in a voice thick with remorse.
Throughout the year, Kenn Cox and the jazz community continued to celebrate Donald Walden. In conjunction with Oliver Ragsdale's Arts League of Michigan, Marcus Belgrave organized an orchestral tribute to Donald at the Detroit Festival of the Arts the following June; and during the 2008 Detroit Jazz Festival in Hart Plaza, there was another grand performance in honor of Donald Walden.
Kenn was a key player at each of these affairs, and unbeknownst to many of us, also afflicted with cancer. By the end of the year, he would also be gone.
Donald Walden, 1938-2008
Donald Walden was born on July 12, 1938 in St. Louis, Missouri. He grew up in Clarksdale, Tennessee, and, when he was eight years old, decided to play the saxophone after seeing Silas Green perform in New Orleans.
In 1946, he moved to Detroit with his mother, and eventually studied music at Chadsey High School, the Larry Teal School of Music, Steed College, and the Detroit Community Music School. He honed his chops through long hours of study in the home of Barry Harris, playing with Roy Brooks, Charles McPherson, Lonnie Hillyer; Yusef Lateef was one of his earliest teachers.
During the late 1950s, Donald moved to New York to engage the jazz culture, and he played with Joe Chambers, Booker Ervin, Grant Green and Sun Ra. But he soon returned and settled in Detroit, where he hooked up with Marcus Belgrave, Donald Towns, Rod Hicks, Teddy Harris and Kenny Cox. In the 1960s Walden played saxophone for Aretha Franklin, Stevie Wonder and many Motown headliners.
Walden believed in jazz as an institution, and started the New World Stage, which hosted nationally acclaimed musicians, such as Tommy Flanagan, Barry Harris, Charles McPherson, Betty Carter, The Sun Ra Orchestra, and Brandford Marsalis. In 1981, he created the Detroit Jazz Orchestra, a grand configuration of instrumentation, including a full band, a 16-piece string section, and a 40-voice choir.
One of the Detroit Jazz Orchestra's most ambitious ventures was a musical production that featured Dizzy Gillespie as a soloist in the Yardbird Suite for the Montreux/Detroit Jazz Festival. Under Walden's direction, the orchestra is also credited for launching the careers of Geri Allen, Regina Carter and Rodney Whitaker. In 1985, the Detroit Jazz Orchestra received the Michigan Governor's Art Award.
As an educator, Donald Walden taught at the Center for Creative Studies, Michigan State University, the Oberlin Conservatory of Music, and eventually assumed a tenured position in 1995 at the University of Michigan-Ann Arbor as Professor of Jazz Saxophone and Improvisation Studies in the Department of Music. About his teaching, Walden said: "Jazz is not academic music. I try to run my improvisation classes like we're in the street or at a rehearsal or a jam session," (Midwest Jazz, 1966)
Donald Walden recorded several albums and CD's during his lifetime, including quartet sessions "A Portrait of You" (1992) and "A Monk and A Mingus Among Us" (1997), and a big band tribute to the compositions of Tadd Dameron, "Focus" (2003).
He performed at international jazz festivals throughout North America, and in France, Italy, Holland, Finland, and Australia. He received several honors and accolades for his musicianship, including the Jazz Master Award for Arts Midwest in 1996, the Legends of Jazz International Hall of Fame Award, and the Alain Locke Award from the Detroit Institute of Arts.
Prophetically, his last band, Free Radicals, comprised of Marion Hayden, Thad Dixon, Rick Roe, Dwight Adams and Cassius Richmond, was a name ironically discovered by Walden when he was researching his cancer. The ambiguity of the words, the group's undisputable talent, and its progressive, complex articulations were symbolic of Donald Walden's musical reputation, aesthetic attitude, political demeanor and artistic legacy. As Jim Gallert aptly surmises:
"That Walden celebrated Mingus and Monk is no surprise — like them, he was demanding, passionate, honest, and unique. He had a built-in "bullshit detector" which never failed. He was strong and confident, sure and certain, an African American man who carried himself with dignity and respect, a Griot who spoke to us of life and love through his music and his words. Donald was interested in creativity in any field, and he was a cultural warrior, ably championing jazz in performance and conversation. He was a humane and spiritual person who eschewed religious trappings. And he had soul, plenty plenty soul, and a keen sense of history. He knew that jazz is a flowering of African American culture, but Donald also knew that the creator is colorblind, and acted accordingly" ("Theme for Donald Walden," Semja Update, May 2008).
Kenneth Louis Cox II, 1940-2008
Several months before Kenn Cox died, his wife Barbara discovered his final written words: "You have touched and enriched my life, as I, in my greatest ego, would hope I have touched yours."
The extent to which Kenn affected those who encountered him cannot be measured by his musical contributions alone. Like Donald Walden, in addition to Kenn's creative genius as a composer and his dynamism as a pianist, he was also an advocate for all the arts. Kenn worked for community and arts organizations, and served as an instructor of music at several universities. Consequently, as with Walden, his impact is extensive and immeasurable.
Kenneth Louis Cox, II was born on November 8, 1940 in Detroit. He graduated from Cass Technical High School in 1958, and supplemented his study of music at the Detroit Conservatory of Music from1949-1958. He then attended the Detroit Institute of Musical Arts from 1959-1961.
Early in his career, Kenn obtained respect from the professional jazz community, and played with an impressive roster of musicians, such as Charles McPherson, Roy Brooks, Rahsaan Roland Kirk, Kenny Burrell and Yusef Lateef. At the same time, Kenn influenced many talented pianists, such as Geri Allen and Rod Williams, who said: "He was a tremendous teacher and I have nothing but the highest respect for him. Though Kenny played with all the greats, he still had time for those up and coming musicians."
For five years (1959-64), Kenn was the accompanist and the musical director for Etta Jones. Like Walden, Cox resided briefly in New York, working and recording with Jones and also with Wes Montgomery, Kenny Dorham, Jackie McLean, Philly Joe Jones, Joe Williams, Helen Humes and others.
He returned to Detroit in 1966, where he connected with trombonist George Bohannon, saxophonist Ronnie Fields, clarinetist Wendell Harrison, and trumpeter Marcus Belgrave, playing gigs at the Blue Bird Inn, The West End, Klein's Show Bar, Odum's Cave, the Hobby Bar and the Minor Key, and other happenin' spots. As Mark Stryker explained:
"Though Cox spent most of his career in Detroit, he was known nationally for the two LPs he and his group of young Detroit firebrands recorded for Blue Note in 1968 and '69, "Introducing Kenny Cox and the Contemporary Jazz Quintet" and "Multidirection." These were progressive albums, rooted in the abstract post-bop of the Miles Davis Quintet. They capture Cox's fleet right hand, his gift for adventurous improvisation and sophisticated rhythmic interplay and a compositional aesthetic defined by zigzag melodies, strong bass lines and zephyr-like harmony" (The Detroit Free Press, December 23, 2008).
In the 1970s, Kenn collaborated with Charles Moore, Leon Henderson, Danny Spencer and Ron Brooks to form the Contemporary Jazz Quintet, which not only advanced their music, but also the jazz scene through their Strata Concert Gallery. Strata published its own journal and hosted cutting edge concerts, featuring Herbie Hancock, Elvin Jones, Charles Mingus and Archie Shepp, and many other avant garde jazz greats.
Strata's music and educational outreach activities influenced the incorporation of jazz into music programs; in particular, Kenn was guest professor and performer for "Jazz Anthropology," a course introduced at Oberlin College. Subsequently, Kenn's role as professor took his work into classrooms at Wayne State University, Michigan State University, and The University of Michigan-Dearborn; for years he was a Distinguished Visiting Lecturer for the Summer Arts Program at the California Institute of Arts.
As an institutional builder, Kenn held several civil service positions. He was a grants officer for the Detroit Council of the Arts, and an economic planner for the Inner City Business Improvement Forum. He and his wife Barbara founded The Societie of the Culturally Concerned, which sponsored artistic projects, hosted cultural programs and honored African-American artists and educators.
The Jazz Crusaders recorded two of Kenn's original compositions, "Trance Dance" and "The Latin Bit," which demonstrated his creative impact beyond Detroit. But his reputation on the music scene and his contributions to the longevity of jazz is also related to his direction of jazz groups comprised of stellar musicians. On the international scene, he performed at the Montreux Jazz Festival in Switzerland, in concerts in Germany, and with Yusef Lateef in Verona, Italy.
On the national scene, Kenn's own Guerilla Jam Band featured mature talents such as Phil Lasley, Francisco Mora, and his best friend, Donald Walden, but it also advanced the careers of a younger generation of musicians coming of age in Detroit, like James Carter, Regina Carter, Jaribu Shahid, Marion Hayden, Rodney Whitaker, Shahida Nurullah and Tani Tabbal.
Kenn loved literature and writers. He collaborated with playwright Ron Milner and composed an original music score for my documentary film, "The Black Unicorn: Dudley Randall and the Broadside Press," another dimension of his versatility. In California, he not only performed with musicians, but played with Al Young, Detroit native and the poet laureate of California. As the poet Al Young stated most comprehensively:
"Going all the way back to the soulful days and nights of his early albums on Blue Note, I knew Kenny Cox, for all his exploration and derring-do, would be a lifelong presence and friend. He listened and watched, thought and reflected, then played back with passion and concern his precious findings" (Al Young, "Remembering Kenn," @Alyoung.org.)
Poetic Composers, Intertwined Lives
Kenn and Donald were not simply accompanists to poets; they composed original compositions based on poetics, which made these concerts dynamic and multidimensional. In preparation for concerts with Kenn and Donald, they always rehearsed and studied the poetry, and during readings whaled out pieces that made audiences shout.
The most exhilarating occasions for me were poetry/jazz performances with Kenn Cox on keys, Donald Walden on sax, and Marion Hayden on bass. My most memorable moment with Donald was when we did a duo at the Sorbonne University in Paris, and I'll never forget how magnificently Kenn played at my father's funeral.
When Kenn Cox died on December 19, 2008 the dynamism of his life was reflected in the outpouring of friends and loved ones, by the human diversity in the audience, in a poem composed for him by Yusef Lateef, and by the impressive league of musicians who honored Kenn by performing his original spiritual compositions at his funeral Mass at St. Matthew's and St. Joseph's Episcopal Church in Detroit.
The lives of Kenn Cox and Donald Walden are forever intertwined by their love of jazz and their commitment to the liberating power of African-American culture. They were free radicals of jazz, artistic leaders, cultural warriors, and champions of working class insight produced in the "D" and envisioned in styles that influenced musicians throughout the world.
Their artistic collaborations were always incredible, playing within the sonic zones of language and projecting the impetus of imagery in their own unique vocabulary. Their synergistic configurations soared with passion derived from "Multidimension" and the "Mingus Among Us." Upon their passing, I wrote poems to commemorate them as friends, as fellow artists, in attempts to curve words that converge with that infinite, jazz space.
ATC 139, March-April 2009