Against the Current, No. 138, January/February 2009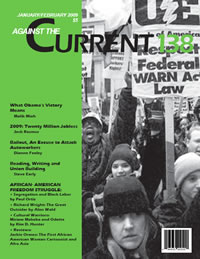 BRUCE "UTAH" PHILLIPS, who died in May 2008, was a living, singing museum of radical working-class culture. Through his songs and stories he connected three generations to the living memory of class struggle martyrs, hobo lore and life, and the pacifists and anarchists of the early 20th century. In addition to being a world beloved folksinger and performer, Phillips spent time as a peace campaigner, a freight train hopper, and a union organizer. Phillips will be best remembered for his countless renditions of the songs of Joe Hill and the Industrial Workers of the World (IWW), the Wobblies.
Utah Phillips was born into a working-class Jewish family in Cleveland, Ohio at the height of the Depression. His mother was a CIO organizer and a passion for social justice ran deep in their household. Phillips' three-year stint in the U.S. Army had an equally profound effect on his thinking. He was stationed in postwar Korea, a devastated country swarming with U.S. troops and living under a dubious regime.
Deeply jarred by the aggression of occupation and churning with anger, Phillips returned home to his resettled family in Salt Lake City, Utah with a drinking problem and an anger problem.
This dark spiral was intercepted by Ammon Hennacy, a left-pacifist and organizer with the Catholic Worker movement in Utah. Hennacy was quite frank with Phillips. He told him he must become a pacifist to save his own life, rejecting violence and hatred as a first step. Hennacy brought Phillips deeper into the radical milieu around the Catholic Workers' "hospitality house," the Joe Hill House. He connected with a network of war resisters, left Christians and former Wobblies. He took on board Hennacy's teaching of Christian pacifist anarchism, a philosophy that would guide his work throughout his life.
His abiding love of folk and country music, particularly of the U.S. West, started early in life. The early 1960s saw a blossoming of interest in folk music, and Phillips increasingly found work playing his guitar and singing at festivals and in coffeehouses, in many cases facilitated by his dear friend and fellow folksinger Rosalie Sorrels.
Often performing together, Sorrels and Phillips made their names in the West Coast folk circuit of the late 1960s, alongside the late Kate Wolf. Both Wolf and Sorells popularized Phillips' songs, including the classic "Rock, Salt, and Nails," which was also performed by Bob Dylan.
Phillips let other people interpret his material just as he interpreted the songs of others, an approach common in the folk community. His songs were recorded by American roots music artists from Emmylou Harris to Joan Baez to Waylon Jennings. Legend has it that Johnny Cash wanted to do an entire record of Phillips material but Utah turned him down, not trusting the for-profit music industry. His own independent record label was called "No Guff."
In 1968, perhaps no longer feeling like the only leftist in Utah, Phillips ran for Senate on the Peace and Freedom Party ticket. But his connection to the emerging radical perspectives remained tenuous, with Utah preferring 1910s-era class politics to New Left politics. However, Utah would be the first to mention how profoundly he was affected by the women's movement, a transformation he retold on stage repeatedly.
Radicals, Phillips maintained, must remain works in progress. In this same period Phillips participated in the farmworkers movement and was tremendously inspired by the nonviolent class politics put forward by Ceasar Chavez and others.
Recovering Western Radicalism
Phillips felt spiritually and historically connected to the labor struggles in the Western United States that spanned the 19th and 20th centuries. Too often our labor history has focused on the great strikes in the East, such as Passaic, New Jersey (1912) and Lawrence, Massachussets (1912). Phillips was committed to keeping alive the memories of martyrs like Frank Little and Wesley Everest.
Frank Little, Phillips recounted on stage and on record, was an IWW militant who organized lumber workers in the Northwest. He was killed in a predawn raid by a death squad owned by the lumber barons. Everest met a similar fate in Centralia, Washington in 1919, lynched by company thugs in an organized attack on an IWW hall. In Phillips' songs mountain towns like Butte, Montana and Coeur d'Alene, Idaho come alive as battlegrounds in a pitched struggle between our class and theirs.
Utah Phillips' songs and stories — stories that were as central to a performance as the songs — envisioned the old West of the IWW with vivid intimacy. He understood this to be part of his role in the struggle, as a living tribune of the old IWW struggles to organize lumber workers and miners in the 1910's.
Also connected to his relationship with the Western IWW was his love affair with U.S. hobo life and culture. Hobos are essentially homeless, migratory workers who illegally use freight trains to travel and look for work. In the early 20th century this subculture was closely connected to the IWW and labor radicalism: Wobbly organizers would use freight trains in much the same way, and often navigated their organizing travels through the West using the hobo network.
There is a rich body of songs, jokes, and folk wisdom associated with hobo culture, which served as a goldmine for Phillips. His 1973 LP "Moose Turd Pie" was steeped in hobo humor and stories. It is hard to imagine the dissemination of hobo culture over the last three generations without Phillips, nurturing hobo culture just as he revived the legacy of the Western IWW.
One of Phillips most widely performed and recorded songs was "Used Up," which tells the story of a worker at the end of his life.
I spent my whole life making somebody rich
I busted my ass for that son of a bitch
He left me to die like a dog in a ditch
And told me I'm all used up
He used up my labor, he used up my time
He plundered my body and squandered my mind
Then he gave me a pension, some handouts and wine
And told me I'm all used up
They use up the oil, they use up the trees
They use up the air and they use up the seas
But how about you, friend, and how about me
What's left, when we're all used up
Phillips' heart was with the poorest layers of the working class, those who had fallen through the cracks or were discarded by capitalism. He and his wife created a soup kitchen just three years ago, and Phillips maintained close relationship with homelessness activist projects. Phillips carried with him more than political opposition to the capitalist system; he was emotionally connected to the most devastated.
In 1997 I drove from Western Massachussetts to Detroit, Michigan with a group of friends to take part in a mass mobilization in solidarity with the Detroit Newspaper Strike. Throughout the drive we listened to dubbed cassettes of Phillips live in concert, holding court and rhapsodizing about Joe Hill and Mother Jones.
We arrived at the demonstration imbibed with the memory of the great textile strikes, the IWW's fight for free speech, and the militancy of the world Phillips created and curated. That day (which saw 30,000 march on Detroit) put me in touch with a radical working-class subculture, with values and visions not unlike those rendered by Phillips. His songs were food for struggle, fueling the spirit just as Joe Hill's songs first did on picket lives 80 years before.
A Utah Phillips concert was a political event, to be sure. Young fans, punks and activists sang out loud alongside senior labor veterans and old folkies. His collaborations with contemporary folk icon Ani DiFranco earned him a larger following over the last ten years. Young people radicalized in the era of the anti-globalization protests also took a shine to Phillips, eating up his anti-capitalist humor and connection to the past. Utah Phillips lived long enough to be a legend in his own time.
One of the performances I saw was at a coffeehouse in Upstate New York in the late 1990s. Once again, Utah was performing alongside Rosalie Sorrels. My comrades and I spoke to him at length before the show, totally pulled in by his warmth and irreverent humor.
I told him I was from Detroit and he recounted a howling good time he had there once. He had been performing at the Trumbull Plex, a long-standing anarchist cooperative house. Dozens of young anarchists and Wobblies kept him up all night, demanding song after song. He felt a special bond with rebellious people of all ages and was always honored to sing about his heroes and his beliefs, even at 3 AM.
Conscious revolutionaries, it is sometimes said, help maintain the living memory of the working class. In Phillips' life we saw the hobo world meet the anti-globalization scene, the IWW meet the world of folk music, and the folk music community met the radical working-class subculture. So much of what my generation knows about the culture and ideas of the old IWW and its era comes from Utah's tireless work. It's up to us to keep those songs, stories, and traditions alive.
WITH MANY OF Phillips' LP long out of print, it was refreshing to see him appear on CD throughout the 1990s and early 2000s. His widely available recordings include a fantastic collection of Wobbly and labor songs, "We Have Fed You All for a Thousand Years," which captures a classic Utah Phillips concert, stories and all. If you want hobo wisdom and tales of radicalism in the West look for "Moscow Hold and Other Stories" or "Telling Takes Me Home," all available from Philo Records (released by Rounder Records). Recently Phillips was given the full box set treatment with "Starlight on the Rails: A Songbook" which collects songs from all points of Phillips' vast folksong repertoire.
ATC 138, January-February 2009