Against the Current, No. 138, January/February 2009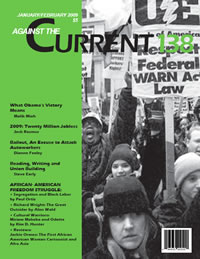 "RON CAREY WAS the nation's most charismatic and successful labor leader as the twentieth century was coming to an end. He will be remembered as a major figure in American labor history on the basis of just two of his accomplishments: In 1991, running as a reformer with the backing of Teamsters for a Democratic Union (TDU), he was elected general president of the International Brotherhood of Teamsters. In 1997, he led the successful 15-day strike against the giant United Parcel Service, the biggest victory organized labor had experienced in at least three decades."
That summation of Ron Carey comes from Ken Crowe, author of How the Rank and File Took Back the Teamsters and The Vindication of Ron Carey.
Back in 1967 Carey won an upset victory against a corrupt president of Teamster Local 804 in New York City. For more than two decades he led his Local in strikes that won record pension improvements. When TDU won a 15-year battle for the right of members to elect the union's top officiers, Carey stepped forward, put together a successful reform slate against two old Guard candidates and in 1991 became the Teamster's first democratically elected General President.
It was one of labor's tragedies that Carey's work was cut short soon after the 1997 victory at UPS, when his re-election was reversed due to a scandal. Accused of authorizing union funds to enrich outside political consultants who controlled his campaign, he was forced to resign from office. Barred from the election re-run, he was even kicked out of the union.
In 2001 Carey was acquitted by a federal jury of knowledge or approval of the scam, but never reinstated in the union by federal overseers. Since Carey's removal and James Hoffa Junior's election in 1999, hundreds of thousands of members have been hit with pension and healthcare cuts while salaries for top officials skyrocketed.
Ron Carey died in Queens on December 14, 2008, of lung cancer at age 72. He was survived by his wife of 50 years, Barbara Carey, five children and 12 grandchildren. A press release from Teamsters for a Democratic Union (www.tdu.org) stated, "The battle to bring rank-and-file power to the Teamsters, Carey's lifelong goal, goes forward at the grassroots level."
ATC 138, January-February 2009