Against the Current, No. 138, January/February 2009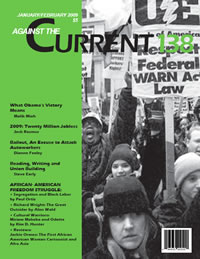 WHEN AGAINST THE Current asked me to write a piece on Studs Terkel, I wondered why me? But after I pondered the idea, I thought, of course me. And you. All readers of his books, Against the Current and other magazines, large and small that serve as a mouthpiece for those with the desire for a better world and anger against the hypocrisy of our times.
Studs (born Louis) Terkel took his name from the character Studs Lonigan, in the first book of James T. Farrell's trilogy. Farrell was a revolutionary socialist who, by the early 1950s, left the passions of his youth behind. Our Studs, however, never did.
A product of the Chicago theater project created by the New Deal, Studs was involved in the Chicago-reality style of television, "Stud's Place," which featured Mahalia Jackson and other cultural and artistic figures of the 1950s.
It was something like a "Cheers," but better, Studs said years later. The show's ratings were strong but it was ultimately cancelled because of the McCarthy witchhunt after Studs refused to renounce his past and his future.
His previous careers were that of a wannabee lawyer, though he never passed the bar, an innkeeper at a flop house, and numerous other mundane jobs that one took in order to survive the depression.
I first met Studs in 1956 when I made my transition from steelworker to impresario of pop-music productions in Chicago. Studs had a continuing presence in my life during this period. His consistent interviews of me, and the musical artists I showcased, helped me and them get wide acceptance.
For 50 years, we were friends. Whenever our lives intersected and I needed him, Studs was there. And whenever he called on me, I heeded his call. That was the nature of our relationship. Not an intimate friendship as he had with contemporary literary figures such as Nelson Algren, or with others in the music scene, namely Ken Nordine and Big Bill Broonzy, but a close one, as he had with scores of others.
A purely social gathering I recall with Studs was when we merged two ongoing weekly poker games into one fun evening. Terkel's group, which included Algren, was ready to lose far more money than we were. They bluffed when more prudent players would have folded and their outrageous, wild banter unnerved us. It was a great night but when it came to poker, my group decided we would remain friends with the Terkel group, but go our separate ways.
I saw Studs last at Len Despres' 100th birthday party in February 2007. Terkel and Despres were two titans of the struggles of the 1930s, still alive and active. These close friends started at somewhat opposite poles but soon united in the struggles for labor rights, civil rights and the ongoing struggle against war. (Len Despres was a socialist militant in the 1930s and '40s and subsequently a longserving member of the Chicago City Council, where he spearheaded opposition to the Richard J. Daley machine — ed.)
Studs was accompanied to the party by his son and a caregiver, both necessary in order for him to participate. But when it was time for his toast, he needed no help and stood up, balancing himself with his chair, getting ready to honor his old comrade.
Studs spoke of Len's participation in the struggles of Chicago for the rights of labor, the integration of Chicago schools, and his defense of democracy in the city council where the late Mayor Daley reigned with an iron fist. What a symbolic afternoon for those who understood the importance of witnessing this continuity of tradition.
As I listened to this great communicator, I reflected on our dealings over the years. Studs asking me to take a group of Chicago artists down to Selma; both of us interacting in the Chicago anti-Vietnam war movement; our joining together to support Ed Sadlowski's efforts to get a fair election in the Steelworkers union; my asking him to write an appreciation for a collection of seaman's stories edited by Marshall Uran, a veteran Trotskyist militant.
The stories (Sea Shay: Salty Stories and Seaman's Slang, Marshall Uran Publishing, 1995 — ed.) chronicled the experiences of seamen in World War II and how they developed a workplace bond of solidarity. Studs wrote these words: "These ancient mariners enrich all our lives with their memories of olden battles still to be fought with passion, humor and revelation."
In a short note to me afterwards, he expressed his gratitude that I'd sent him the work and wished he'd met the participants.
Years later, when he met Daniel Singer, a socialist writer and journalist from Paris, Studs demonstrated once again that he prepared for interviews with thoughtfulness and intellectual curiosity.
"After we greeted one another," Daniel recounted to me, "Studs told me that he'd read my books and articles. And that he'd underlined the cogent points he wanted to discuss." Terkel exceeded all of Singer's expectations.
Studs shaped his interviews to reflect the world he would like to have lived in — a personal vision that in the short run, perhaps, seemed improbable. Studs never considered himself a political leader, never asked anyone to follow his lead, but never failed to project the resurgence of a new movement for social justice. If that was his only shortcoming, then we need a thousand more Studs.
Goodbye old friend, we will miss you. §
ATC 138, January-February 2009