Against the Current, No. 138, January/February 2009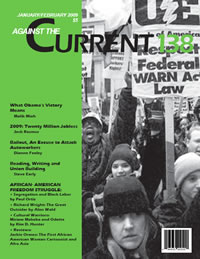 Jackie Ormes:
The First African American Woman Cartoonist
by Nancy Goldstein
The University of Michigan Press, 2008, 240 pages,
164 illustrations including 18 pages color strips. $35 cloth.
DURING THE 1930s, 1940s and 1950s Black newspapers presented a picture of African-American life rendered invisible by the white media. Like white newspapers, they carried a funnies page where Black readers faithfully followed the foibles of cartoon characters like Ollie Harrington's "Brother Bootsie," Samuel Milai's "Bucky" and Wilbert Holloway's "Sunny Boy Sam."
Black cartoonists were sensitive to the needs of an audience that wanted to laugh at something without being the object of derision. Jackie Ormes, the first African-American woman cartoonist, created Black female characters like "Candy," "Patti Jo," "Ginger" and "Torchy" that entertained audiences while also giving them images of Black uplift.
Author Nancy Goldstein's 2008 biography of Jackie Ormes is a major step forward for a growing body of scholars, graphic artists, and collectors interested in recovering the history of cartoonists of color.
The important role of Black cartoonists — many of whom reached tens of thousands of readers once every Saturday in the Black newspapers — is a story that has been long neglected.
In 1993, two books on Ollie Harrington were published by the University Press of Mississippi, but in the 15 years since only a few scholarly articles and encyclopedia entries about African-American cartoonists have appeared in print. The most comprehensive attempt is a web site, Salute to Pioneering Cartoonists of Color by Tim Jackson, contemporary cartoonist for the Chicago Defender.
Nancy Goldstein does not purport to be an academic, and indeed she first learned about Jackie Ormes as a doll collector. This biography is a thorough study written with a skilled eye for the craft of cartooning.
Published by the University of Michigan Press, the book includes 120 illustrations — 24 of them reproductions of originals and several in color. Written in an accessible style, the book contextualizes the life of this pioneering cartoonist and Goldstein's detailed annotations of the cartoons help to explain the many obscure popular culture references. This attractive book captures the glamorous life of Jackie Ormes and the sleek stylishness of her female characters. An Artist's Creations
Jackie Ormes (1911-1985) was for many years best known for her color comic strip "Torchy" in "Heartbeats," a romance-adventure that ran for four years in the Pittsburgh Courier during the early 1950s. Goldstein highlights the equally popular "Patty Jo 'n' Ginger," which ran for 11 years in the Courier during the same period and included the little girl who was the inspiration for the Patty Jo doll released in 1946 by doll manufacturer Terri Lee.
Like Ormes' first cartoon "Candy" which appeared in 1945 for four months in the Chicago Defender, Ginger and Torchy have shapely hour-glass figures and long legs. Her characters were Black versions of the pinups that had become popular during World War II. Wearing the latest in Christian Dior fashion, they were unabashedly middle class and embraced a booming consumer culture.
When the Patty Jo doll came out, it had an expensive price tag making it attainable to only the wealthiest Blacks. Writing in the Negro Digest, Black sociologist St. Clair Drake admitted he could not afford a Patty Jo doll for his daughter but wondered, "why do all one's friends in the first year of the kid's life shower her with highly attractive blonde dolls and never think of a colored doll?"
Ormes countered white ideals of beauty by depicting refined images of modern Black womanhood.
On the surface these cartoons may seem frivolous and insignificant, but even Langston Hughes admitted that if stranded on a deserted island, he would miss the "cute drawings" by Jackie Ormes. Like Hughes' Simple stories, Ormes' cartoons may have been only made for a laugh, but they could deliver a stinging critique of the Cold War, McCarthyism, and the country's continued failure to address civil rights.
In a 1951 cartoon, Patty Jo remarked to her older sister, "It would be interestin' to discover WHICH committee decided it was un-American to be COLORED!" Indeed, the FBI collected a 287-page file on Ormes for her associations with many on the Left.
Ormes was a part of the Chicago Renaissance, a more socially-conscious literary and artistic movement than what existed in the 1920s, but she is an example of how politically diverse a community this was. She was close friends with the left-wing artist Margaret Burroughs and a supporter of Chicago's South Side Community Art Center, as well as a participant in the politically progressive W.E.B. Du Bois Theatre Guild that performed radio plays for Richard Durham's Destination Freedom.
She also supported charities such as the United Negro College Fund and the March of Dimes, often encouraging readers to support these causes by inserting them into her cartoons. Her husband, Earl Ormes, was manager at the upscale Sutherland Hotel, and she visited with many Black entertainers like Louis Armstrong, Duke Ellington, Billy Eckstine, and Eartha Kitt when they passed through Chicago.
Celebrating Cartoonists' Legacy
In 2008, there were several events signaling that the time has come for a reconsideration of the role of Black cartoonists. Ohio State University's Cartoon Research Library exhibited several recently discovered cartoons by Samuel Milai, one of Ormes' contemporaries at the Pittsburgh Courier. In Chicago, an exhibition on the life of Chester Commodore, another long-time cartoonist for the Chicago Defender, featured 125 items from papers donated to the Vivian G. Harsh Research Collection of Afro-American History and Literature at the Woodson Regional Library.
In my own town, the University of Illinois at Urbana-Champaign exhibited Out of Sequence, a collection of underrepresented images in American comics including works by Jackie Ormes and Ollie Harrington, co-curated by up-and-coming artists John Jennings and Damian Duffy. This is just the beginning of the work left to be done on the many other Black cartoonists who entertained audiences at the height of the Jim Crow era.
Nancy Golstein's biography of Jackie Ormes has been well-received thus far, with reviews in the New York Times Book Review and on NPR's All Things Considered. It was also named among the top ten biographies of 2008 by the American Library Association. The author proves her abilities as a tireless researcher by interviewing Ormes' contemporary Chester Commodore and her sister Vivian (Ormes) Mason, and discovering a box of personal items at the DuSable Museum of African American History in Chicago.
Goldstein utilizes her skills as a collector, as illustrated in her discussion of the Zip-A-Tone sheets and india ink technique Ormes used to create her clean, crisp style, producing a book that is a great tribute to its subject. It puts us on the right path to better understanding the contributions by cartoonists of color at mid-century.
ATC 138, January-February 2009