Against the Current, No. 138, January/February 2009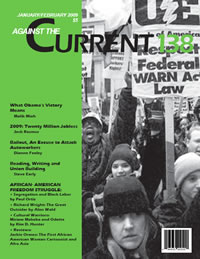 IT FELT LIKE the end of an era to realize that South Africa's Miriam Makeba and our own Odetta died within weeks of one another, having been born only months apart, these twin pillars of the struggle for justice on opposite sides of the Atlantic.
Odetta was called the "voice of the civil rights movement" by no less a figure than the Reverend Martin Luther King Jr. Makeba was effectively the voice of the South African freedom struggle known affectionately and reverently as "Mama Africa." Both in their seventies (Makeba 76 and Odetta 77), they exemplified artists in the service of others and continued that service virtually to the end — in Makeba's case, literally to her last breath.
Miriam Makeba died as she lived using her exquisite, expressive voice to fight the good fight. For most of her life that meant speaking out against the racist regimes that ran her native South Africa. Her very last performance found her in Italy, in solidarity with Ghanaian immigrants who'd been shot to death in September. She died immediately after singing her famous piece "Pata Pata."
Many years prior, the songs she chose to sing gained her exile from her country, then under the thumb of an openly racist apartheid regime. She was even denied permission to attend her mother's funeral.
Spending 30 years in exile allowed her to avoid direct contact with the apartheid regimes and to tour the world and testify at the UN against the whites-only regime. But she still experienced tragedy. Over and above the decades of lost contact with loved ones, she lost relatives and friends in the Sharpeville Massacre (1960) and other government-inflicted acts of brutality, and had to mourn them from afar.
Makeba's U.S. career rose and fell in part because of her association with two African Americans, Harry Belafonte and Kwame Toure (previously known as Stokely Carmichael). Belafonte, another artist/activist worked with Makeba in the early '60s, helping her attain a U.S. visa and recording contracts.
It was during this time that she recorded her most famous songs, "Pata Pata" and "The Click Song." These songs in the mid-to-late 1960s were my and many other Americans' first contact with popular music directly from the continent.
Her career was going well until her marriage in 1968 to the revolutionary Kwame Toure. U.S. record companies and promoters promptly shunned her. It was fine to work against the apartheid regime in South Africa. But association with a U.S. revolutionary was more than could be tolerated. Toure and Makeba were welcomed to Guinea West Africa by then President Sekou Toure. Her records continued to sell abroad and eventually, when the heat of the 1960s rebellions faded, she was welcome once again in time for the rise of the "world" music phenomenon.
Her music remained as rooted and political as it had been when began recording in the United States in the 60's. Former South African President Nelson Mandela persuaded Makeba to return to post-Apartheid South Africa in the late '90s.
Makeba's awards and honors are legion. She appeared in several anti-Apartheid documentaries, was the first African to win a Grammy and besides the above-mentioned Harry Belafonte, worked with Nina Simone and Dizzy Gillespie among others.
Perhaps her most controversial collaboration was with Paul Simon's "Graceland." Simon took heat for not vetting his move to use South African session players (there was an anti-apartheid boycott) with those fighting the regime. But Makeba and fellow activist/expatriate Hugh Masekela (an ex-spouse of Makeba's) supported Simon's effort and actually welcomed the attention brought by controversy as means to focus on the overthrow of the racist South African regime.
There are too many records to recommend so I will stick to two. First, "Pata Pata," because it contains her breakout hit and because the album is both fun and political. Second, but not least, from the '90s, you must hear the exquisite and flawless "Sangoma." (Makeba's mother was a "Sangoma" or healer.) The record is virtually acapella with the type of soul-stirring South African harmonies and melodies that fueled the anti-apartheid movement.
The Journey of Odetta
Odetta Felious Gordon was born in Jim Crow-era Birmingham, Alabama in the 1930s. Towards the end of her life, she had planned to sing at the inauguration of the first African-American U.S. President.
No one took the role of artist in struggle more seriously than Odetta. She broke rocks to get the feeling of prison work songs. Trained as opera singer with voice lessons from childhood, she took to protest music in the 1950s (actually before the term was even coined) ironically because folk music showed her "how dreadful the world can be." She channeled the training and intensity of opera into the folk idiom.
Actually, it was the catharsis of the music, the slave songs, the prison work songs, the blues that allowed her to come to grips with the pain she experienced as a Black woman in the mid-century United States.
Odetta was 19 and on tour with a production of "Finian's Rainbow" in California. The show proved momentous for her in two ways. It exposed her to the music of Sonny Terry, the blues harmonica giant. Also, it was during that tour that she also found a group of folk singers. They sang until dawn and she emerged changed and ready to change some things as well.
In the 1950s, she moved to San Francisco and began singing folk music in earnest. There she met Woody Guthrie and Ramblin' Jack Elliot and performed at the famous "Hungry I" club.
She moved from the safety of musical theater to grittier folk clubs and eventually to church basements where people sang "this could be the last time we shake hands" before they moved out face guns, clubs and dogs.
Odetta's work stretched back to first field hollers, spiritually if not in fact. She would often abandon the simple accompaniment of her guitar for hand clapping or she sang acapella. Her voice never lost its charge but the control she exercised over it made it like a laser, powerful and focused.
A Black presence in the mostly white folk scene of the 1950s and '60s, she kept things rooted. Though she is said to have influenced Bob Dylan stylistically it was her political songs and activism, a sense of seriousness, that he took from her more than style.
There are some songs that are owned by some singers no matter who wrote and performed them first. Many of her fans love the album "Odetta Sings Dylan" and it is great to hear someone with a great voice working in the folk blues tradition sing those great songs. But I would recommend "Odetta Sings Ballads and Blues" as her landmark album.
There are of course her versions of civil rights songs such as "We Shall Overcome" and "Oh Freedom." But try to search out her version of Woody Guthrie's ironic and stinging "Pastures of Plenty." Like so many of her songs, it is sharp unvarnished testimony — to be heard forever.
ATC 138, January-February 2009