Against the Current, No. 137, November/December 2008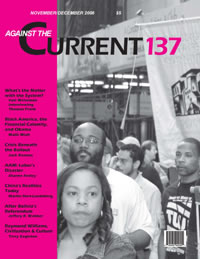 MAHMOUD DARWISH LIVED through every major event in recent Palestinian history, and his experiences and his art made him a hero to his people and a companion of every Palestinian. Beloved and revered, he will continue to move every generation of Palestinians. As Nathalie Handal put it, "no other poet captures the Palestinian consciousness and collective memory the way he does… His work speaks of his internal exile and uprootedness, his meditations on his historical, collective, and personal past."
Darwish's poetry has often merged details of his personal love experience with that of his love to the homeland, alternating from the most delicate, romantic expressions to words of excruciating pain reflecting details of the collective Palestinian life in exile.
Darwish was born in Al Birweh, near Akka, in 1942. In 1948 his family was forced to flee to Lebanon. Nevertheless his father resolved to return his family to Palestine the next year, risking death by Zionist militias who had murdered countless Palestinians attempting to "escape home."
Darwish's family found their village destroyed, and settled in the nearby Galilee. His family were marked as "present-absent aliens," a status branded onto the poet's mind, forever keeping him from feeling at home. Being Palestinian also brought on him harassment and repeated arrest, and it was out of these labels, struggles and pains that his beautiful mind grew.
Early in his life Mahmoud Darwish brought two significant contributions to the Arab world; one was political, the other literary. The political stamp of his and his peers' efforts was shifting the Arab world's perspective on Palestinians who remained in Palestine under Israeli rule, seen by fellow Arabs for a long time as traitors for "consenting" to Israeli dominance. Darwish is credited as a leading Palestinian voice and patriot standing in opposition to Israeli Zionist hegemony and racist practices.
He and other Palestinian patriots, once heard in international circles and the Arab world in particular, were lauded by fellow Palestinians as true patriots who have elected to endure Israeli rule while clinging to the homeland at a great personal sacrifice. Darwish's poem "Identity Card" became known across the Arab world and catalyzed this image shift.
In the words of Edward Said, that poem "does not represent as much as embody the Palestinian, whose political identity in the world had pretty much been reduced to a name on an identity card."
On the literary front, Darwish was a leading innovator in the liberation of Arabic poetry from the confines of traditionally prescribed meter and rhyme schemes. His innovative writings contributed significantly to the renaissance of modern Arabic poetry.
A Life in Exile
Darwish left Israel in 1971 to study in Moscow. He lived and studied in several cities including Paris, Cairo and Beirut, becoming, in his own words "addicted to exile." Eventually he joined the Palestine Liberation Organization and in 1981 set up the highly regarded literary magazine Al-Karmel. But he became even more an exile after Israel revoked his citizenship and his relations with the PLO went downhill.
Although in 1988 he wrote the official Palestinian declaration of independence, five years later he resigned from the PLO Executive Council, in opposition to the Oslo Accords. He could see, as very few people within the PLO could, that there was a structural problem with the accord that would only pave the way for escalation. "I hoped I was wrong. I'm very sad that I was right," recalled the poet.
In 1995, Darwish returned to Palestine and attempted to build his life there. He witnessed the brutal Israeli siege of Palestinians, this time in Ramallah in 2002, which inspired his powerful poetry collection 'Haalat 'Hisaar (A State of Siege). Since the 1980s Darwish had serious heart problems, and had a very close encounter with death in 1998 after heart surgery, an experience that inspired his monumental work, Jidaariyyah (Mural).
His poetic career spanned five decades. He wrote 30 books of poetry and prose, some of which have been translated into 22 languages. Darwish received several awards for his work, including the Lotus Prize by the Union of Afro-Asian Writers, the Lenin Peace Prize, France's Knighthood of Arts and Belles Lettres, the Prince Claus Prize in the Netherlands, the Moroccan Wissam of intellectual merit, and the Golden Wreath of Struga Poetry Evenings.
In 2001 Darwish received the Prize for Cultural Freedom established by the Lannan Foundation. The prize recognizes people whose extraordinary and courageous work celebrates the human right to freedom of imagination, inquiry, and expression. It is further testament to his importance that in March 2000 Ehud Barak's government faced a major political crisis following the rejection of a proposal by the education minister to include Darwish's poems in the Israeli school curriculum.
In fact his poetry transcends geography to address universal themes of humanity, mortality, love and beauty. He once said: "I want, both as a poet and as a human being to free myself from Palestine. But I cannot because my country has not yet been freed." But he did not let his circumstances limit his artistic breadth.
As he put it, "we Palestinians are supposed to be dedicated to one subject – liberating Palestine. This is a prison. We're human, we love, we fear death, we enjoy the first flowers of spring. So to express this is resistance against having our subject dictated to us. If I write love poems, I resist the conditions that don't allow me to write love poems."
In the words of poet Naomi Shihab Nye, Darwish was "the Essential Breath of the Palestinian people, the eloquent witness of exile and belonging, exquisitely tuned singer of images that invoke, link, and shine a brilliant light into the world's whole heart. What he speaks has been embraced by readers around the world – his is an utterly necessary voice, unforgettable once discovered."
Mahmoud Darwish believed that "We have triumphed over the plan to expel us from history." That the Palestinian people have not disappeared and will never disappear owes much to Darwish and the art he created.
ATC 137, November-December 2008