Against the Current, No. 136, September/October 2008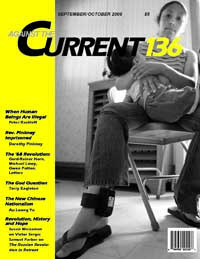 ON JUNE 28, 2008, Branko J. Widick, known to everyone as "B.J." or "Jack," died at age 97 in Ann Arbor, Michigan. Widick was a prominent figure in the history of U.S. Trotskyism and above all in the unorthodox political tendency known as the "Shachtmanites." In the Great Depression, he was directly involved in the rise of the CIO (Congress of Industrial Organizations) and was a participant in General Motors sitdown strike of automobile workers.(1)
Self-assured, quick, energetic, expressive and warm-hearted, Widick kept up affable ties to several generations of socialist activists on whom he eagerly bestowed advice. Although he was only five feet and four inches tall, his personality aura was powerfully etched in the minds of many who knew him.
Widick joined the Communist League of America (CLA) in 1934, and was a founding member of the Socialist Workers Party (SWP) in 1938, at which time he also served as the SWP's first National Labor Secretary and a was member of the National Committee and Political Committee. In 1940 he was an initiator of the Workers Party (WP), led by Max Shachtman.(2) Thereafter Widick participated in many WP leadership capacities and contributed articles to the journal New International and newspaper Labor Action under the names Jack Wilson, Jay Hardwick and Walter Jayson.
In 1949 the WP reorganized as the Independent Socialist League (ISL), and in late 1958 Widick and other members joined the Socialist Party (SP). Subsequently, with the war in Vietnam and rise of the New Left, the "Shachtmanites" fragmented. With old comrades like Max Shachtman on his Right and Hal Draper and the Jacobsons (Phyllis and Julius) on his Left, Widick was more often than not in the Center (liberal social democracy) with Irving Howe and Michael Harrington.
Widick's area of expertise was the U.S. labor movement. In the 1930s he was active as a member of the American Newspaper Guild and United Rubber Workers in Akron, and in the post-World War II years he was a United Autombile Workers (UAW) official until he embarked on a career in the early 1960s as a professor at Wayne State University and Columbia University.
Along the way he wrote a number of books: The UAW and Walter Reuther (co-authored with Irving Howe, 1949); Labor Today: The Triumphs and Failures of Unionism in the United States (1964); and Detroit: City of Race and Class Violence (1972, revised 1989). He also edited Auto Work and Its Discontents (1976). He was a correspondent for The Nation in 1958-60, and after the 1960s occasionally contributed to the socialist journals Dissent and New Politics.
Matrix of Class Struggle
In 1913, Widick, who had been born in the Serbian village of Okucana, came from Yugoslavia to the United States. His mother, Angelina, had died shortly after his birth, and his father, Joseph, then married the son's nurse. Joseph Widick had various job difficulties in the United States but eventually found employment as a barber, while Widick's stepmother worked in a pottery factory. For a few years the family lived in Minnesota, often in Serbian communities.
Joseph Widick was an admirer of anarchist Emma Goldman, had a good friend in the Socialist Labor Party, and was sympathetic to steel strikers in 1919. Subsequently the Widicks moved to Detroit and, in 1923, to Akron, Ohio. In 1929, B. J. Widick became a freshman at University of Akron where he met his life-long friend, Chalmers Stewart (1910-1995), who would publish in the socialist press under the name Blake Lear.
Widick had planned to become a civil engineer, but ended up graduating in economics in 1933. By then he had transformed into a self-proclaimed Communist and was quite happy to declare his Marxist opinions in interviews that appeared in local Akron papers. Widick later claimed he became radical simply from believing Sunday School and Boy Scout values about doing good deeds, and also from reading Western pulp fiction about the good guys taking on the greedy owners of railroads and banks.
Following graduation, Widick conducted a double life, working as a cocky reporter (nicknamed "Scoop" by the police) during the day and organizing for socialist revolution by night. Through his journalist associates, he met proletarian novelist Jack Conroy and with him attended meetings of the John Reed Club (a pro-Communist organization for writers and artists) in Cleveland. There Widick was introduced to Henry Kraus, who was to launch the official newspaper of the United Auto Workers Union. In 1934, Widick played a part in setting up Akron's Progressive Workers School, attended by future leaders of the United Rubber Workers.
From 1933 to 1936, Widick was employed by the Akron Beacon Journal where he helped to organize a chapter of the Newspaper Guild. But he was fired after his participation in the 1936 Goodyear Strike, a crucial step in the evolution of the CIO. The events of the strike were fictionalized in Ruth McKenney's 1939 novel Industrial Valley where a character based on Widick plays a minor role. Later on, Widick also appeared briefly as a composite character in novels by Harvey Swados and Saul Bellow.
Widick was at first a close ally of the Communist Party (CP). At the Party's request, he became head of Ohio League Against War and Fascism and chairman of the Friends of the Soviet Union. Then Widick was deeply affected by the 1934 labor upsurge and above all by the role of Trotskyists in the Minneapolis Teamsters strikes. He and two friends began checking out all the radical groups. They were most sympathetic to the Trotskyists but, inasmuch as there were no Trotskyists in their area, they joined the CP with the aim of promoting Trotsky's views.
The secret Trotskyist trio was soon expelled as counter-revolutionaries and Widick then became a fraternal delegate to the last Communist League of America convention November 1934. At that time a fusion with the American Workers Party (an independent revolutionary organization founded in 1933 by A.J. Muste) was finalized, occurring immediately afterwards.
At the CLA convention Widick befriended Albert Glotzer and Martin Abern. These were founding members who since 1929 had been in opposition to James P. Cannon, the historic leader of the CLA. Glotzer and Abern believed that Cannon was bureaucratic in his organizational methods and overly fixated on his proletarian background.
They also believed that he was unstable in his activities; one moment, they alleged, Cannon could be friendly and persuasive, and the next he might fall completely out of touch. The other chief historical leader, Max Shachtman, was also originally in opposition to Cannon; after 1934, however, Shactman became allied with Cannon and so that he, too, became a target of criticism by Glotzer and Abern.
Among the outstanding Trotskyist leaders of the fused organization, Widick was most attracted to A.J. Muste, then serving as National Secretary, and Maurice Spector, the historic Canadian Trotskyist who was living in New York. In 1936 Muste would visit Akron and, impressed with Muste's integrity, Widick thought of himself as something of a "Musteite"; thus he was much dismayed when Muste departed Trotskyism later that year as a religious pacifist.
The newly formed Workers Party of the U.S. launched the journal New International in 1934 and Widick became a frequent contributor. His first article, "In a Billion Dollar Industry," about the rubber workers, appeared in March 1935, bringing him notability as an up-and-coming young leader. Simultaneously, he continued to write for the Akron press and also contributed to The Nation. His personal role models at that time were Left-wing journalists Lincoln Steffens and John Reed.
In Akron he set up a research department for the Rubber Workers Union and in 1937 became Research Director, writing regularly for CIO News and the Rubber Workers paper. As soon as the Rubber Workers union was established, he began branching out into other CIO activities. Although Widick was known as a Trotskyist, he collaborated in the Flint auto strike with pro-Communists he admired such as such as Bob Travis and Henry Kraus. He was also welcomed by the Reuther brothers as representing the solidarity of rubber workers.
Professional Revolutionary
In June 1937, with approval of the Trotskyist leadership, Widick sailed on the S. S. Orizaba to Mexico with the destination of Coyoacan to provide a first-hand report to Leon Trotsky about working-class activities in the United States. Trotsky had been shown articles by Widick from the Akron Beacon Journal, Flint Journal, the United Rubber Workers paper and elsewhere. For a week they discussed each day the possibilities of a labor upsurge, the nature of working-class leadership, and the prospects for building a new U.S. revolutionary socialist movement. By that time the U.S. Trotskyists had entered the Socialist Party and were building a base among its large and dynamic Young People's Socialist League (YPSL).
Upon returning to the United States, Widick was offered a permanent position in the union movement but turned it down when persuaded by James P. Cannon to become a professional revolutionary and move to New York City. Widick's attitude toward Cannon was still mixed. He regarded Cannon as a splendid working-class leader with oratorical powers second only to John L. Lewis.(3) He also admired Cannon for playing a behind-the-scenes "Rock of Gibraltar" role in the Minneapolis strikes.
Yet Widick shared the assessment of Glotzer and Abern, and was now uncomfortable with what he believed to be an element of deception when the Trotskyists entered the SP. Cannon and Shachtman had publicly denied that this was a political raid, but Widick was suspicious; later on, Widick claimed, the two acknowledged to him that a "raid" was precisely what it had been. Still, Widick, like teamster Farrell Dobbs, believed it was a higher honor to become a leader of a Marxist party than of a union.
Thus Widick made the move East in 1937 and served on the organizing committee for the first convention of the SWP, writing the trade union resolution.(4) He then went on a national speaking tour and launched a column in the Trotskyist newspaper, which was first called Socialist Appeal and then The Militant. There was also time for socializing and cultural activities. From the late 1930s, Widick recalled hearing Mary Lou Williams and other jazz singers and musicians at the Village Vanguard. This was always on Monday night, which was designated "Trotskyist" night; the Communists, who were much more numerous, poured into the nightclub on the other evenings.
Throughout his life Widick talked about the major political debates of the late 1930s that had a profound effect on him. One was the shift in attitude in 1938 toward the call for a labor party; Widick believed that this reflected a change in viewpoint on Trotsky's part, no longer seeing the U.S. in a "revolutionary crisis" but regarding it as being in a "social crisis," when reforms are central.
Another controversy involved the Ludlow Amendment. This was a proposal by a U.S. Congressman to amend the U.S. constitution to require a national referendum before a declaration of war. The Trotskyist leadership, except for New York University Professor James Burnham, was opposed to the amendment because they thought it created the illusion that world war could be prevented in any way other than by social revolution; but Cannon and Shachtman reversed themselves under prodding from Trotsky. Widick thought that the episode demonstrated just how dependent U.S. Trotskyists were on their leader in Mexico.
A third issue was the 1939 "auto crisis," when the Trotskyists were torn between supporting two factions in the United Auto Workers Union, one led by Homer Martin and the other by Walter Reuther in alignment with the Communist Party. While Cannon was out of the country, the party supported the former; after he returned, it switched to the latter.
The era that Widick saw as the high point and most hopeful moment of U.S. Trotskyism came to a crisis when the Soviet Union signed a non-aggression pact with Germany in August 1939. The SWP had long been simmering with disagreements over policy toward the Soviet Union and internal organizational practices. When the USSR invaded Finland, the movement divided into two factions headed for a split; Widick sided with Shachtman, James Burnham, C.L.R James and others who formed the Workers Party in 1940.
In preparation for the faction fight, Widick took a political assignment in Chicago. There he felt that the faction fight proceeded fairly, and he enjoyed cordial relations with Cannon supporters Albert Goldman and Arne Swabeck. In his mind, the Chicago situation contrasted dramatically with Minneapolis, where he believed that the Shachtman faction never got a fair hearing.
After the new party was created, Widick was in St. Louis and then Los Angeles. As World War II became a reality, the WP did not support any side, calling instead for a socialist revolution against both the fascism of the Axis and the imperialism of the Allies. Nevertheless, Widick, who was originally rejected when drafted for medical reasons, enlisted in the Army in 1942. The WP view was also that a revolutionary socialist should participate in the life of the working class. From the Army Widick transferred to the Army Air Corps where he became a sergeant and served mostly as a file clerk.
Union Activist
After the war Widick was hired at a Chrysler Plant in Detroit, quickly becoming chair of the Veterans Committee of UAW Local 7. For Widick, however, UAW activities gradually became more important than his involvement with Shachtman's organization; early on he thought their political current had erred in presenting itself as a party rather than a league.
He was elected a chief steward and remained a Plant Union Official for the UAW until 1959, subsequently serving as an economist on Walter Reuther's staff in 1960-61. However, his 1949 book with Irving Howe on Reuther caused complications in his relations with the union leadership. Left critics saw the work as an apology for Reuther, but Reuther himself disliked the book, which was not uncritical.(5)
Moreover, while some co-workers and conservatives saw Widick as a "Red," Widick, in fact, supported Reuther in destroying Communist influence in the union. Widick himself survived the 1950s anti-radical witch-hunt era as a union official, but was unhappy about compromises he felt that he had been forced to make.
One action of which he always felt proud was his July 1, 1956 testimony in Washington, DC that led to the Independent Socialist League's being removed from the Attorney General's list of subversive organizations. Another was his long-term support of Civil Rights for African Americans. This eventually led to his 1960 collaboration with African-American union leader Horace Sheffield in Detroit's Trade Union Leadership Council (TULC). Together they supported the Kennedy-Johnson presidential campaign. But Reuther increasingly saw Widick as a political maverick and a year later kicked him off the UAW staff.
In 1962, at age 51, Widick started a new career in teaching, receiving an MA from Wayne State University, becoming a tenured Economics professor in 1968. In 1969 he became an associate professor at the Columbia University Graduate School of Business in New York City, retiring to Ann Arbor in 1983.
In the meantime, even though he had been an early advocate of ISL members joining the Socialist Party, he became dismayed in the mid-1960s by the growing antagonism between Shachtman and former ISL member Michael Harrington over Shachtman's support to the Vietnam War. Sensing that another brutal faction fight and split was in the works, Widick distanced himself from organizational involvement, although he later was associated with the Democratic Socialists of America (DSA).
Widick was part of that generation of the Old Left that considered personal life separate from what he regarded as serious political matters. Despite our friendship from 1984 until his death, we mainly deliberated about radical history with the result that he disclosed little about his private affairs. Originally, he and Chalmers Stewart had wedded the Horst sisters; Widick married Jacqueline (Jackie) and Stewart married Marguerite (Maggie). After World War II, the Stewarts broke up and Maggie married Albert Glotzer. Then, in 1964, Jackie was killed in a car accident in Detroit. Widick subsequently married Barbara Klan, a school teacher from Pontiac, Michigan. They had two sons, Brian and Marshall.
A Dissenter, Not "True Believer"
By the time I met Widick in 1984, his outlook was that union movement had been a powerful force in the 1930s but declined into a largely service organization clinging to the past and frightened of the future. Moreover, the radical movement had evolved from being cocksure to virtual extinction. After more than four decades of activism, Widick regarded himself as still a dissenter but contemptuous of all "True Believers," Right or Left.
At the time of the 1968 student rebellion, he was teaching at Columbia University. His assessment was that the uprising was a "historical farce," a ripple compared to giant struggles of the 1930s.
Widick thought that the fears of his old comrades (like Irving Howe) that the new radicals were becoming "Totalitarians of the Left" was an exaggeration, and that any notion that the students had the capacity to destroy Columbia University was laughable. He regarded Mark Rudd and other SDS leaders as minor characters compared to the worker militants he had known, second only to United Mine Workers president.
Yet Trotsky always remained a giant to Widick; his books were prized as classics. As he entered his seventies, Widick decided to write own autobiography. He despised the ex-radicals who claimed that they hadn't been much involved, beyond a youthful lapse of judgment, in order to protect themselves against the legacy of McCarthyism. He was also near-apoplectic about autobiographies of those once connected with the Communist Party and downplayed their dependence on the CP line and illusions in the Soviet Union, presenting themselves simply as working-class fighters. In the area of Communist historiography he thought that Bert Cochran's Labor and Communism: The Conflict That Shaped American Unions (1977) pointed in the right direction.
An additional frustration for Widick was that his one-time mentor, Shachtman, had never explained in writing how and why he had evolved so far to the Right. But Widick was above all irked by the memoirs of a generation of activists who were once profoundly critical of the CP from the Left but who cleverly rewrote their personal histories so as to make it seem as if they had always been "anti-communist" and "anti-totalitarian." He thought that New York University philosophy professor Sidney Hook during the Cold War provided the archetype of this distorted method.(6) The autobiographies he preferred were Carey McWilliams' The Education of Carey McWilliams (1979) and Robert Schranck's Ten Thousand Working Days (1978).
Sadly, Widick waited too long to get started on his own narrative. He completed drafts of a few chapters, which he decided to withhold from publication. His point of view, however, was clear: The Trotskyist movement had attracted uncommon talent but in the end had come to nothing. While the Trotskyists in the 1930s had been right in their view that capitalism stinks, they were wrong about what was to happen.
Widick and I endlessly debated the meaning of his experiences; on matters such as Cannon-versus-Shachtman, the meaning of 1968, and the legacy of the Communist Party, we could never reach accord. Sometimes there were late night calls when he would ask me to look up a reference in an old discussion bulletin or journal to which he didn't have access. But there was always an element of kindness in his retorts and rebuttals; in no way any mean-spiritedness.
Widick also had an engaging sense of humor. He never tired of congratulating me on finding my way into what he invariably called "the professor racket," which, as in his own case, was not the original plan. Widick certainly had no regrets about his years in the union movement, but saw many advantages to his second career in the professoriat: "If you're a radical and a trouble-maker, it can't be beat."
Notes
ATC 136, September-October 2008