Against the Current, No. 136, September/October 2008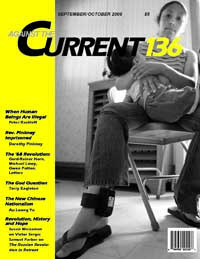 UPDATE: AS THIS issue was in preparation, Rev. Pinkney was transferred, this time to the Upper Penninsula. Write to: Rev. Edward Pinkney #294671, Hiawatha Correctional Facility, 4533 Industrial Park Drive, Kincheloe MI 49786-0001. Please send letters or postcards supporting his application to the Parole Board. These can be as simple as "I support Rev. Pinkney's application for pardon." Sent to: Michigan Department of Corrections, Office of the Parole Board, Pardons and Commutations Coordinator, PO Box 30003, Lansing MI 48909; also send a copy to Governor Jennifer Granholm, PO Box 30013, Lansing MI 48909. To sign a petition in support of Rev. Pinkney and his struggle, go to www.thepetitionsite.com/takeaction/624471377.
THE CORRUPTION AND deceitfulness continues in the Berrien County, Michigan courthouse. My husband, Reverend Edward Pinkney, leader of Black Autonomy Network Community Organization (BANCO) was convicted in March 2007 by an all-white jury motivated by something other than the truth. He has now been thrown in prison for writing an article about the case and the injustices in Benton Harbor, Michigan.
Judge Alfred Butzbaugh, who presided over the original trial, his former law firm and his partners, as well as a trust of which Butzbaugh is a beneficiary, have been deeply involved in the promotion of Harbor Shores and other development projects in and around the city of Benton Harbor. [Benton Harbor is a majority Black town on the shores of Lake Michigan, in western Michigan. In fact, it is the state's only Black town with such a beautiful lake front. For background on Reverend Pinkney's trial, see "Framing Reverend Pinkney," ATC 128 (May/June 2007 issue — ed.]
Tracing Economic Ties
Along with others my husband opposed The Harbor Shores Project. This motivated them to organize a recall election of Benton Harbor City Commissioner Glen Yarbrough. Following Yarbrough's defeat, criminal charges of voter fraud were brought against Reverend Pinkney. Judge Paul Maloney then set the election aside, disregarding the will of voters.
The Harbor Shores Project has been primarily pressed forward by Cornerstone Alliance on behalf of the Whirlpool Corporation, whose headquarters is in Benton Harbor. In 1988 the Community Economic Development Corporation (CEDC) was formed by John DeWane of the Butzbaugh and Ryan law firm.
Two years later Jeff Edmonds, who was Judge Butzbaugh's campaign manager in 2004, co-signed the filing with the Michigan Department of Labor and Economic Growth. The following year CEDC became the Cornerstone Alliance with the paperwork again prepared by DeWane. In fact Mr. DeWane has been a continuous member of the Cornerstone Alliance's Board of Directors. Jeff Edmonds served on the Board until 2004.
In 2000 the City of Benton Harbor sought a Section 108 loan guarantee coupled with a BEDI Grant to complete what is known as the Edgewater Plan, a 422-acre brownfield redevelopment project. The parcel physically connects the all-white city of St. Joseph, which is adjacent to Benton Harbor. Benton Harbor's corrupted city commissioners agreed to subcontract with Cornerstone Alliance to carry out the Edgewater Plan.
Who is legal counsel to the city's Finance and Administration Committee, which is responsible for all contracts and financial oversight of the Cornerstone Alliance? None other than John DeWane!
Another portion of land sold for redevelopment in 2005, known as the Grand Boulevard Renaissance L.L.C. Their legal counsel was the DeWane, Peterson and Cullitan, P.C., the successor firm when Judge Butzbaugh assumed the bench. Also in that year Ship Street Real Estate was formed, with John De Wane as the Resident Agent. This superseded Law and Title Realty, itself formed in 2000. There is an unbroken, direct relationship between these entities and Judge Butzbaugh since 1984, with the founding of Butzbaugh and Ryan.
Property records also indicate that Judge Butzbaugh is a 50% beneficiary of the Elden Butzbaugh Trust. On two occasions in 1998 the Elden Butzbaugh Jr. Real Estate Trust acquired property along the Benton Harbor ship canal.
At the time of the trial for supposed voter fraud Judge Butzbaugh's conflict of interest was not known to my husband, but obviously Judge Butzbaugh could not have been unbiased in the case.
Why Reverend Pinkney Is in Prison
On June 26, 2008 Judge Dennis Wiley sentenced my husband to three to ten years in prison for writing an article against injustice, corporate power, racism and a call to repentance. Judge Alfred Butzbaugh claimed the article was threatening him because it included a quote from Biblical Scripture, Deuteronomy 28:15. Reverend William Wylie-Kellerman testified as a Biblical expert, stating that such a quotation could not be considered a threat. But Judge Wiley ruled in favor of Judge Butzbaugh, who refused to testify.
The First Amendment's guarantee of freedom of speech was described by James Madison as one of the great bulwarks of liberty. It was written into the Constitution from the historically justified fear that the government would punish people for speaking out against it. For this very reason the freedom to speak out against public officials is the most important protection the First Amendment affords.
It is certainly true that the U.S. Supreme Court has recognized certain categories of speech that are excluded from freedom of speech: true threat, obscenity and incitements of violence. But even so the courts have been reluctant to condemn public statements of political dissatisfaction, even when replete with the most unequivocally violent language, as true threats unprotected by the First Amendment.
My husband is in Jackson State Prison for the "crime" of publishing an opinion in a newspaper expressing dissatisfaction about how a public official carried out his official duties. The state would have the court believe that the invocation of the wrath of Reverend Pinkney's God makes his political opinion a true threat. However, the Berrien court is no more allowed to pass on whether the God of one man can be invoked to harm another than it can shield a public official from the criticism, however passionate, of the citizenry.
As for the original conviction, there are over 20 constitutional issues on appeal but no sentence has been handed down.
The message to Benton Harbor citizens is clear: you have no rights. If you wage a battle, you too will be locked up in inhumane conditions, served cold food, put on lockdown, have your visitation rights taken away, have your phone calls blocked, charge you $150 for medical fees and $25 for a doctor's fee.
It is our constitutional duty as American citizens to hold our elected official accountable for their words as well as their actions and inactions of wrongdoing.
ATC 136, September-October 2008