Against the Current, No. 135, July/August 2008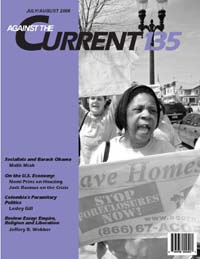 THE INDIANAPOLIS COLTS' new Lucas Oil Dome portends to be exorbitant for the taxpayers of Marion County, where Indianapolis is situated. But the cost is genteelly hidden, so the taxpayers are liable to overlook what this new Dome is going to cost them. This is the new Dome the Colts' owning Irsay family insisted had to be built for them by public funds, or else they'd leave as they formerly abandoned Baltimore.
This is all the more reason to be known by what it really is — the Extortion Dome, which is being built right next to the old, supposedly inadequate Hoosier Dome, which is being torn down while the taxpayers (who were called upon to build it also) still owe $75 million on it. But the Hoosier Dome was renamed the RCA Dome after RCA paid a few million dollars to post its logo on it, thus purchasing simultaneously continuous free advertising.
Marion County taxpayers, absorbed as they were by the property tax increase crunch when most especially residential housing was drastically reassessed upward in the summer of 2007, probably overlooked the crunch in the Marion County income tax rate, from a rate of .0085 per dollar of income to .011125 per dollar, a whopping 30.88% increase specially mandated by the Indiana General Assembly last year to pay for the Extortion — pardon me, Lucas Oil — Dome. Lucas Oil got off easy, of course, only having to shell out $2 million for the naming rights.
This same Indiana General Assembly also passed the "option" for Marion and adjoining counties to raise the sales tax rate on restaurant food and beverage by 1%, which Marion County did, naturally, bringing that tax to 8%, a one-third increase over the normal sales tax rate of 6%.
"Wait a minute," I hear you say, "that's two percentage points over the normal sales tax rate, not one percentage point." True enough, but the other one percentage point on restaurant food and beverages, added earlier to construct Market Square Arena, was never repealed — although the site of now torn-down Market Square Arena is a parking lot. Lest we forget, Market Square Arena was torn down because the Indiana Pacers insisted on a new venue for their basketball games, or else they'd leave Indy too.
On April 1, 2008 the Indiana sales tax went from six to seven percent, so the restaurant tax is now nine percent.
Cheering in the Dark
There are crunches in the operating costs as well. According to the Indianapolis Star, not only will the electricity bill for the new Dome be $10 million a year more than anticipated, but the electricity demand when the Dome is being used will be so great that other parts of Indianapolis face possible electricity blackouts.
And, of course, the Extortion — oops, Lucas Oil — Dome is a private franchise, not a public one, just like the Pacers' Conseco Field House. And it's literally a playground only for the rich. Not only the $1500 per season luxury suites, but even ordinary tickets are far beyond the means of the average Indianapolis family. And that same 2007 Indiana General Assembly that gave so generously also voted down a provision in the authorization bill that would've mandated the availability of a certain number of inexpensive seats at Colts home games for lower-income patrons.
But wait, there's more on this, for the Indianapolis Star did a survey of Colts ticketholders in the fall of 2007 and found that the average ticket-holding Colts fan was a 47-year-old white male who is a Republican or Republican-leaning independent and makes $76,000 a year. A typical unionized autoworker in Indianapolis, undoubtedly also a Colts fan, only makes $60,000 a year.
True, the Colts did win Super Bowl XLI in 2007, and Indianapolis, buoyed with the possibilities inherent in the new Dome Toy, is bidding for a Super Bowl location berth for 2012, just as it bid for such in 2011. But the Colts lost early in the playoffs in 2008, just as they had earlier for years, and the last previous time the Colts won a Super Bowl was in Super Bowl V in 1971, when they were the Baltimore Colts.
But the Colts did say they'd leave if they didn't get their new Dome Toy, and a good retort just might've been "Go right ahead! Why don't you even leave Indianapolis the same way you left Baltimore when you came here in 1984 — sneaking out of town shortly after midnight, under cover of darkness!"
But Indianapolis is trying hard to lose its provincial image, the one that created the longstanding joke about it being "a cornfield with an overgrown race track." But that was back when the Indianapolis 500 was far more important, and so Indianapolis went through other boosterist hypes,
When the Pan Am Games came here in 1987 (and the public buses were all rerouted so that foreign visitors would not see public transportation in prosperous America, where everyone owns and constantly drives an automobile, of course), Indianapolis was going to be "The Amateur Sports Capital of the World," just as it was later, in the new century, going to be a center for computer technology and biotech.
But Indiana is one of the most uneducated states in the country, where it ranks 29th in the United States for 2006 in the percentage of its population 25 or older with a high school diploma or higher (85.2%), and 43rd in the percentage of its population 25 or older with a Bachelor's degree or higher (21.7%). Opportunities for the highly educated are so bad here that 46% of all college graduates in Indiana leave immediately upon graduation.
The Town Vonnegut Left
Indiana is also among those states most rapidly losing jobs, especially manufacturing and construction jobs, which are among the better paid. So naturally it's no surprise that those high-tech and biotech jobs never materialized in Indiana. Despite all the touting of biotech for Indiana, not one Top 100 biotech firm resides in Indiana.
But that was later, for there were a few earlier hypes. When downtown Indianapolis was in the active throes of "downtown renewal," building fancy hotels and upscale stores, restaurants and the Circle Centre shopping mall, it was going to become a Convention and Tourist Center. But it attracted those kinds of conventions that the restaurant and hotel employees hated — those of evangelical churches such as the Church of the Nazarene and the Church of God, whose members neither drink alcohol nor tip.
Buoyed by this supposedly "new" downtown, the Powers That Be coined the pretentious slogan, "Move over New York! We're the Little Apple!" and got white gospel singer Sandi Patti (who lives in Anderson, 30 miles to the north) to record its anthem, "Indianapolis Indeed." Both were quite forgettable, and soon forgotten.
Indiana is one of the most polluted states in the nation, regularly missing EPA standards, and Indianapolis one of the most spread-out cities, surrounded on all sides by massive suburban sprawl, where the shopping malls on the North Side look exactly like the shopping malls on the South Side. A plethora of shopping malls searching vainly for a true urban culture, perhaps?
Downtown Indianapolis has as its centerpiece Monument Circle, with the 179-foot Indiana War Memorial, an obelisk built after World War I to commemorate Indiana's war dead. The City of Indianapolis also built the national headquarters for the American Legion at that time.
The State of Indiana passed a law forbidding any building in Indianapolis on Monument Circle to be taller than the War Memorial, but that had to be repealed when the downtown building boom took rise, along with the elimination of a small but pleasant park on Monument Circle, because it took up a prime real estate site that obviously needed another building on it.
Indiana is also known for once introducing a bill in the state legislature, fortunately defeated, stipulating that the value of pi for Indiana schools be set at three. Indiana barely defeated a measure to join the Confederacy at the beginning of the Civil War, rejected in the state legislature by only five votes. Its 1859 Constitution reads, "No negro or mulatto shall vote," along with no "Chinaman" or "hindoo" either.
Such, then, is the city and state that noted left-wing writers Kurt Vonnegut and Dan Wakefield left in disgust vowing to never return — which they both refused to do, despite offers to speak, for several decades.
ATC 135, July-August 2008