Against the Current, No. 134, May/June 2008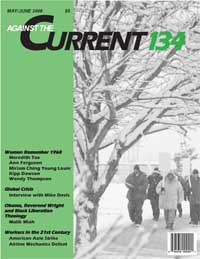 ON MARCH 27 a three-judge panel of the Third US Circuit Court of Appeals denied a request from long-time political prisoner and death-row inmate Mumia Abu-Jamal that it overturn the results of his 1982 trial in which Mumia was convicted of killing Philadelphia police officer Daniel Faulkner. In its 2-1 decision the circuit court upheld a ruling by Federal District Court Judge William Yohn, who had upheld the results of the trial itself.
Yohn did rule that the death-penalty phase of Mumia's trial had violated his rights, ordering a new sentencing hearing to determine whether he would be executed or face life in prison without parole. The Third Circuit panel upheld that decision as well, ordering Philadelphia prosecutors to hold a new sentencing hearing within six months. If no hearing is held, the death penalty will automatically be vacated and life in prison without parole will be instituted by default. (The clock will not begin on the six-month period until the Third Circuit court ruling is declared final, with no further appeals pending.)
Life in prison is not a victory in this case. The evidence is overwhelming that Mumia was actively railroaded by trial judge Albert Sabo and the prosecution during his original trial. This clear case of injustice has stimulated a mass international outcry, including a report issued in 2001 by Amnesty International, in which AI notes the remarkable practice of creating new legal standards, in violation of established precedent, that apply only to Mumia. The two judges who constituted a majority of the Third Circuit panel acted in precisely this way (a fact noted by their colleague in his dissenting opinion).
Mumia's legal options at this point are limited. He can appeal the ruling of the three-judge Circuit Court panel to the entire court. Or he can appeal to the U.S. Supreme Court, stacked as it presently is by right-wing presidential appointees.
The latest developments should stand as a start reminder of what experience teaches us: The U.S. court system never guarantees justice for those, like Mumia, who are tried and convicted beause they are outspoken political opponents of a racist power structure. Those committed to genuine justice in this case need to step up our commitment, and our willingness to visibly and actively protest.
ATC 134, May-June 2008