Against the Current, No. 134, May/June 2008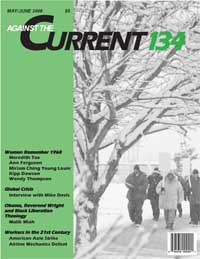 "(…) Politicians at both the provincial and federal level, as well as judges, prosecutors, and police, have been sending a vicious and clear message that criminalization of indigenous resistance is the order of the day …" —Ontario Coalition against Poverty, March 2008
I RECENTLY RETURNED from a little-publicized "political hotbed" ignited by Frontenac Ventures Corporation (FVC), a private mining company causing grave injustices against the Ardoch First Nation community in Ontario, Canada.
Ardoch Algonquins First Nation (AAFN) people (and others) have been fighting Frontenac Ventures since June, 2007 when they first noticed FVC exploring for uranium, causing damage to ancestral lands never sold, or surrendered, to Canada's government — without consulting the descendents of a population who've remained in that area since time immemorial.
This conflict sparked a 107-day blockade of Robertsville Mine (headquarters of Frontenac Ventures) led by First Nation people last summer with supporting residents (self-described "settlers") united against uranium exploration inside the shared and disrupted community. This unity is potentially very significant, in view of the racist backlash and sometimes violent reactions of non-indigenous peoples against other indigenous blockades, notably at Six Nations in Caledonia.
The Ardoch First Nation is not officially recognized by the Canadian government, is not a "reserve" and therefore receives no government funding.
In August, the court ordered all protestors to vacate the site while granting Frontenac Ventures "unfettered access," but voices were not stifled; an encampment of First Nation People and advocates (including a Christian Peacemakers Team) set up tents on the road near the mine's gate, attracting hundreds.
What began as a local problem in a small resort area suddenly spiraled into many directions — including racist, environmental, public health, human rights, and antiwar realms — culminating in the shameful February 15, 2008 trial of (Ardoch Algonquin) Co-Chief Robert Lovelace and other peaceful activists.
Lovelace received a hard and pitiless verdict of $25,000 fines with shocking additional penalties ($2,000 per day until promising never to interfere with ambitions of FVC, which he said he won't obey, since he's also bound by Algonquin law prohibiting uranium mining on Algonquin land), plus a half-year jail sentence.
Lovelace has served over a month in prison and remains jailed as a political prisoner. Paula Sherman, another First Nation protester, received a hefty $15,000 fine for contempt of court. An additional $10,000 fine was brought against the Ardoch Algonquin First Nations. Charges brought against (retired) Chief Harold Perry were dropped after negotiations due to his age and health problems.
The broader context is also significant: Around the same time as the Ardoch sentencing, six activists in an Ojibwa community 500 kilometers north of Thunder Bay were sent to jail for blockading a junior platinum mining company. The long-running dispute at Caledonia is ongoing.
The "official" and moderate leadership of the Assembly of First Nations (AFN) are suggesting the possibility of a nationwide Day of Action that might include protests and blockades. Various Canadian politicians have warned of a potential wave of youth militancy in indigenous communities, as younger people have no faith in the courts or official government processes, and think little of the AFN or the colonial "band council" governments imposed on their communities.
Toxic Corporate Power
In the Ardoch ruling, Frontenac Ventures received just about everything it had asked for, including rights to explore for uranium on land where no treaty was ever drawn (begging questions of legality) and permission to drill on 60 square kilometers of historic Algonquin territory.
A police officer later told me, "I never left a court feeling that way before. It was very disheartening. The police were also on trial and they had to arrest people."
In court transcripts Judge Cunningham made deprecating remarks reminiscent of earlier days when "Indian savages" had no rights:
"…The road to civil anarchy is close at hand. The thin veil of civilization that cloaks our community through the rule of law is fragile and needs constant protection (…) Mr. Lovelace says that while he respects the rule of law, he cannot comply because his Algonquin law is supreme. Sadly, it is a dilemma of his own making."
Cunningham ordered aboriginals, or anyone supporting "or associated with them in any way," to be restrained from coming within 200 meters of the site, authorizing police to arrest "any person with knowledge of this order" and that "Frontenac shall have immediate, unfettered and unobstructed access to the subject property."
Perhaps no one can safely approach FVC's site (which — depending on the law's whim — might include pausing while walking on the highway). A marked police car, parked under trees across the road, guards the isolated site at all times. We felt unable to walk past that area of highway on foot. Other than the presence of perpetual police vehicles the entire area feels desolate and quiet.
Unmoved by cries of opposition (plus an ongoing petition), FVC boldly treads on 30,000 acres of land where natives don't want a huge uranium mine carved into their peaceful environment.
"To view life and land in this way," K. Haldeman (CPT delegate) writes, "as the indigenous people do, and then to watch as frenzied, impatient people plunder and drill and cut and grind and burn away that life and land, must be one of the more vulgar and violating experiences a community can endure."
Besides harming wildlife and causing physical desecration of surroundings, residents fear an open-pit uranium mine could release toxic radiation and leave behind tons of tailings remaining radioactive for hundreds of thousands of years. They're worried about this poison seeping into the groundwater and concerned about their health.
Uranium mining "will destroy the ecological balance and sustainability of the Natural World and will have particular impacts on local water tables," local AAFN people decry, "(but) we do not have the option that FVC has to pack up and leave once their destruction of our land is complete."
In the Elliot Lake area of Ontario, in fact, uranium tailings have contaminated the entire Serpent River system (which includes 18 lakes where there are now very few fish) to the extent that it's no longer fit for human use. In Uranium City, Saskatchewan, as well as Port Hope, uranium waste has been used as fill material leaving roads, schools, homes and buildings radioactive.
One settler told me that "radioactive cities" in Canada are being used as "retirement resorts" for the elderly who'll "happily die of old age" before getting cancer (for statistical purposes). I was unsure if he was joking (I later discovered he wasn't).
The Resistance
Many blame Ontario's present Mining Act, which automatically takes the corporate side requiring no permission from private land owners or First Nation People. Mining companies can stake private property without advance notice and (within 24 hours) may clear-cut trees, build roads, remove up to one thousand tons of material and drill hundreds of core samples to any depth — reminding me of what I'd seen in Palestine under Israeli Occupation.
No one understands why Canada needs more uranium since all its nuclear energy needs are being met — Canada already gets more than enough uranium from Saskatchewan and over 85% of it is exported, mostly to the USA. Canada, so rich in natural resources, is currently the world's biggest producer of uranium and produces 30% of the entire world's commercial use from its existent mines in Saskatchewan alone.
Activists feel the small amounts of uranium under the rocks of Frontenac County should be left alone and are showing great daring and civil courage.
Hopefully, more outside pressure will influence FVC Corporation itself.
CPT acted on behalf of First Nations People and met with many activists involved in this issue. Chief Doreen Davis of Shabot Obaadjiwan introduced us to Earl Badour, War Chief, who faithfully spent every one of the 107 days at the blockade before it was ordered dismantled.
In a March 19 press release Badour states:
"The government accuses First Nations of breaking Canadian laws when they defend their lands, but Canada itself is selective about which of its own laws it will abide by. If the law doesn't serve their purposed they conveniently ignore it … We weren't consulted about this uranium proposal and we're still waiting."
We also met Donna Dillman, settler, who went on a 40-day hunger strike in protest of FVC. Her husband is an author on environmental issues and they'll both be coming to Michigan this July for speaking engagements.
We visited (retired) AAFN chief, Harold Perry, a warm and lively man nearly eighty-years old. We enjoyed an outdoor tour of wintry grounds while his wife, Elsie, cooked us a pasta dinner. Awed by the craftsmanship of his beautiful canoes, I asked how many of these fine canoes he'd made and he answered, "about a hundred-and-a-half or so." It takes him about 50 hours to make each canoe.
Perry proceeded to show other wonderful hand-crafted products he'd made throughout his long years, including snowshoes and the nicest workshop I'd ever seen — a long building full of windows facing the beauty of snowy woods and a nearby lake. The old wooden work shop itself, though obviously well used, is a piece of art in its own right.
After dinner, when Harold Perry played his guitar, the air flooded with music and something else that everyone agreed resembled a magical feeling … Perhaps we were standing on a final paragraph in history that would soon be no more.
Mr. Perry confesses he barely sleeps at night anymore and it affects his health. If the mine goes through, wildlife will disappear as well as the beautiful woodlands of Frontenac County. An entire culture would be needlessly destroyed. Of course, indigenous First Nation People would again have the most to lose.
This situation began as a community problem but is starting to have greater meaning. Many organizations are now involved, including Amnesty International, Land O' Lakes Tourist Association, Sierra Club, Green Peace Canada, and many, many others.
Near Harold Perry's home I saw a rock engraved with these words, that speak not only to First Nations but to us all:
"We cannot blame the old people for losing the land, or the language, or the cultural ways. They did not have an education, they had no money and the racism was so strong. But if we do not do something about it in our time then we will be the ones to blame."
End Note: The Shabot Obaadjiwan of Algonquin First Nation has amended a lawsuit against Frontenac Ventures to include the government of Canada. More trials are pending.
ATC 134, May-June 2008