Against the Current, No. 133, March/April 2008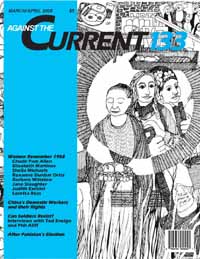 The Motherhood Manifesto.
What America's Moms Want —
And What to Do About It
By Joan Blades and Kristin Rowe-Finkbeiner
New York: Nation Books, 2006,
262 pages, $14.95 paperback.
THE "MATERNAL WALL" is not a new method of contraception, and it's not the look mom gives when the kids miss curfew. In this slim and accessible book The Motherhood Manifesto, Blades and Rowe-Finkbeiner update the two-dimensional "glass ceiling" to describe the maternal wall as "employment discrimination against a woman who has, or will have, children."
The book's online presence, a grassroots organization called MomsRising.org, boasts more than 140,000 members, 85 "aligned" organizations, and sends out regular action releases and calls for local political action, following the model of the highly visible MoveOn.org, also co-founded by Blades.
Both the site and the book are organized around six key points and a handy "MOTHER" acronym: Maternity & paternity leave; Open and flexible work; TV and After-School Programs; Healthcare for all kids; Excellent childcare; and Realistic and fair wages. The authors challenge the false framing of the "Mommy Wars" — the clichés of stay-at-home mom vs. working mom — by addressing the economic, social, and political challenges that unite most mothers.
The overarching "cause" of these issues is identified as prejudice and discrimination against mothers as workers, which the authors say harms families and communities, particularly affecting those households run by low-income women and women of color. While exploring common conditions and challenges of motherhood, they focus primarily on economic issues and use an excellent range of international examples to illustrate the many ways in which the United States lags in terms of social and economic support for families.
The authors also identify discrimination against mothers as a key factor in the overall wage gap between women and men: "Most of these wage hits are coming from mothers, because the lower wages they receive drag down the overall average pay for all women."
This portable and accessible guide could also be called an extended pamphlet, with pull-out quotes, emotional personal stories from mothers, and shaded boxes perfect for a quick read during the seven nanoseconds that the kids are playing nicely together. As such, it may be a useful organizing tool, and the discussion questions in the back of the book pose direct and thought-provoking conversation-openers.
The MomsRising site itself offers current action campaigns on health care, non-toxic toys, family medical leave, as well as creative outreach efforts including a witty and thought-provoking companion DVD ("The Motherhood Manifesto," Laura Pacheco and John de Graaf, 2006), a call for house parties to support and expand the organization, merchandise, e-greeting cards for Mother's Day and other holidays, and blogs by mommies and daddies.
The book itself is sparse in terms of specific strategies or tactics, and instead urges readers to visit the web site for solutions and action campaigns. The site, in conjunction with the Progressive States Network, offers a state-by-state roundup of successful legislative models and action on each of the six MOTHER manifesto issues.
The trick of organizing to win these goals is not addressed, however, though links are provided to other organizations including AFSCME and SEIU in the "Open, Flexible Work" section.
In the book, the authors sidestep the debate on universal health care, to focus instead on health care for all children "and ultimately to all citizens," with mostly policy links offered on the site and few organizing resources. (The word "citizens" appears carefully throughout the site).
The strongest element of the MomsRising site is the "Realistic, Fair Wages" section, which mentions and provides links to many living wage campaigns. ATC's editor Stephanie Luce is quoted in the The Motherhood Manifesto on the range of living wage ordinances, and it's clear that her expertise and that of others in this movement has beefed up this section substantially.
Most ATC readers know that the range of solutions and frameworks addressing women's economic role in the family and in society, or the history of mothers' organizing efforts, might fill a library, yet neither The Motherhood Manifesto nor the Moms Rising site focus on this history.
The website includes links to economic justice, family rights, parenting and women's rights organizations that have applied to become an "aligned" organization, but these links are not advertised broadly; you have to search under the "About MomsRising" tab to find a list of organizations or find them through the extensive resource links in each of the six "action" sections.
Although one of these aligned groups is a GLBT family organization, both the site and book steer clear of the issues of freedom to marry, parenting support and adoption rights for gay couples, along with many other possible "mother" issues.
So, to sum up…I don't know how to sum up. I will tell you that I am happy I own a copy of this book. I reply to MomsRising action alerts and forward the emails to the moms I know, even if I wish they were more progressive or far-reaching.
All the same, I have found precious little else in terms of nationally visible political action on the economic issues facing mothers — not as a special interest group based on our identities or the joy we supposedly get from finding cheerios or boogers in our hair, but as a group of laborers.
Motherhood and Labor
Yes, of course, motherhood is the first labor issue, although it will never generate a dues base for a marble-slathered office in Washington D.C. But saying "motherhood is a labor issue" would be more mystifying than radicalizing to the target readership of The Motherhood Manifesto, moms of all ages who have been raised with economic discrimination and some awareness of social inequity but with little contact to a thriving labor movement that might see them as potential constituents, leaders, or workers.
In the book, the authors use many examples from the labor movement to illustrate the gains that come with organizing for better economic conditions. Yet they avoid a strategy of claiming rights and power in the workplace — even if that workplace is the home — based on one's position as a worker and one's power through that labor. Instead, The Motherhood Manifesto makes an outward appeal for "fairness," framing the issues facing mothers as prejudice and discrimination. On the website, the organizers have moved further in this direction to adopt the term "maternal profiling."
Avoiding criticism of capitalism per se, the authors propose to tweak the machine to run more smoothly: "We have a twenty-first-century economy stuck with an outdated, industrial-era family support structure. The result is that parents, mothers in particular, are struggling to balance the needs of their children with the demands of the workplace."
Unstated contradictions abound here, as the authors applaud the labor movement's gains for families without mentioning that the "family support structure" of the industrial era was won both by labor and other movements and could have been vastly improved. Similarly, the book proffers examples of "good companies" as a possible solution for working mothers — a nice thought with all the muscle of a wet blankie.
This review is supposed to be about mommies instead of daddies, but I must mention that Rowe-Finkbeiner is married to former Washington state senator Bill Finkbeiner, a socially moderate Republican who became the flash-point in the struggle for Washington state's gay civil rights law in 2006 after he switched his vote to support the bill. The senator's wife, Rowe-Finkbeiner, also seems to have a bipartisan bent: her blog explains that MomsRising's goal is to "build a more family-friendly America, together as a deeply engaged and educated non-partisan force." This is either wishy-washy or a savvy sidestep of electoral politics and the Christian Right, or both.
So I will admit that I'm torn. I tell my kid not to pick at his buddies, even the ones on the playground who aren't his best friends. So I'm not going to snark at an organization I honestly like, despite its faults. MomsRising is obviously not radical, but in this day and age, any attempt to aim for a broad audience and build community around economic issues is something worth knowing about and approaching without condescension.
Check out www.momsrising.org, not because it's perfect but because mothers are the future of the labor movement. (Did I actually say that?) In 2025, when all the union halls are equipped with huge indoor 24-hour play areas, hand sanitizer dispensers, and room-sized freezers stocked with bags of organic fair trade Chik'n meatless nuggets, we will have to count MomsRising — despite its flaws and its less-than-revolutionary program — as a vital building block toward a better future.
ATC 133, March-April 2008