Against the Current, No. 133, March/April 2008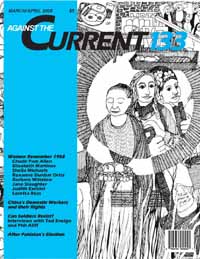 WHEN CHINA ADOPTED the "open door" policy in 1978, south China, especially the Pearl River Delta area, was the first industrial area created to attract foreign investment, particularly from Hong Kong. In the late 1990s, China accelerated this policy, opening consumer markets to foreign investment. Since 1999, the average annual gross domestic product grew 10%, far ahead of other developing countries.
Due to this economic development, China has been labelled the "world factory." Although China only aims at transforming itself into a regional great power, the media and academic community predict that China will soon become one of the world's powers. Indeed, today 30% of the world's products are manufactured in China. Is this era the "China Century"?
But economic growth does not benefit everyone, and that is particularly true for women. Over the past two decades three major trends have altered the lives of both rural and urban women workers in China.
l A massive increase in foreign direct investment, with a huge number of foreign-invested enterprises set up in export promotion zones along the coast and hiring millions of young rural women.
l Massive layoffs (of which 70% are women) and privatizations in the state-owned sector, leading to a rapid disappearance of basic labor rights. No longer protected from "cradle to grave" or seen as "masters of the society," millions have experienced lay-offs without proper compensation. They have become unemployed or re-employed in low-paying jobs.
l Increasing numbers of women working in the informal sector, which is basically unregulated.
For the past 25 years Chinese women workers have been experiencing the negative results of privatization, mass unemployment, marketization and the deregulation of social services (particularly in health and education). Many are forced into informal employment, where there is little legal protection, whether working as domestics, street hawkers or sex workers. This paper will focus on domestic work, where laid-off women workers from the state-owned enterprises and rural women are the main workforce.
At present, in China's urban areas there are 6.5 million laid-off (xiagang) workers, 5.7 million unemployed, and 140 million surplus workers who have come from the countryside. In addition, the government needs to create new jobs for the annual increase of four million new workers leaving school each year. Domestic work has been promoted as an area able to solve the problem of women's unemployment, and 85% of all domestic workers are female.
Domestic workers are expected to perform routine and varied household chores including cleaning, shopping and cooking, care of household members (whether infants, children, the elderly or nursing home patients) and help with special care for pregnant women and post-natal care.
As domestic work becomes more demanding and complicated, employment agencies have arranged a three-month pre-job training program. Here is an example of the job description for a primary household service worker:
Correct use of domestic electrical appliances; independently purchasing daily necessities and food; daily cleaning and tidying up; washing, ironing, and maintaining clothing; accompanying children, the elderly, and the sick leaving the home as well as being able to deal with relevant matters; post-natal care; assisting in the care of flowers, birds, insects, fish and pets; preparing meals according to household customs and habits.
Wages depend on the type of work and personal capacity of the household worker. They are supposedly increased in proportion to the ability to work and the overall quality of the service rendered. Of course, wages also depend on the availability of a domestic work force.
Domestic Work Seen as Disgrace
In China, household service work is seen as a job only performed by poorly educated rural migrants and overseas workers. The traditional idea of treating domestic workers as humble servants is one important reason local job seekers would not consider household service as a possible employment opportunity.
Suo Changshu was laid off from her job at the Beijing Insulating Material Factory nine years ago. She had taken up various jobs since then, including as a cook, lift operator and cleaner, before deciding to become a household worker. Now 46 years old, she is paid on an hourly basis by 10 families in her community and has a monthly income of 1,000 yuan (US$125). "Household service is considered a loss of face for most Chinese people," she said, recalling the hard work behind domestic chores. "I could hear the gossip behind my back…"
However, she suggested laid off women in Beijing should take up similar services in their community, as "laid off workers in their 40s have no advantage over young people in the job market in terms of advanced skills, physical condition, and educational background."
Unlike Suo, few job seekers are willing to do housework service despite the existence of many laid-off workers and the demand for domestic workers in megacities like Beijing and Shanghai. In early 2006, the Beijing Household Service Association set up more than 100 telephone hotlines to attract more domestic workers. "We got some calls from Beijingers. But none accepted the job," was the feedback from the association.
A Shanghai survey shows that about 95% of the families that need household workers are in favor of hiring local workers over rural migrants. The survey revealed that residents believe local helpers have advantages in terms of levels of education, work skills, and overall stability. However, surveys show: less than 15% of household workers in Shanghai and 10% in Beijing are local residents.(1)
Numbers
No one knows the real number of household domestic workers, as no nationwide official statistics are released. However, projections from some government departments indicate that in 32 megacities and 43 major cities there are more than seven million people engaged in domestic service; the number is obviously growing.
Given that work intensity for the urban family has increased, their need for domestic services has increased by more than 40%. In major cities there are more than seven million domestic service job vacancies. Surveys show the current demand hovers around 14 million.(2) Still the figure is probably conservative.
"Shortages of household workers have become a serious problem in big cities in recent years, and is no longer only felt around major festive seasons, but all year round," said Zhang Jianji, of the China Household Service Association. Of the 153,000 domestic workers working in Beijing, 92% are migrants from various regions of China. Most go home before Spring Festival and stay for several weeks for the family reunion.(3)
It seems that a shortage of seven million household service jobs in major cities is a real problem. However, a study shows that the shortage is mainly due to the relatively low wages and the lack of basic social security for domestic workers. No wonder domestic workers feel little loyalty to their employers and have no qualms leaving them in the domestic lurch before the Lunar New Year holidays.
Nearly all domestic workers in China are Chinese except for a small number from overseas, who typically followed their foreign bosses to China. Around 50% of the domestic workers are local urban residents and 50% are rural migrants from the less economically developed areas. Sending areas include Sichuan, Hunan, Guangxi, Jiangxi, Hefei (capital of eastern Anhui province), Shaanxi, Anhui, Jilin, Shandong, and the northeast.
The receiving cities include Beijing, Shanghai, Guangzhou, and Shenzhen (a special economic zone near Hong Kong). Local resident workers and migrant workers find employment in the same city but serve families of different income groups.
Common Issues
In general, domestic workers' wages are low, ranging from 500-600 yuan a month (US$60-75) to 1,200 yuan or even 2,000 yuan US$150-250) for those with childcare skills. Most domestic workers are hired by the hour, but some live-in workers are paid by the month. Fully 80% of all domestic workers complain about low wages. By way of comparison, in Beijing the average per capita disposable income of residents in 2004 stood at 15,640 yuan (US$1,820). Working conditions are also quite bad. In a survey over half of the interviewees worked 10 hours a day but seldom received overtime pay.
The following case study shows typical issues that a domestic worker faces:
Gui is a 20-year-old woman from the countryside and provides household services to an urban family. She soon found that being a domestic worker is more difficult than she thought. Her work grievances include:
1. Low pay and long working hours — Gui works hard but has never received a pay raise.
2. No job training — Gui is a domestic worker but has no idea about how to operate household appliances: microwave and conventional ovens are alien concepts to her. Her employers just threw the guidebook at her. But she couldn't understand the instructions and ended up being hurt because she wasn't using the devices correctly.
3 No regular fixed work schedule — Gui does not have scheduled work and rest times; she can be asked to work at any time. She complains that the husband of the family suddenly invades her privacy by entering her room at midnight without asking permission. He wakes her up and tells her to prepare snacks immediately.
4. Lack of social life — Gui has no holidays, and seldom has any spare time to tour the city she lives in. Visits to grocery stores and vegetable stands are the only times she can socialize with people outside her household.
5. Unaware of basic rights — Gui does not know that taking a holiday is her basic right as a worker. This year Gui's request for a trip back home for Spring Festival was turned down by her boss, who threatened to dismiss her if she was unable to return in time.
6. Lack of social insurance — Over 50% of household workers in cities have no access to social insurance. The law doesn't require Gui's employer to provide social insurance.(4)
In 2006 a three-city survey, jointly published by the UNESCO Office in Beijing and the Centre for Women's Law Studies and Legal Services at Peking University, also found similar issues in interviewing 800 domestic workers in Beijing, Shanghai, and Hefei. (See http://www.womenwatch-china.org.)
Shanghai, an Exception
Shanghai is the only Chinese city providing social insurance for both local and migrant domestic workers. Beginning in July 2004, an integrated insurance law was adopted. Shanghai social security officials believe that the law will protect domestic workers in case of injury and lower the risk to employers. According to this scheme, if a household insures a domestic worker for 30 yuan (US$4), the worker can receive a maximum of 100,000 yuan (US$12,500) compensation from the insurance company if an accident should occur.
Zhou Limin, director of Shanghai MoLSS (internal) Migrant Worker Employment Department said, "The majority of domestic workers are migrant workers who previously were not included in Shanghai's social security system." The municipality believes migrant workers should also be protected.
However, Shanghai is also a city that has set up the most discriminatory rules against domestic workers, which was stunningly revealed in the "Shanghai Rosa Parks" incident. Xiting Club, a residential area in Shanghai with mainly foreign residents, had the rule that household workers sat at the back of the bus. The official in charge denied this was a form of discrimination; he merely felt that the two groups should be treated differently. Revelation of the rule created uproar on the internet. Under pressure, Xiting Club eventually deleted the rule and now domestic workers can sit anywhere in the bus.
Protective Legislation
Current Chinese Labour Law does not offer any protection to domestic workers, despite the growing importance of this sector. The lack of legislation for domestic workers makes their situation very vulnerable. When there is a dispute between employers, household service companies and domestic workers, domestic workers — especially migrants — normally lose the battle. Many local household service associations have established their own rules in the hope of better supervising household services. Nevertheless, such semi-governmental associations can hardly play a regulatory role without legislative support.
Legal experts in China note that the solution for the development of domestic service lies in building up a regulated employment access system. This would mean that the government would implement legislation and monitor the domestic work market. For domestic workers, the crucial question is how their rights are safeguarded. Non-governmental organizations such as the Cultural Development Centre for Rural Women, which is affiliated to the All China Women's Federation, have spent years drafting a legal proposal just for the household service sector in Beijing. They emphasize government regulation of basic rights.
There is also disagreement among the NGOs about what kind of legislation should be pushed forward. For example, instead of drafting a law to protect the specific rights of domestic workers, perhaps it would be better to revise China's Labour Law to protect all workers in both formal and informal sectors. The discussion is continuing.
Notes
ATC 133, March-April 2008