Against the Current, No. 132, January/February 2008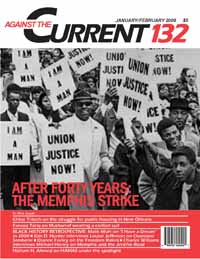 SEKOU SUNDIATA's MULTIMEDIA performance "51st Dream State" opens in darkness with singers performing the song, The House that I live in, That's America to Me. The lyrics paint a Norman Rockwell portrait of overly wholesome people going about their overly wholesome task, little old ladies and kindly clerks who make up the America of someone's dream. As the song ends, white letters on a black background slowly appear on a screen high above the stage, the word "empire."
Sekou would then launch, not into a screed but an inquiry on the meaning of empire and why and how the United States is one. It is the sort of examination with which a thoughtful person on the right might disagree but could still engage. The work is full of such moments.
Sekou Sundiata was a master of "non-rhetorical" political confrontation, letting the situation, the facts, the true stories of regular people, speak for themselves. Sekou was also poet, performer, scholar and visionary who survived heroin, a kidney transplant and more.
When I met him with a bunch of other poets for lunch, poet and publisher Naomi Long Madgett announced that she had something in common with him besides being an African-American writer and scholar. Both she and Sekou had broken their necks in auto accidents, lived to tell their respective tales and managed full physical recoveries. In his case, he was driving to his first post-transplant gig when his car flipped on a snowy road.
So it wasn't surprising that Sekou had the serenity and honesty of someone who had been confronted by his mortality, whose corporeal frailty and limitations had been made all too clear. And, like most good writers, he used his ordeals to power his art.
In 2005, he began touring "Blessing the Boats" (title taken from poet Lucille Clifton), his solo multimedia performance about his kidney failure and transplant. He was on tour with "51st Dream," his response to 9-11, when he passed away of heart failure in the summer.
His vision was expansive. The "51st Dream State" employed dancers, musicians, interviews, found and original film footage and audio. He managed to weave all those elements into a seamless meditation on what it means to be a citizen (whether we like or admit it) with vested interest in the civil structure of an empire that has been struck a serious if not crippling blow.
Somewhat in the same sense, on his recording "longstoryshort" he cautioned against romanticized overuse of the word "revolution" because revolutions are bloody and unsettling. He wasn't talking against revolutions, having been a former Black Panther and revolutionary himself, just against the trivialization of the word.
I was fortunate enough to talk and work with him and several other poets and scholars in southeast Michigan in "This Poem has Checkpoints: A Concert of Poets." The conversations we had in preparing for the Concert of Poets are among my most treasured memories.
Sekou's work and insights, always deep and layered, were the foundation for the performance. From there, ten poets each contributed two poems that directly or broadly dealt with post September 11th America.
Along with Sekou, University of Michigan Professor Julie Ellison worked (and continues to do so) to actively engage the public in "Citizenship Potlucks." For these potlucks, people bring food and ideas to share, the latter being sparked by group reading/singing/reciting of an iconic text (Mending Wall by Robert Frost, or James Weldon Johnson's Lift Every Voice).
Sekou was trying to get beyond the used-up rhetoric of political judo and unearth the assumptions and commonalities beneath our defensiveness, to bring out the voices of people who don't write for Against the Current or any other publication, but who have no less a stake in the survival of the species. May we continue his work with the same creativity and generosity he demonstrated throughout his life.
Donations may be made in the name of Sekou Sundiata to the New York Organ Donor Network or to the National Kidney Foundation.
from ATC 132 (January/February 2008)