Against the Current, No. 131, November/December 2007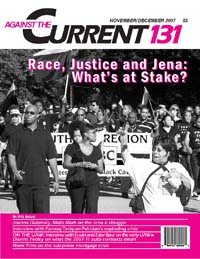 GRACE PALEY DESCRIBED herself as a "somewhat combative pacifist and a cooperative anarchist," and saw the role of the artist as that of "listener" who would relay stories of those made invisible by society. And she told it plain.
Paley was a busy woman: She mothered two children and three stepchildren, taught college classes, served as a lifelong and vocal antiwar and feminist activist, and published at least nine books containing her essays, prose pieces, poems and stories.
Her parents, Jewish socialists, emigrated from the Ukraine to the Bronx, where Paley grew up steeped in stories of persecution and revolution told in Russian and Yiddish. She became active in the 1950s with the American Friends Service Committee, worked with the War Resisters' League and went on a peace mission to Hanoi in 1969, and she served as a delegate to World Peace Conference in Moscow in 1974. ("Lost him, sorry about that/the President said/he was a good boy/never see one like him again…" from "I Gave Away That Kid")
She was arrested in 1978 for releasing an anti-nuclear banner on the lawn of the White House.
After her death, almost every commentator described Paley as a woman whose literary output was "modest" (New York Times) or who published "relatively little" (Slate), "only three" collections of stories (LA Times). This raises the question: who determines what literary contribution is "enough"? (Raymond Carver, an undisputed lion of the short story, had five — and no "modest" in his obit.)
Paley was often asked about her lack of "production" during her life, and ascribed it to laziness and not having enough time. Yet it seems almost ridiculous to equate quality with number of pages produced, especially when the author's first genre is poetry, and when poetry's density of image and language make a clean leap into her prose. She explains as much in her poem "How to Tell a Story (My Method) (Most of the Time)": "Find the paragraph to hold the poem steady for six or eight pages…"
The empty repeated phrase copied from article to article — that Paley was "not enough" — seems somehow to echo the voices she captured in the characters in her stories and poems, who sometimes do not understand the ways in which they enact and replicate the patterns of sexism in their own lives.
I'm not saying it's sexist to wish for more of Paley's brilliant work, but the pattern of marking her life's contribution with the inadequacy of her output as compared to a non-activist male with a steady job and full-time childcare and a wife seems quite shortsighted.
As Paley described it in a 1980 interview, "I'm not a careerist in any way. I mean I view life as a whole, and that's what interests me….I can't live without writing, but I couldn't live without my children. And I couldn't bear not to respond to the awful things that are…"
While other feminist writers of her era — Tillie Olsen, Adrienne Rich —made vital literary contributions in documenting the strains of motherhood, Paley celebrated the opportunity to mother and be part of a family but still never essentialized the role. Her writing was neither women's kitsch nor the victim's despair.
Tributes to Paley published after her death on August 22, 2007 frequently describe her as a writer of short stories; if you have not heard of Paley and want to make intelligent conversation about her, you should say her fiction was grounded in meandering and overlapping dialogue that seemed to be about nothing but actually contained brutally accurate snapshots of the way humans relate to one another.
Although I admire her prose, I loved and found her poetry most often, when it was copied carefully or printed out, glued on construction paper and tacked to a wall in someone's living room above a bookcase. More than a few poems of her poems mothered in the best of senses: they'd tell you what was going on in your heart and cut away the fat with laser-like intensity, show you how your experience mattered.
Here is another example of ordinary joy
it is prose but uses whole days and nights
the gathering together of comrades
in bitter disagreement then resolution
followed by determined action….happiness
in the risky busy labor of Repair the World
(From "Happiness")
It is the responsibility of the poet to say
many times: there is no
freedom without justice and this means
economic justice and love justice
(From "Responsibility")
Paley died at age 84 of breast cancer. Her works include three ollections of fiction: The Little Disturbances of Man (1959), Enormous Changes at the Last Minute (1974), Later the Same Day (1985) as well as The Collected Stories of Grace Paley (1994); her collection of essays, Just As I Thought (1998); and her poems appear in several collections, including Begin Again: Collected Poems (2002) and Long Walks and Intimate Talks (1991).
from ATC 131 (November/December 2007)