Against the Current, No. 130, September/October 2007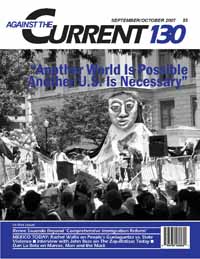 TWO PIONEERS OF the freedom struggle died in August, leaving legacies for the ages.
Irene Morgan Kirkaldy was 90. In July, 1944 in Saluda, Virginia — 11 years before Rosa Parks in Birmingham, Alabama — Irene Morgan refused to surrender her seat on a Greyhound bus to a white rider. A sheriff's deputy came to arrest her. "He touched me . . . . That's when I kicked him in a very bad place. He hobbled off, and another one came on. He was trying to put his hands on me to get me off. I was going to bite him, but he was dirty, so I clawed him instead. I ripped his shirt." It took both deputies to arrest her. (Freedom Riders, Raymond Arsenault, page 13.)
Because Morgan was returning to her home in Baltimore after visiting her mother in Virginia, her case went on appeal to the U.S. Supreme Court, where her lawyers Thurgood Marshall and William Hastie argued that Virginia's requiring segregated seating on interstate transport was unconstitutional.
In June 1946 the Court ruled 6-1 in her favor. Southern states simply ignored the ruling and imprisoned interracial riders who tested compliance. Morgan's case inspired the 1947 Journey of Reconciliation, a freedom ride in the upper South, involving 16 African Americans and whites. But it would require the mass defiance movement of the Birmingham bus boycott, and the 1961 Freedom Rides, to force an end to segregated transportation.
In that summer of 1944, 20-year-old jazz drummer Max Roach was one of the musical revolutionaries with the likes of Charlie Parker, Dizzy Gillespie and Bud Powell in the new movement called "bebop" — deeply rooted in the jazz and blues traditions but pushing through old harmonic limitations, exploring crazy-fast tempos and taking melodic lines into uncharted territory.
Bebop was an art as well as entertainment form that would mark the passage of American culture into the era of the atomic bomb, civil rights and the anti-colonial revolutions — and its practitioners knew this although they didn't often openly discuss it.
By the 1960s, Roach's art would become explicitly social and political. His 1960 album "We Insist! The Freedom Now Suite," a collaboration with Abbey Lincoln, Oscar Brown Jr. and some of the great instrumental musicians of the age, not only announced that the war against racism was on, but explicitly connected the American movement with the African revolution. Freedom, artistic and political, remained an enduring theme of his deep-throated percussion and his compositions of the next four decades.
Never standing still, Max Roach continued as an artistic innovator and educator sponsoring numerous ensembles, from his fiery small groups to the Uptown String Quartet and the incomparable M'Boom percussion ensemble, through the end of the 20th century. Less active in recent years, he continued to receive awards and acclaim up to his death at age 83. His work deserves an extended tribute which we hope to present in a coming issue.
from ATC 130 (September/October 2007)