Against the Current, No. 130, September/October 2007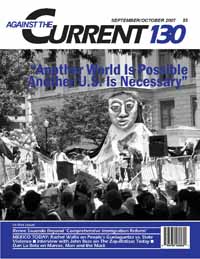 Jerry Lee Lewis
Last Man Standing
Artists First AFT-20001-2
Jerry Lee Lewis, piano and vocal duets with (in order of appearance)
Jimmy Page, B.B. King, Bruce Springsteen, Mick Jagger & Ronnie Wood, Neil Young, Robbie Robertson, John Fogerty, Keith Richards, Ringo Starr, Merle Haggard, Kid Rock, Rod Stewart, George Jones, Willie Nelson, Toby Keith, Eric Clapton, Little Richard, Delaney Bramlett, Buddy Guy, Don Henley, Kris Kristofferson
THE SUN RECORDS' Million-Dollar Quartet, with Elvis Presley sitting at the piano and surrounding him, from right to left, Johnny Cash, Carl Perkins and Jerry Lee Lewis: The frontspiece photo in the booklet of notes to Last Man Standing says it all.
Now only Jerry Lee Lewis is left alive; indeed, the Last Man Standing. But not so the music, for even at 70 Jerry Lee is rockin' here the way he did when he was in his 20s. A bravura performance, with strong vocals from The Killer and plenty of his signature piano playing that almost literally defined the rock 'n' roll keyboard approach., Last Man Standing that, even at 70, Jerry Lee Lewis is not about to hang up his rock 'n' roll shoes!
In this album of duets, and it's only fitting that a pioneering artist such as Lewis should be joined by younger rock artists made possible by that 1950s Promethean effort. Joining Jerry Lee Lewis on Last Man Standing are an ex-Led Zeppelin, an ex-Beatle, three Rolling Stones, an ex-Creedence Clearwater Revival-ist, an ex-Cream-er, an ex-Band member, an ex-member of Crosby, Stills, Nash and Young, and an ex-Eagle.
Also joining the joyous fray are three even younger veterans of rock, the seminal Bruce Springsteen, Rod Stewart and Kid Rock, along with another legendary rock 'n' roller from the 1950s, Little Richard. Rounding out the roster of legendary artists on Last Man Standing are fellow septuagenarians from the country field (for when Lewis's brand of rock became passé, he became a country singer), Merle Haggard, George Jones and Willie Nelson, and that masterful octogenarian from the blues, none other than B.B. King himself, along with another legendary blues guitarist, Buddy Guy.
Rounding out the roster of celebrity players are Toby Keith, Delaney Bramlett, and the poet laureate of contemporary songwriting, Kris Kristofferson. But more than established celebrities are involved in the making of this masterful music; the core band heard throughout that builds the foundation on which these guest artists stand consists of guitarists Jimmy Rip, bassists B.B. Cunningham and Hutch Hutchinson, drummers Jim Keltner and Robert Hall, organists Bill Strom and Ivan Neville, saxophonists Dave Woodruff and Dave Woodford, lap and pedal steel guitarist Greg Lieze, pedal steel guitarist Nils Lofgren, harmonica player Mickey Raphael, and guitarist/fiddle player Ken Lovelace.
Delightfully Eclectic
A delightfully eclectic mixture of rock 'n' roll, rock, country, blues and blues-rock, and even three poignant ballads shows that Jerry Lee Lewis remains anything but a one-dimensional artist. Last Man Standing opens with Led Zeppelin's "Rock and Roll," with Zeppelin lead guitarist Jimmy Page providing the signature guitar work. Just after Page opens with the trademark opening guitar lick, Lewis chimes in with an enthusiastic "Oh that is rock 'n' roll!" then proceeds to match Page's burning guitar work with plenty of burning piano work of his own.
Follows this introduction comes a tune showing an admixture of both country and blues, "Before the Night Is Over," with B.B. King handling lead guitar chores. Bruce Springsteen, a great admirer of Jerry Lee, joins him on his own "Pink Cadillac," a rollicking anthem of 1980s rock punctuated here by the fiery sax playing of Dave Woodruff.
A nicely-turned twist of rock and rock 'n' roll is present in Ringo Starr singing duet with Lewis on the 1950s Chuck Berry classic "Sweet Little Sixteen," while later Little Richard howls with Lewis on the Beatles' "I Saw Her Standing There," an early Fab Four number that directly borrowed from vintage rock 'n' roll. Kid Rock joins in the celebration of classic rock with a dynamic version of the Rolling Stones' "Honky Tonk Woman" — with Kid Rock contributing here very, very well — and rounding out the classic rock celebration is Creedence Clearwater Revival lead singer John Fogerty teaming with Lewis in that band's frenetic "Travelin' Band."
The blues are represented in two traditional numbers, "You Don't Have to Go" with Neil Young, and "Trouble In Mind" with Eric Clapton, both numbers done with soulful fealty and Lewis showing himself to be a solid blues pianist steeped in the music. As a lad living in Louisiana just across the border from Mississippi, he would sneak into a local Black club to hear B.B. King and Sunnyland Slim, and was a youthful devotee of rocking Black gospel singer Sister Rosetta Tharpe.
His masterful feel for rock, blues, and combining the two comes out dynamically on the best track on the CD, the blues-rocker "Hadicol Boogie," with Buddy Guy, with both men giving truly masterful vocal and instrumental performances.
The country on Last Man Standing is a variegated potpourri. There's Lewis on solo piano with Rod Stewart on the melancholy ballad of drunken downfall, "What's Made Milwaukee Famous," which was a moderate country hit for Lewis. Two songs of old age and a celebration of the road join Lewis with three fellow septuagenarians — George Jones on the rollicking "Don't Be Ashamed of Your Age," and the ironic riposte to youth, "Couple More Years," with Willie Nelson, while Merle Haggard and Jerry Lee have fun together on "Just a Bummin' Around."
A more traditional country lament, that of the wasted life traveling the "Lost Highway," joins Jerry Lee with Delaney Bramlett." Three Rolling Stones join Jerry Lewis for the remaining two country numbers. The first features Mick Jagger, solo vocal asides and duet chorus, and Ronnie Wood, pedal steel guitar, on the Jagger-penned backhanded tribute to Jerry Lee, "Evening Gown." Then Lewis' first-person lead vocals join with Keith Richards' harmonizing in limning the cheater's rueful lament of his unstoppable infidelity to the woman who loves him, and his envy of that faithfulness shown by another, this ironically characterized "That Kind of Fool."
Another Take on Patriotism
But yes, Jerry Lewis is at bottom still the redneck Louisiana boy, and he does a duet with Toby Keith of the patriotic "Ol' Glory." This is the one track on the CD that radicals are most likely to just hate. But I got another take on patriotism and the desperation of the working class last summer when I went to a David Allan Coe concert, and the show opened with an audience sing-along of "America the Beautiful."
But what, then, would be expected of these working people of limited life opportunities, sent off to be cannon fodder in war after war, from Vietnam and Korea to Iraq within recent memory, with no way to justify it to themselves except to believe they were truly fighting in a noble cause? For there was no college deferment, nor any stateside National Guard service for them!
I thought to myself at the time, "How appropriate it would be as a medley, to follow a verse of 'America the Beautiful' with a verse from Phil Ochs's 'I Ain't Marching Anymore.'" Not that I recommend it, but remember, fellow members of the left, this country of ours, the United States, did begin as a revolutionary movement against reactionary tyranny, a movement that indeed expressed a political heresy, the inherent equality and right to freedom of all, high-born and low-born alike. And our revolution did inspire the French Revolution, and from there the modern socialist and communist movements…and those ideals still inflame and inspire us, despite all the manifest backsliding and broken promises over the tortuous course of our history: "We hold these truths to be self-evident: That all men are created equal…" and "Congress shall make no law abridging the freedom of speech…"
The prevalent stereotype of Jerry Lee Lewis — the hard-driving rocker pounding the piano and exuding lechery — in no way does justice to this complex and existential man. This vital other side comes out most well, and to those trapped in the stereotype most surprisingly, in the mastery and even humility with which he approaches the three poignant ballads on Last Man Standing that we'd probably never expect Jerry Lee Lewis to do at all, much less well and with deep feeling.
These are "Twilight," composed by former Band member Robbie Robertson, who plays guitar on the track; Van Morrison's touching elegy to the omnipresent grief of his homeland, "What Makes the Irish Heart Beat," with former Eagle Don Henley; and the most appropriate ending track with Kris Kristofferson, "The Pilgrim," Kristofferson's tale of the lost soul trying to find himself and running away from himself at the same time.
Indeed, this song of melancholic hope could be said to encapsulate not only Lewis but all of us, in our seeking and not finding that which we seek, but perhaps finding something else, as captured in Kristofferson's final lines, "The going up was worth the coming down."
The accompanying nine pages of notes by Peter Guralnick are an indispensable source of information and insight into this complex, talented, contradictory artist, and in addition to the frontispiece of the Million Dollar Quartet, are also a treasure-trove of vintage and present-day photos.
As I've written previously in Against the Current and elsewhere, rock 'n' roll was a shaper of our culture of resistance. Rock 'n' roll played a pivotal role in breaking down the walls of Cold War fear and smugness that hid us from ourselves back in the 1950s, an incendiary demolisher of myths about ourselves and the world we lived in then that both exulted and panicked. Raw and raucous, it owed too much to the Black Other America to make the purveyors of respectability tolerate it, at least in its early phases. Rock-'n'-roll was also immensely popular, it reached the youth, who embraced it as their own, and opened doors and expanded horizons, no matter how hesitantly or inadvertently.
This music of the 1950s was the opening salvo of a cultural assault that would storm at least some barricades in the 1960s, a cultural assault that never really abated, although it could be, and was partially, thwarted and diverted. And Jerry Lee Lewis was one of those lighting the cannons.
Rock 'n' roll and later rock, soul, punk and hip-hop became a culture unto itself, a truly lived and contemporary folk culture. This is the folk music of today, this is the music of our selves and our mores, our dreams, aspirations, and protests, this folk music of the contemporary world, ever re-inventing and ever renewing itself now for over fifty years. Those signature songs of Jerry Lee Lewis, "Whole Lotta Shakin' Goin' On" and "Great Balls of Fire," are among the Child's Ballads of our day, they are part and parcel of the world and culture we grew up in and still live today.
All respect to Pete Seeger, but John Henry laid down his hammer a long time ago and picked up an electric guitar! Or else he pounded chords on a piano, and it all got put on tape and released first on vinyl, later on cassettes and CDs, and reproduced for hearing by technological means. Rock 'n' roll is here to stay, and we have a prime example of what it means at its best in Jerry Lee Lewis, one of its greatest artists still going strong at 70, The Killer burning the ivories on Last Man Standing.
from ATC 130 (September/October 2007)