Against the Current, No. 129, July/August 2007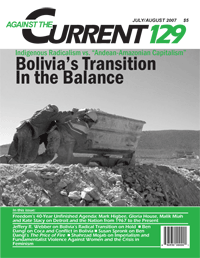 IN MAY IN Detroit, Martin Seldon, a lifelong socialist activist, died from the ravages of terminal cancer.
Seldon was born in 1923 in Harlem to Jewish parents who had immigrated to the United States in 1905 to escape anti-Semitism. His father, who originated in Lithuania but had lived in Warsaw, told stories of having to hide in the cellar from the Cossacks.
As a teenager, Seldon joined the Socialist Workers Party "right after the assassination of Trotsky" in 1940 or 1941, he said in an interview. He described himself as "part of the Brooklyn crowd, with Harry Braverman," who would later achieve renown for his 1974 book Labor and Monopoly Capital.
When he was 16 he won a scholarship to the University of Illinois. His parents insisted that he attend a local college for a year before going to the Midwest. Receiving his bachelor's degree in 1943, and faced with the draft, Seldon attended naval officers' training school and served in the Second World War. After completing his service, he traveled to Europe where he served as a courier for the Fourth International.
In 1945, Seldon returned to New York City. In 1951, he moved to Flint, Michigan, when asked to do so by the SWP. The United Auto Workers was the focus of the branch's activity, and the key Flint SWP organizers were Sol and Genora Johnson Dollinger, veterans of the 1936-37 sit-down strike. Except when sidelined by layoffs, Seldon worked in a Buick plant and was a member of UAW Local 599.
In 1952, Seldon married Blanche Yancey, an African-American woman four years older. They had met at the Dollingers' home. "The day we were married," Seldon later recalled, "we and a number of other friends had a big sit-in in some big restaurant in downtown Detroit that didn't normally serve Blacks. We had a big controversy immediately after our marriage ceremony, to demand service in this restaurant."
The Seldons were active in both the Flint SWP and NAACP, but in 1954, because they lined up with Bert Cochran in an internal faction fight, they were expelled from the SWP along with all other Cochran faction members, including the Dollingers, Frank Fried, and Braverman.
At Cochran's request, the Seldons moved to Chicago where they lived for a time with Fried, but the 1950s did not yield bountiful harvests for the small group of middle-aged labor radicals. Despite issuing a respected periodical, the American Socialist, they disbanded their group in 1959.
Between 1962 and 1968, the Seldons resided in Geneva, Switzerland, while Martin attended medical school — at 40 he found it was the only school that would accept him. They returned to Michigan to live in an interracial area in downtown Detroit, and to be near her family in Flint. He practiced medicine and she was a Teamsters secretary. Their marriage lasted until her death in 1995.
Later that year he married Claudia Keller, a nurse. Over the last dozen years of his life, Claudia supported him in his political activities and he supported her environmental activism. After they retired, the two volunteered their time at community clinics in the Detroit area.
After the 1950s Seldon was never again affiliated with a socialist organization, but he remained a radical to the end, advocating single-payer health care, supporting the 2000 campaign to put Ralph Nader on the ballot, and participating in the ACLU.
ATC 129, July-August 2007