Against the Current, No. 129, July/August 2007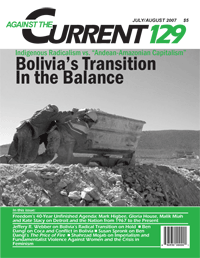 WHEN THE UNIVERSITY of Massachusetts-Amherst announced that it would award an honorary doctorate degree to Andrew Card this spring, students, faculty and staff were outraged. Card, Bush's Chief of Staff from 2000 to 2006, is probably best known as the person who whispered news about the falling Twin Towers into Bush's ear on 9/11. A native of Massachusetts, Card had also served as a state legislator in the 1970s.
Although Card seemed a relatively minor player in the cast of characters surrounding the Bush Administration, people quickly mobilized to oppose the degree, on at least two grounds. First: Why Card? Why an honorary doctorate?
No one would step forward to take ownership of the idea, and administrators pointed fingers at one another while asserting they would not reconsider the offer of the degree. We were angry at the lack of transparency, and the lack of justification for awarding the degree.
Second, opponents argued that no member of the Bush Administration was worthy of honor. Although not Karl Rove, Andrew Card aided Bush's effort to invade Iraq by forming the White House Iraq Group to market the war. Amherst is well-known as an antiwar town. Awarding a degree to one of the people who helped promote the war seemed a particular slap in the face to the UMass-Amherst community.
Faculty, students and staff confronted the head of the UMass Board of Trustees, the president of the UMass system, and the Chancellor about the decision. We were told that they "would not debate the merits of Andy Card." Others defended Card, saying he was an honorable man and a "nice guy" who worked well with others while in the state legislature. But is a reputation for congeniality enough for an honorary doctorate in public policy from UMass Amherst?
When Card heard that one of us had called him "intellectually dishonest" for censuring information related to Iraq, he made a personal phone call to set the record straight.
Card's main concern was that he had been unfairly "personally attacked." While acknowledging that we might have differences of political opinion, he asserted repeatedly that he was a man of great personal integrity. "Do you even know me?" he asked incredulously. "How would you feel if someone said that about you?"
Taken aback by this line of reasoning, we responded saying that our charge of intellectual dishonesty was based not on his personal attributes but rather on his very public role in misleading the world about the justification for the devastating war.
Card suggested we should have called him first to ask him about his "side of the story" before dragging his name through the mud. We appreciated his willingness to talk to a couple of UMass professors, but this is the same man who is currently refusing to testify in front of the Congressional House Government and Oversight Committee about his knowledge of the leak in the Valerie Plame case.
This is also the same man who played a central role in an administration that has acknowledged violating domestic and international law and fundamentally misrepresenting the truth for political gain.
It takes astonishing rhetorical magic to transform the very definition of a political act — falsifying evidence to "market" an ideologically driven war deemed illegal by most of the world — into a personal matter. Honoring a public servant most recognized for his role in misleading the public about the war in Iraq is a deeply political decision; unfortunately for Mr. Card, the UMass community is not buying his magic marketing tricks this time.
The protests at UMass are not about "freedom of expression;" there had been few objections to his right to give a talk on campus earlier in the semester, even though many faculty and students disagreed with what Mr. Card had to say.
Granting this degree normalizes Card and his role in the Bush Administration, rewarding him as if he were just any other public servant from Massachusetts. It reduces falsification and exaggeration, suppression of documents and the coercion of less powerful nations into alternatives along a reasonable spectrum of actions. War and torture become matters of "personal opinion." Lying is just "part of the job."
Card seemed genuinely shocked that there would be opposition to this honor, given his commitment to the Commonwealth of Massachusetts and his humble roots. He told us that he wasn't just a White House Chief of Staff, but had held many "regular" jobs in his life, from newspaper delivery boy to McDonald's employee.
We insisted that the growing opposition at UMass had nothing to do with his personal life trajectory, just as recent efforts to revoke an honorary degree given to Zimbabwean dictator Robert Mugabe was not a reflection of his personal shortcomings.
Opposition Intensifies
The day after our phone call, news broke about Card's role in working with Alberto Gonazalez to pressure John Ashcroft to authorize wiretapping from his hospital bed. Anger at the honorary degree intensified. No longer was even the "nice guy" justification able to hold water.
Within a few weeks over 1500 students, faculty, staff and alumni from the UMass community signed a petition against Mr. Card's degree on the basis that he does not meet the "high ethical standards" that "exemplify the ideals of the University of Massachusetts."
The undergraduate and graduate student senates, faculty senate, and staff, graduate employees and faculty unions passed resolutions against Card's degree. The community held three large rallies on the campus, including one that shut down two administrative buildings.
In our phone conversation, we pleaded with Mr. Card to listen to the UMass community and reconsider coming to Amherst on May 25th, so that graduate students could celebrate their achievements with their families, faculty and the community. Mr. Card replied that "I have been invited to receive this great honor, and I am not rude."
In the end, Card did come to campus to receive the degree. We held a press conference and rally before the ceremony, complete with people dressed as Guantanamo detainees.
Inside the arena, the coalition agreed to honor grads but shame Andrew Card and the UMass administration for the award. When UMass-Amherst Provost Charlena Seymour began to announce the degree, hundreds of faculty and graduating students stood to wave banners and drown out the awarding of the degree with boos and chants. They were joined by many more protestors in the stands who booed and dropped more "War Criminal" banners.
The crowd sustained the chants for over four minutes, drowning out the entire presentation of the award. We then returned to the ceremony and honored those graduates who had truly earned their degrees. Many of the grads walked across the stage holding up the "Honor Grads, Dis-Card" sign to the audience.
Although our coalition had had some rigorous debates about how best to protest the award, in the end we were a united front of faculty, students, staff, community members, and alumni at the commencement. Many faculty noted that they had never seen such a deep and broad coalition of forces work together at UMass.
Our protest was covered in over 100 news outlets, including CNN, MSNBC, the Boston Globe, LA Times, and International Herald Tribune. A YouTube video of the event had been viewed over 100,000 times in one week, and we received messages of thanks from around the country.
We were not able to stop Card from receiving the degree, but our coalition will still work on getting the university to rescind the degree. We are not idealistic: We know the university has given many honorary degrees to people that don't deserve them, including a number of CEOs and military contractors, so we will also try to make the process of choosing recipients more democratic.
We never got a straight answer about who nominated Card and why, though the rumors suggest that the degree was reward for his role in helping the university secure a large government grant. Card's degree became a focal point for the anger people feel about the top-down way our university is run, in addition the Iraq war and Bush administration more generally.
We're tired of administrators and elected officials who don't listen to the voices of the people in general, let alone those who dissent. This time we at least made sure that they heard us.
ATC 129, July-August 2007